Guess who has the biggest exhibit and floor plan at CONEXPO-CON/AGG 2011?  That's right, John Deere does! And for good reason with all the excitement and anticipation for this year's show. The entire John Deere exhibit covers a staggering 37,698 square feet and will be filled with all kinds of exciting things for you to enjoy. The exhibit is also conveniently located at the main entrance of the Las Vegas Convention Center to make it easier for you to find (should be easy, it is over 37,000 sq. feet!) the Deere exhibit and all the goodness that comes along with it. (see our previous coverage)
John Deere Floor Plan For CONEXPO 2011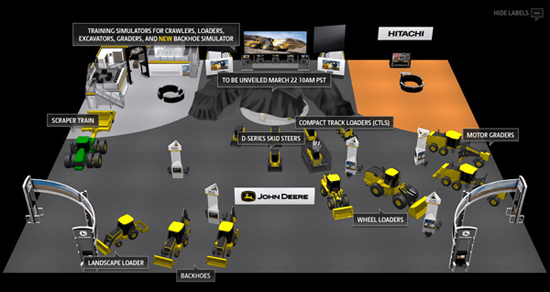 credit
The John Deere exhibit is located at booth N-2313 and it covers over 37,000 square feet, with 36 pieces of machinery, 15 simulators, and 18 hands-on kiosks.
The big excitement for John Deere and CONEXPO-CON/AGG 2011 is the 'live reveal' that is set to take place on March 22 at 10 a.m. PST at the John Deere exhibit. What's also great about this 'reveal' is that it will be broadcast live on John Deere's CONEXPO-CON/AGG 2011 website. We know that it can be hard for everyone to take off of work or drop what they're doing to head out to Vegas and we wanted a way for all Deere fans and lovers to have the opportunity to be part of something special. So if you can't make it out, feel free to join us via the web and be a part of this incredible event. John Deere has even said, "This may be, quite possibly, the most important piece of equipment we've ever produced."  There is much speculation as to what this innovative piece of equipment may be.  However, no one knows yet what they are planning to unleash, but there have been plenty of rumors.  Even John Deere employees don't have a clue what is hiding under that sheet!
ConExpo 2011 Reveal Rumors from John Deere Construction on Vimeo.
Along with the enormous exhibit that John Deere will have on display and the unveiling on March22, they will also be holding several educational seminars throughout the show which are designed to help you work smarter, achieve more productivity, experience more uptime and lower your daily operating costs. The sessions will focus on things such as going 'green', Interim Tier 4, and the effects of new emissions regulations on our business.
The crew over here at MachineFinder is curious as to what all of you John Deere fans think this new piece of machinery may be.  Let us know your thoughts on all the excitement and the unveiling in the comments section below.  Also, if you are going to be attending the show or are in the area, feel free to stop by and check out all the innovative and great new things John Deere has to offer.