Planning a birthday party for a John Deere fan? We can help with that. Check out these John Deere birthday party ideas so you can throw a great party with a John Deere theme.
Invitations
Personalize invites with John Deere yellow and green borders, the "Deere" logo, or your favorite tractor image, and mimic the John Deere font style and colors! Seal your invitations with a John Deere sticker to give your guests a clue about the theme before they even open the envelope.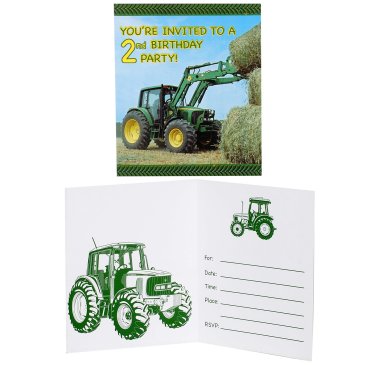 Credit
Plates, Cups, and Utensils
While you're waiting for RSVPs, stock up on staple items needed for eating cake and drinking punch. Keep an eye out for paper plates and cups decorated with John Deere tractors, green and yellow forks, and napkins sporting the John Deere logo.
Decorations
Go crazy with green and yellow balloons, streamers, confetti, and table cloths! Give the table some personality by using John Deere toy tractors as place settings; you could even tie balloons to them. Try using a John Deere wagon or pedal-powered tractor to keep the gifts and party favors in. Cover an old paint or coffee can with some paper featuring the Deere logo to create a vase for holding sunflowers (yellow!) as a center piece.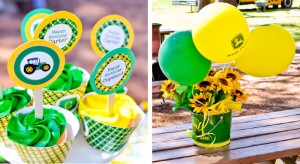 Credit
Snacks
Before you "wow" your guests with the grand finale  (a John Deere cake, of course!) set out some snacks of green veggies and dip, green and yellow jelly beans, or cocktail hot dogs that can be speared with green and yellow tooth picks. You could even get customized water bottles printed with the birthday boy/girl's name and John Deere logo on them.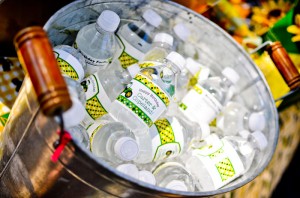 Credit
Cake
Whether you're a world class baker or can't even locate your oven knobs, you've got to have a John Deere cake at a John Deere birthday party! If you're going to do-it-yourself, try using fondant frosting to create farm scenery. Make sure you're doing it in green and yellow to accentuate the John Deere theme and finish it off with a tiny tractor cake topper and green candles.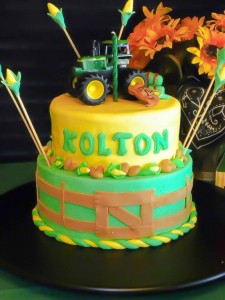 Credit
Party Favors
Make your John Deere birthday party theme a lasting memory for your guests by sending them out the door with a parting gift. Use yellow and green mini metal buckets to fill with crayons, coloring pages of tractors, John Deere stickers, and pieces of candy.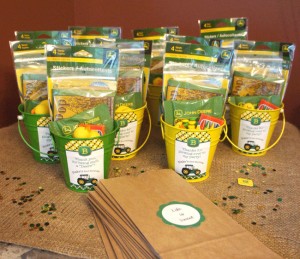 Credit
Now that you have so many ideas floating around in your head it's time to starting planning. Did this post spark any of your own John Deere birthday party ideas? We'd love to hear feedback about your own approaches and how your party turned out!
If you enjoyed this post or want to read others, feel free to connect with us on Facebook, Twitter or Google+!
You might also like: