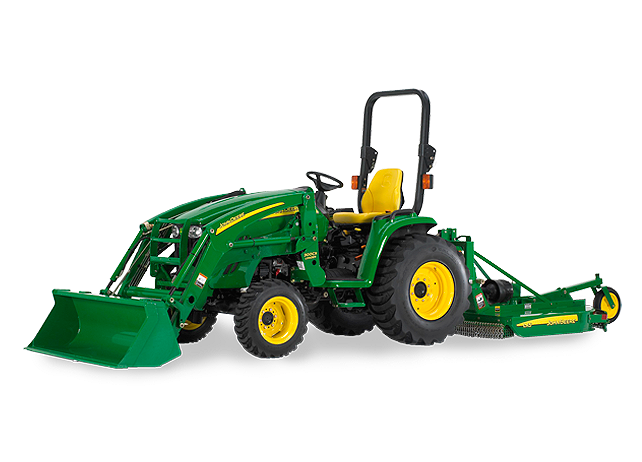 One glimpse of this John Deere 3720 tractor is enough to know it's unlike any other. This model in the 3000 series has a striking exterior design and offers an array of features for an effortless operating experience.
Every feature in the operator station is, in fact, designed to improve user comfort and productivity; the steering wheel is adjustable, each control is distinguishable by color and shape, the steps and grab handles offer ease of use when getting on and off the tractor, and there is a comfortable seat with plenty of leg room.
The John Deere 3720 tractor drives as easily as a car; the foot pedal controls the speed and propels the tractor forward or backward with the simple shift of a hand lever.
TwinTouch™ foot controls prevent operators from having to use the "heel and toe" design for direction, which allows this compact tractor to inch forward or backward when attaching to implements.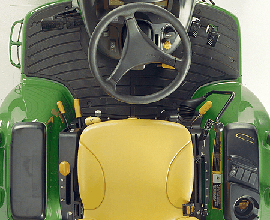 Thanks to the eHydro™ transmission, the John Deere 3720 compact tractor can match ground speeds to the job needs without the use of a clutch. Operators can easily switch between forward and reverse for total control and productivity over jobs like loading and mowing when frequent direction change is necessary.
The LoadMatch™ power-management system is an industry exclusive and a JD 3720 standard feature that reduces the tractor drive speed if torque requirements increase significantly.
The John Deere 3720 is a versatile tractor that can easily adjust to a variety of attachments and implements. Operators are often concerned with the difficulty of switching from attachments; the team at Deere has addressed and resolved this issue with a hitch that is compatible with all Category 1 implements.
iMatch™ Quick-Hitch is an optional feature of the Deere 3720 tractor that offers a smooth transition from one attachment to another with very little effort. Operators can switch from a rotary cutter to a loader without any concerns about improper fit.
iMatch™ AutoHitch™ allows operators to change from one PTO driven attachment to another without ever leaving the driver's seat.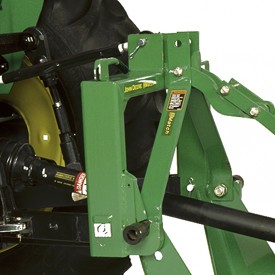 To top it all off, the John Deere 3720 tractor comes complete with a Performance Tracking System to accurately monitor tractor health and give a quick diagnosis if need be. This key feature keeps operators constantly informed about every function of their tractors to ensure continual productivity.
The attention to detail, versatility, and productivity features found on the Deere 3720 make it one of the most unique and exciting compact utility tractors on the market. The JD 3720 is a reliable and durable machine that is sure to satisfy the needs of any job.
Photos courtesy of Deere.com
If you enjoyed this post, check out more like it on our Facebook page!
You might also like: