With all the 4X4 utility vehicles available for sport and recreation, it's easy to forget the innate ability these vehicles possess for being productive pieces of farm equipment. If you consider the John Deere Gator an exciting ATV for trail riding, desert racing and recreational fun, then you're absolutely right. But there's so much more that your 4X4 Gator can do. At the core of this compact vehicle is a work-horse ready to take on any farm task it faces.
When there is farm work to be done, a 4X4 work utility vehicle can be one of the most versatile and productive pieces of equipment to use. The John Deere 4X4 Gators are equipped to carry heavy cargo loads, fit easily through tight spaces, tackle any terrain, and keep you comfortable the whole time. Check out some of the tasks a 4X4 can accomplish during a day on the farm.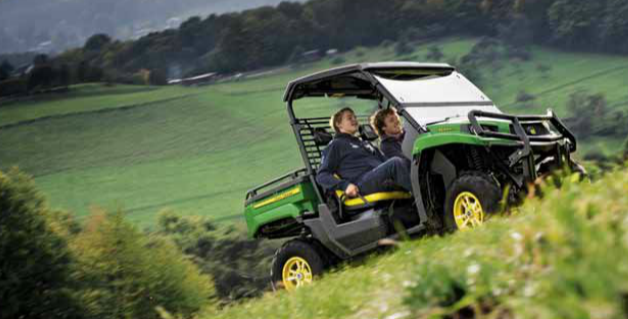 Haul heavy loads: The cargo boxes of traditional Deere work utility vehicles are large enough and strong enough to haul up to 400kg. This makes transporting material and equipment a simple task. Farmers can haul dirt, gravel, hoses, landscaping tools, wood, and much more across extensive acreage.
Maneuver through untamed terrain: When heavy rain causes a muddy mess on your farm, many utility vehicles can get stuck due to a loss of traction. The John Deere Gator 4X4 utility vehicles are designed with full suspension, four wheel drive, and high ground clearance to ensure they can muscle through any terrain condition. In instances where there isn't a defined path to drive on, a 4X4 can easily pave its own way over rocks, branches, puddles, and slopes.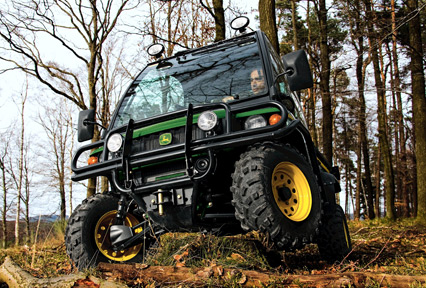 Conveniently travel from point A to point B: Farms can have some very large acreage that can make for some long walks if you have to navigate your property on foot. When you're not driving through fields on a tractor or combine it's helpful to have something compact and easy to operate ready to go whenever you need to make a trip from one end of the farm to another.  Similar to having a cart on the golf course, a 4X4 vehicle reduces the energy spent on walking and saves it for the agricultural jobs at hand.
Maintain the condition of grass and soil: Although it's nice to have a vehicle at your disposal to transport you across your property, there can be some negative side effects to your grass and soil. The tires of all Deere 4X4 utility vehicles feature treads and traction that glide across terrain as softly as you would on foot. This allows you to safely drive across fields and lawns without packing down any of the grass or soil, even if the cargo box is loaded down.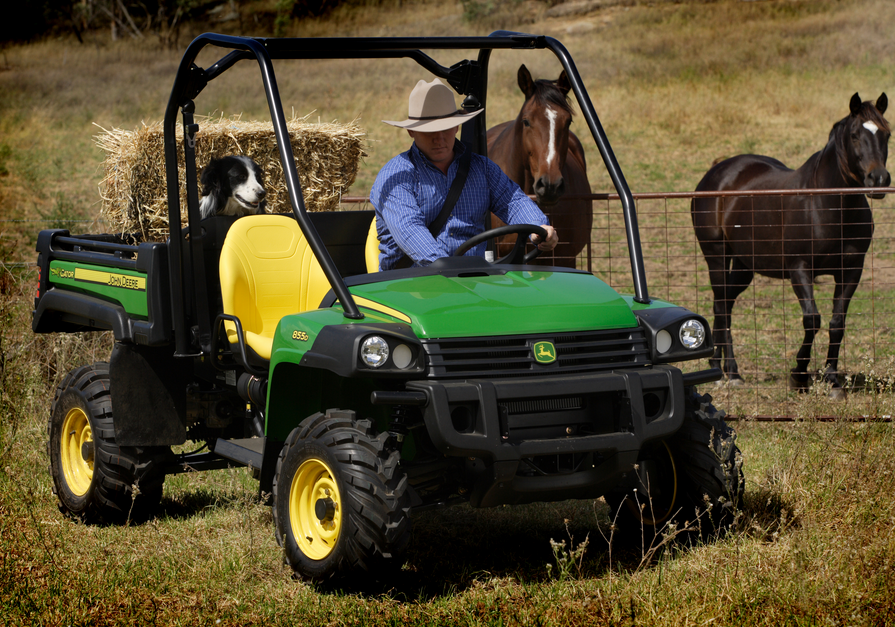 What makes a 4X4 utility vehicle such an essential piece of farm equipment is its endless versatility when it comes to all matters agriculture. Farm work that can't be completed on foot or with a tractor can more often than not be completed by a 4X4 Gator. There is always a job to be done on the farm that calls for the productivity, efficiency and strength of a John Deere work utility vehicle.
If you enjoyed this post read more like it on our Facebook page!
You might also like: