As the saying goes, "knowledge is power." Before yielding successful results, regardless of the project being worked on, it's essential to fully understand your John Deere equipment. This is where John Deere Brochures come in; available online, these allow owners (or soon to be owners) the opportunity to deep dive into pages of information specific to the equipment make or model. Armed with this knowledge, the owner can enter any project with the confidence they need and an understanding of each nuance and capability of their machine.
Let's take a look at a small sampling of these brochures in a bit more depth and highlight some key offerings of each:
Tractor Buying Basics Buyer Guide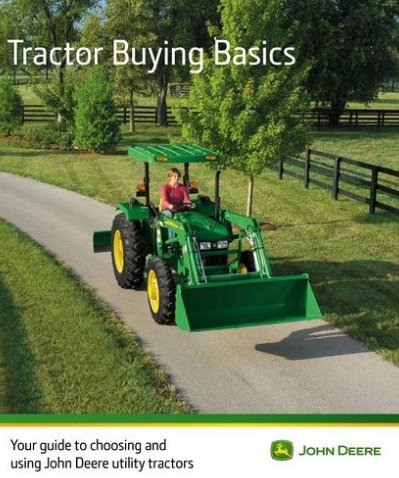 Are you in the market for purchasing a John Deere utility tractor but don't know where to start? This brochure is a great jumping off point as it serves as a guide for choosing the right one as well as some beginner usage tips. The brochure helps answer questions like "how much power do you need?" while also highlighting lifting, hydraulics, digging, and hitch attachment capabilities. Additional information speaks to the versatility of the Deere utility tractors as well as maintenance, cost of ownership, and warranty information.
1 Family Sub-Compact Utility Tractors Brochure
After learning the tractor buying basics, those interested in "around the house" work should take a look at the 1 Family Sub-Compact Utility Tractors Brochure, which makes its capabilities known right from the second page. The brief description says this model can be a landscaper, a snow mover, a finish mower, garden seeder, lawn seeder, and fence-builder. Moving through the brochure, specific features and attachment capabilities are highlighted which put numerical values behind the claims made in the intro.
5M Series Utility Tractor Brochure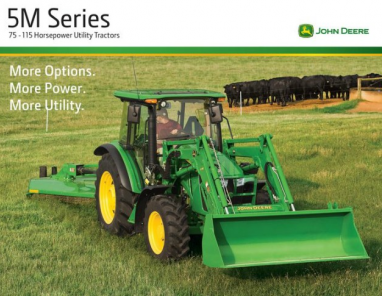 Tractors can serve as more than just a weekend toy, and this brochure introduces the complete 5M series, which can be used throughout long days on the field for those that make agriculture a part of their livelihood. The first half of the brochure focuses mainly on the deluxe cab features, including the PowrReverser transmission. Attachments and loader specifications are also examined, leading up to a complete run-down/comparison of the various 5M models offered, so the right decision can be made for the appropriate operator.
9R/9RT Series Tractors Brochure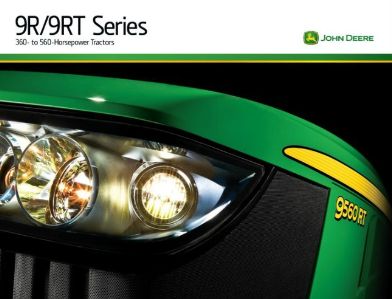 The largest John Deere tractor deserves a hefty brochure, and that's exactly what you will find with the 9R Series document. This brochure attempts to showcase each and every aspect of the 9R series that will assist those who rely on crop production and how the 9R can bring the farming operation to the next level. Engines, transmissions, cab specifications, technology, tire and track options, hydraulics, and more are all looked at in depth. Similar to the 5M series (mentioned above), the brochure closes with side-by-side comparisons of each model within the series to show similarities and differences between each.
Whether you're looking to purchase a weekend machine for around the yard, or you need a machine that will increase crop yields, be sure to take a look at the John Deere brochures offered online. Arm yourself with the knowledge needed to get the most out of your machine and simplify projects being targeted.
If you enjoyed this post read more like it on our Facebook page!
You might also like: