A John Deere Gator is an all-terrain, all-purpose utility vehicle engineered to work as tough and play as hard as you do. But, when it comes to playing, how can the little ones mimic the real-world action they see you doing?
With the John Deere battery-operated gator, junior gets all the fun of the real thing with the proper safety and security to put Mom and Dad at ease. Let's take a look at some of the features of this fun on four-wheels:
John Deere Gator XUV 12-Volt Battery-Powered Ride-On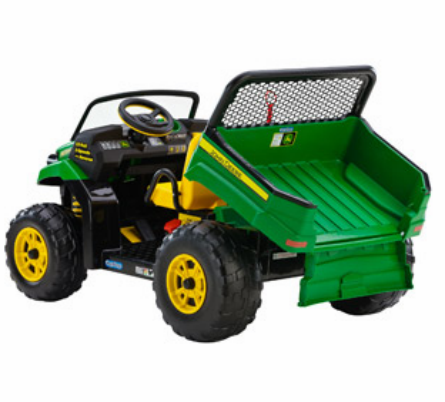 (Source)
With the John Deere Gator XUV 12-Volt Battery-Powered Ride-On, kids can ride just like Mom and Dad! Little ones can cruise around the yard at speeds of up to 4.5 mph, hauling their toys in the extra-large dump bed with a fully-opening tailgate just like the real thing! This two-seater, complete with a SmartPedal accelerator and automatic brakes, comes with super traction wheels, a cupholder for their water or juice, and a windshield to take the little ones on whatever kind of journey they can dream up with parents' minds at ease thanks to its safety features.
This John Deere battery-operated gator operates on one 12V battery (included) and boasts a two-speed shifter with reverse that allows for safe driving on grass, dirt, or hard surfaces. Children ages 3 – 8 are invited to hop on and take their "machine" for a spin just like Mom and Dad!
Of course, John Deere's collection of battery-operated toys doesn't begin and end with gators; there are plenty of other options available for summertime fun! Whether your summer vacation consists of John Deere Gator toys with or without batteries, we hope it's the kind of fun the whole family can enjoy.
If you enjoyed this post read more like it on our Facebook page!
You might also like: