The temperatures are heating up and school-age kids are getting antsy in the classrooms: that must be mean it's almost summer vacation! Once the doors finally swing open on the last day of school, it's two full months of freedom and fun. In between trips to the lake and pool, the child's John Deere Gator toys are the perfect choice for keeping your children entertained all summer long.
John Deere offers a variety Gator toys for every age and gives you the option to chose from battery- or pedal-powered ride-ons. Take a look at these 5 options of Gators and tractors that are sure to make your child's summer vacation the best one yet!
Get Around Gator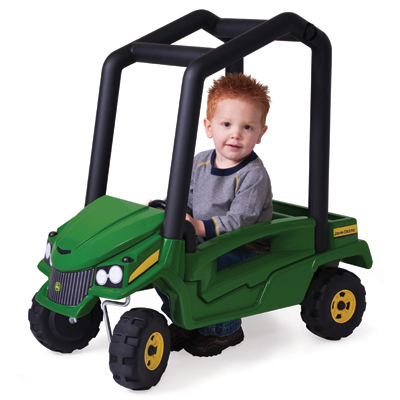 1) This sleek ride is ideal for little ones 18 months or older who are ready to cruise the sidewalks in that famous green and yellow. Both boys and girls can enjoy the Get Around Gator with its dual-side doors, back cargo bin, easy turning radius, and squeak horn. It's powered by their strong little feet but can be pushed by Mom or Dad if kids get tuckered out.
Sit and Scoot Buck ATV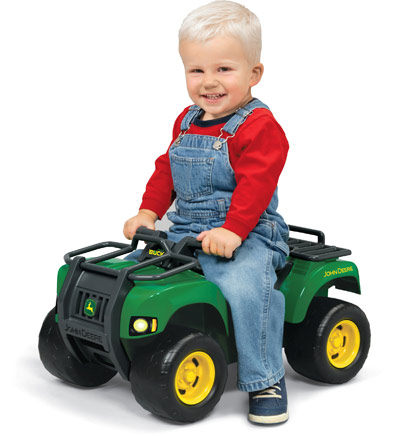 2) A miniature version of the real thing, this Sit and Scoot Buck ATV lets your child drive around a John Deere Gator utility vehicle complete with lights and start-up sounds. Kids can tear up and down the driveway without the risk of tipping over, thanks to the balanced stabilizers designed to keep the Gator upright.
Monster Treads Gator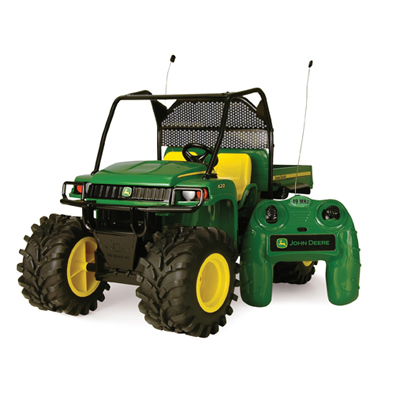 3) Complete with radio control, this Monster Treads Gator is ready to tackle any obstacle with its tough and bouncy tires. Your child will have remote control of this speedy little Gator and be able to drive it over all types of terrain. With the design of an actual John Deere Gator, the Monster Treads Gator gives kids entry into all kinds of imaginative ATV driving situations.
Big Farm 825i XUV Gator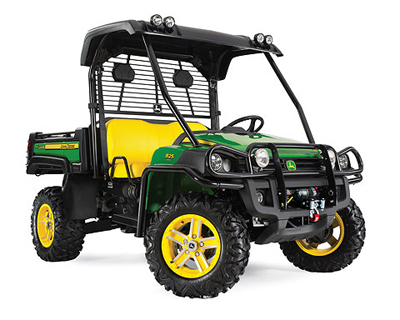 4) If your kids like model cars, planes, or trains, they will love this scaled life-like version of the John Deere 825i XUV Gator. This Big Farm Gator is part of the Big Farm toy set from John Deere and is a fantastic addition to your child's collection. Once you add batteries, this model lights up, makes engine sounds, and dumps the rear cargo box just like the real thing.
Shake and Sounds Gator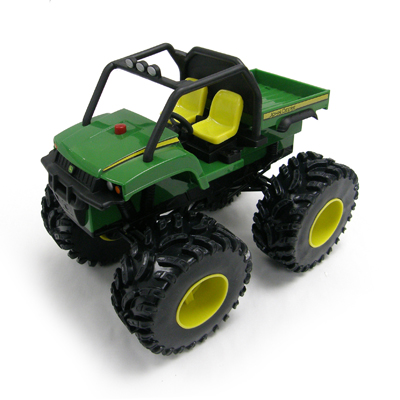 5) For toy truck lovers you can't go wrong with the Monster Treads Shake and Sounds Gator. With sounds and movement that simulate real Gator action, your child with be completely absorbed by this life-like toy. The Shake and Sounds Gator can be used indoors and out and is equipped for tough terrain and tough play.
With all the energy kids have throughout the day, it's important to keep them busy and entertained. These child's John Deere Gator toys are sure to be a hit with any child despite age or gender. For more ideas for indoor and outdoor John Deere summer fun, check out the games page and toys page.
If you enjoyed this post read more like it on our Facebook page!
You might also like: