Agricultural producers, especially those in the middle of a planting or harvest season, put a lot of trust in their machines to perform on a daily basis as they attempt to return the largest yield possible. Preventive measures to equipment failures can be taken, such as building a maintenance checklist; however, some things are simply out of the operator's control.
One stroke of bad luck could cause an immediate repair needed to be made in order to get the machine back up and running to its full potential. John Deere agricultural equipment owners have an opportunity to do just that thanks to the John Deere Parts Catalog, which enables machine owners and operators the ability to search for needed parts by part number, including diagrams and graphics for the desired models.
Let's go through the steps that need to be taken in order to get your machine back out in the field and doing what it does best.
For this example, let's put ourselves out in the field, inside a John Deere 670 STS self-propelled combine harvesting corn. All is going well until we notice something wrong with the AutoTrac RowSense System on our 618 corn head that has been guiding us seamlessly through the field all day.
Step 1: Identify the Problem
The first step in finding a solution for our steering difficulties is identifying the problem. After inspection, we find the Row Guidance Control Sensor is damaged, and needs to be replaced.
Step 2: Visit the John Deere Parts Page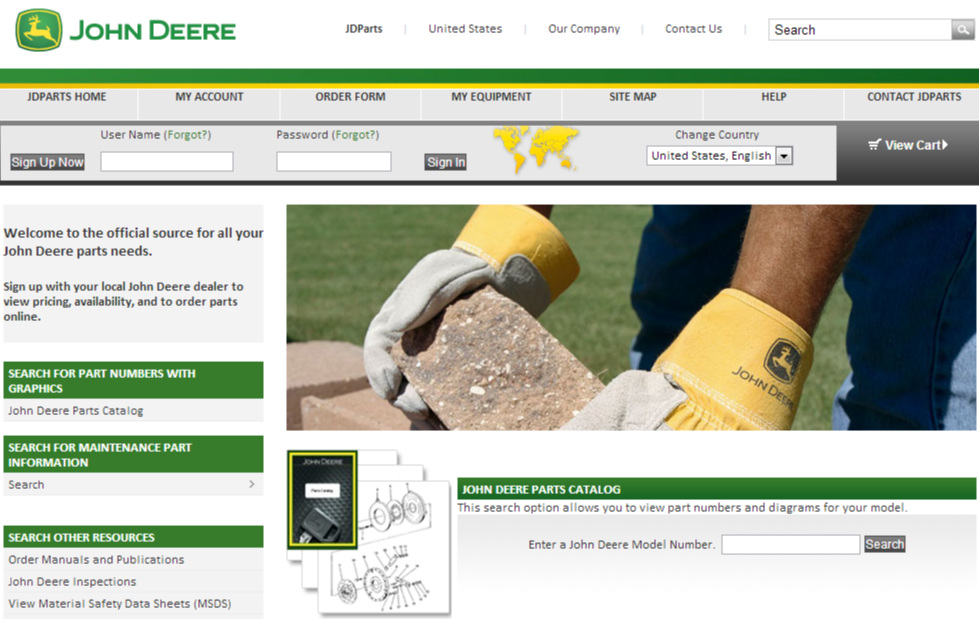 When you arrive at the John Deere Parts webpage, simply locate the John Deere Parts Catalog (seen in the bottom right of the above image). Next, enter your model number (S670 in this case) in the search bar and click "search."
Step 3: Locate the Implement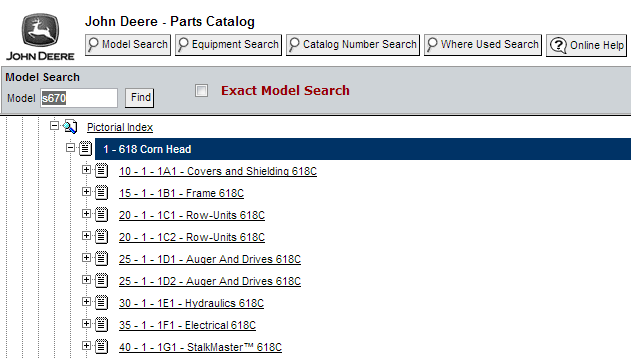 Locate the implement that needs the repair. In this case, we need to open information pertaining to the 618 corn head as seen above. Once we have clicked this implement, we then need to go to the "Electrical 618c" folder, which will bring us one step closer to finding our replacement sensor.
Step 4: Locate the Device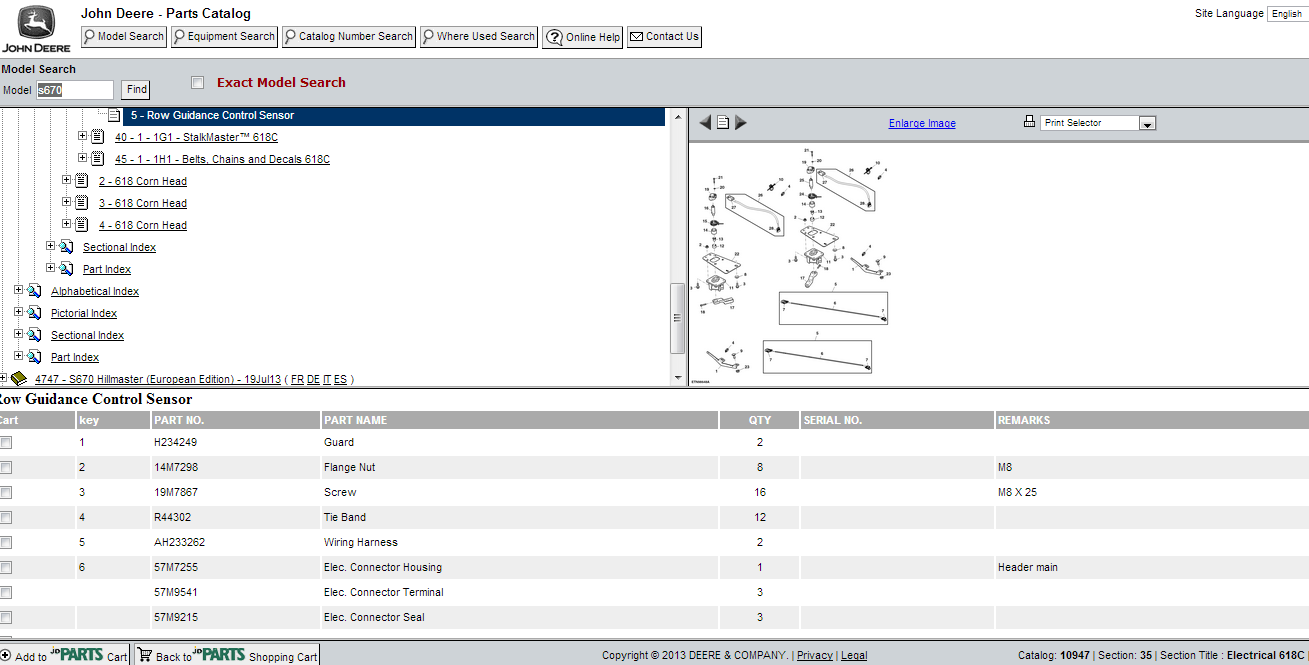 Once we have entered the electrical folder, the Row Guidance Sensor is listed among other electrical parts. Simply select the item and a screen as seen above will load. This screen will show each and every piece that makes up the sensor along with image diagrams for assistance. Simply select all the items needed to fix the sensor and you will be on your way!
With all the time spent out in the fields operating these large machines, parts may eventually need to be replaced. Don't let replacements slow you down; simply use the John Deere Parts Catalog to locate any and all parts needed to get your machine back out in the field doing its job.
If you enjoyed this post, or want to read others, feel free to connect with us on Facebook or Google+!
You might also like: