Summer is right around the corner, and now is the time to prepare your patio for those memorable barbecues. For devoted John Deere fans, a barbecue isn't the same without the legendary Deere logo within sight. Nothing says summer quite like a John Deere patio.
There are plenty of accessories that help Deere enthusiasts include their favorite brand in their patio décor. Let's explore 10 charming John Deere patio accessories that will ensure a summer filled with unforgettable barbecues.
John Deere Grill Master Apron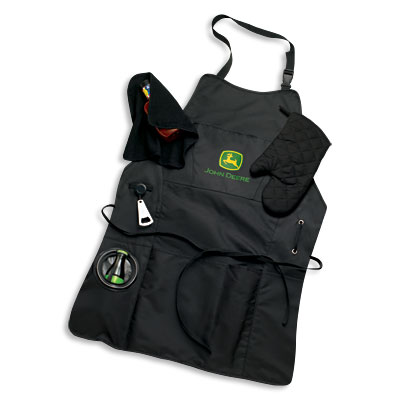 Not only is this apron stylish, but it's practical as well, keeping all of the essential cooking utensils close by. It's easy to wear and includes key features like the detachable bottle opener, padded oven mitt, and towel. Multiple pockets, including an insulated one, keep the cook hydrated and happy without having to sacrifice a chilled drink when working the grill. This John Deere apron allows the grill master to become the master of the entire barbeque.
John Deere Horizontal Banner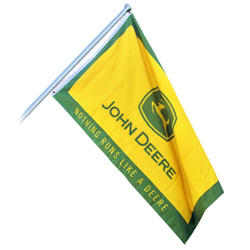 Show your devotion to John Deere by displaying this double-sided premium banner on your patio. It's easy to hang, and will make the perfect addition to your green and yellow-themed backyard. Let everyone know that "Nothing Runs Like a Deere" and no one throws a barbeque like a Deere fan.
John Deere 3 Piece Planter Set

The John Deere 3-piece garden planter set is the perfect decoration to include around the patio area. This set includes 3 pots that will provide your favorite flowers, herbs, or plants with a Deere green place to grow. Along the rim of the pots, there are tractor cut outs with a powder coat finish to protect their garden-fresh look.
John Deere Folding Chair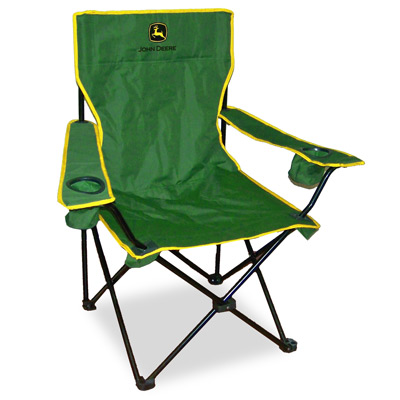 While patio furniture may be ideal, having foldable chairs comes in hand when having company over. Whether your guests are John Deere fans or not, they will surely appreciate the luxury of having a comfortable chair to sit down on. When you don't need the extra seating anymore, the chairs can be folded up and tucked away in their logo printed carrying bag, leaving your John Deere patio clutter-free.
John Deere Koozie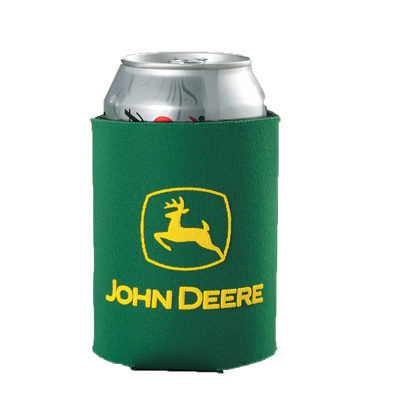 Imagine being able to keep your choice beverage perfectly chilled while expressing love for your favorite brand. This traditional John Deere koozie allows you to do both. It's also very useful in the sense that it collapses to conserve precious space in the cooler.
John Deere 9420 Tractor Wind Chime

The John Deere 9420 tractor wind chime produces harmonious tones for a relaxing patio setting. This long-lasting beauty offers a variety of lovely tones and will give your John Deere patio all the more character this summer. With each gust of wind you will experience the beautiful sounds of a Deere wind chime.
John Deere Outdoor Thermometer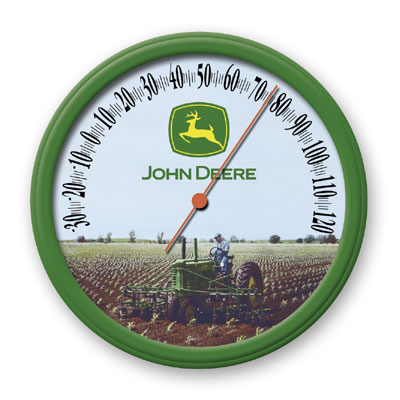 Include this accessory in your John Deere patio design to keep track of the temperature outside on those beautiful summer days. The thermometer features a classic farm photo of a man in the fields with his beloved John Deere tractor. When relaxing on your patio, you can fixate on the joyful scene and let your mind to take you there.
 John Deere Fleece Blanket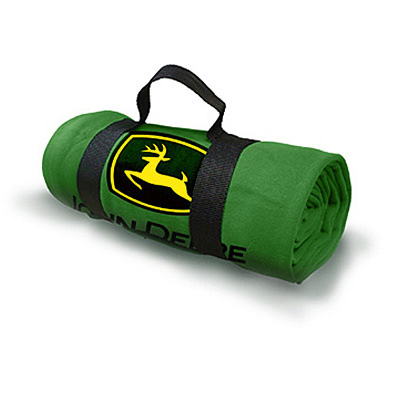 This extra thick, oversized fleece blanket is a convenient accessory to have around the patio area. When the temperature drops at nighttime, this John Deere blanket will keep you comfortable. It also includes a useful strap for carry and storage.
John Deere No-NO Birder Feeder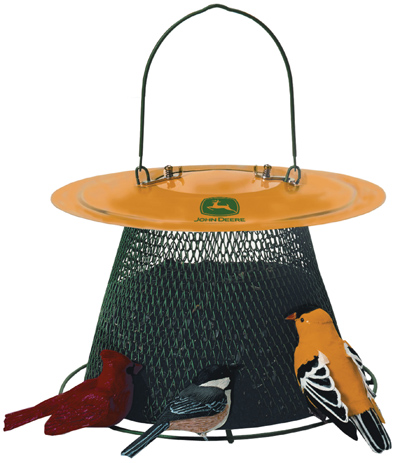 A great way to show you appreciation for nature and enhance your John Deere patio is with this bird feeder. The feeder incorporates the powerful green and yellow Deere colors and has an overhanging roof that provides the birds with extra protection. Attract both clinging and perching birds to your patio with this durable feeder.
John Deere Battery Powered Lantern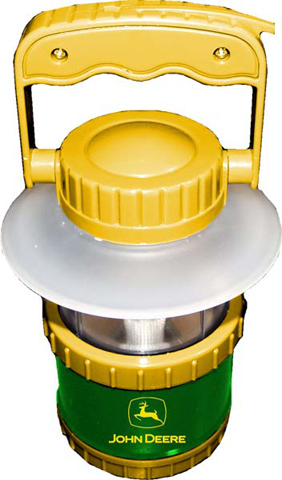 You know what they say, "time flies when you're having fun." This Battery powered Lantern will come in handy when the sun begins to set and you're not finished with all of the outdoor festivities. While this lantern will enhance your John Deere patio décor, it also helps in being prepared for an unpredictable power outage or future camping trip.
After spending a long day out on the field, you can kick back and relax on your green and yellow themed patio. These 10 John Deere patio accessories are all a fan needs to feel right at home. If you enjoyed this post or want to read others, feel free to connect with us on Facebook!
You might also like: