Farming is definitely a unique job. However, it is similar to any other job in the sense that farmers need work clothes, too. Although their work apparel might not be the traditional suit and tie, farming clothes are much more exciting to pick out.
Why Are Proper Farming Clothes Important?
As with any job, particularly one that involves working long hours outdoors in all kinds of weather and operating large machinery, the right clothing is essential for both the safety and comfort of the farmer and those around him. For example, long pants and a lightweight long-sleeved shirt, potentially layered over a t-shirt, can protect a farmer's arms and legs from being hurt by scratchy hay and straw bales, spiny weeds and growing crops in fields, or even by the hot metal of their machinery if they should accidentally touch it on a hot day or right after operation. Durability is also important. Farmers work long hours in all kinds of conditions, and they need clothing that's as tough as they are, to avoid losing precious daylight over a broken belt or a shredded shoe.
What are the Best Clothes for Farming?
The best clothes for farming are those that keep you both comfortable and protected from the elements, harsh chemicals, insect bites, and scratchy plants or hay bales. Tall, waterproof leather or rubber boots, long-sleeved light cotton shirts, and long, durable pants are all popular items of clothing with farmers and their teams. Let's not forget, of course, the classic farmer's overalls, created over decades of use by farmers around the country to perfectly suit the needs of America's farmers.
Where to Find Farming Clothes
There are many quality places to find farming clothes to suit your needs and budget, and one of them, of course, is the online John Deere Store. No matter where you're located in the country, you'll be able to find shirts, pants, overalls, work boots, caps, and almost any other essential item of farming clothes you can think of to round out your work wardrobe.
10 Essential Pieces of John Deere Farming Clothes That Every Farmer Needs
Whether you've just climbed aboard your first John Deere, or you're more at home in your tractor's cab than anywhere else, these 10 essential pieces of farming clothes will let you show your John Deere pride all day, every day.
Rain or shine, in every season of the year, farmers spend long days in the field aboard their agricultural equipment. In an effort to help farmers pick the essentials they'll need to be comfortable and safe on the job, we've put together a John Deere-themed assortment of farming clothes. Let's take a look at some of our top picks for the best clothes for farming John Deere has to offer.
1. The John Deere Vintage Logo T-Shirt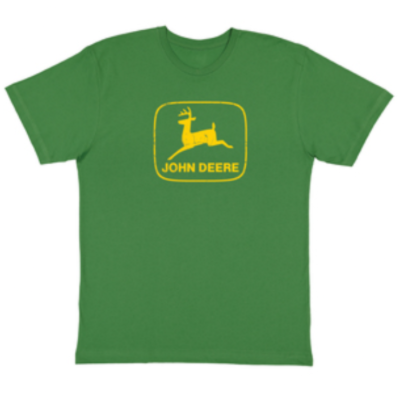 This classic shirt shows off the John Deere green-and-gold color scheme in style. Made from a durable cotton/polyester blend, this shirt will look great and wear comfortably both at home and in the field. Pair it with a coordinating John Deere logo hat, and you'll be fully outfitted and ready to show your John Deere pride.
2. Stretch Polyurethane Bib Overalls
Stretch Polyurethane Bib Overalls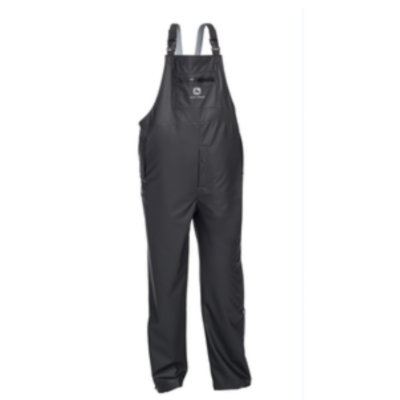 These sleek black overalls have handy pockets and a water-resistant finish, perfect for working in soggy or rainy conditions while still keeping nice and dry. The classic John Deere logo on the front pocket adds a touch of color that also lets everyone know how proud you are of your Deere.
3. Stretch Polyurethane Rain Jacket
Stretch Polyurethane Rain Jacket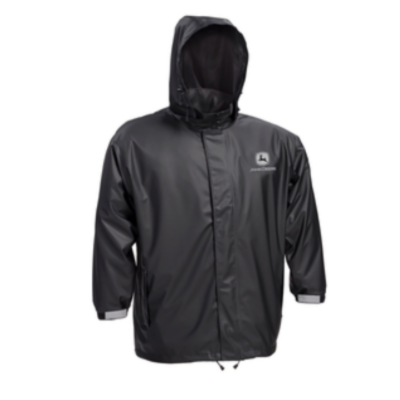 When the weather turns colder and rain, sleet and snow start coming down, every farmer needs a top-quality rain jacket to ward off the elements. This stretch polyurethane jacket will do just that. With an adjustable hood and a wide range of size options, this jacket is sure to fit every farmer in need of a little extra protection from the inclement weather. Pair it with some stretch polyurethane bib overalls, and you've got a complete set of some of the best clothes for farming John Deere can offer.
4. John Deere Trademark Hat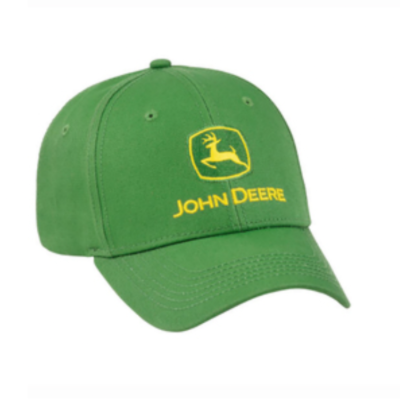 Nothing says "I love my John Deere" like this trademark John Deere gold-and-green cap. Make of smooth, durable cotton twill with an adjustable back closure, this cap will have you showing off your Deere pride in comfort all over town.
5. Classic Gold John Deere Logo Buckle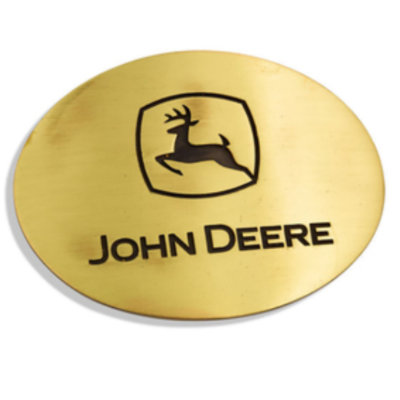 This stunning gold buckle radiates both classic style and brand pride in one sleek, strong design. Wear it both with work pants and for special occasions to show off your Deere loyalty.
6. 38MM Burnished Belt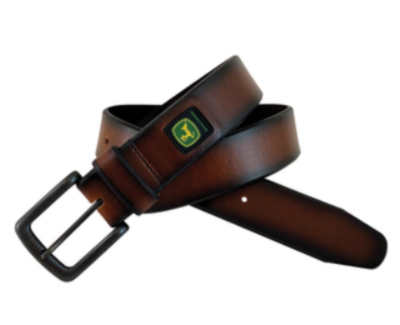 This classic burnished brown leather belt elevates farm clothes to a whole new level. With a 38mm dark brass finish buckle and 1.5 inch wide durable brown leather for the belt body, you'll find yourself wearing this belt for years to come, and loving it every single day.
7. "Nothing Runs Like a Deere" Hoodie
Nothing Runs Like a Deere Hoodie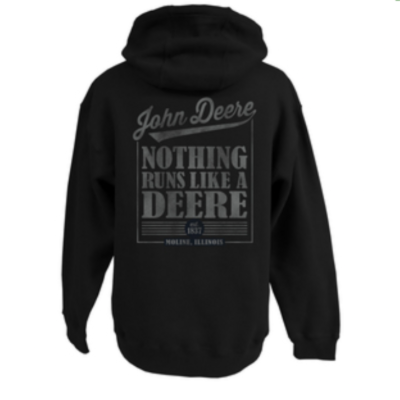 The classic "Nothing Runs Like a Deere Slogan" logo gets a black-and-grey twist with this versatile hoodie. Made from a tough, yet comfy, cotton/polyester blend, this screen printed hoodie is likely to become a key part of your new favorite outfit.
8. Trademark John Deere Logo T-Shirt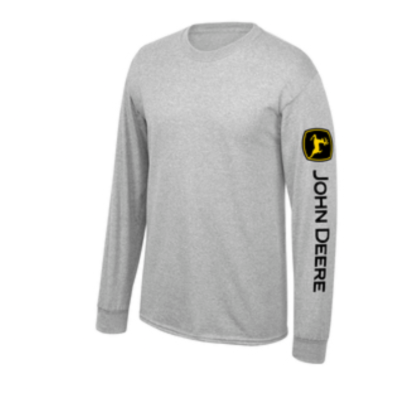 Stay comfortable while also sporting the black-and-yellow John Deere logo in an updated screen-printed style. This cotton/polyester blend long-sleeve shirt has the best of all worlds: comfort, breathability, and eye-catching graphics.
9. Grey Quarter Zip Vest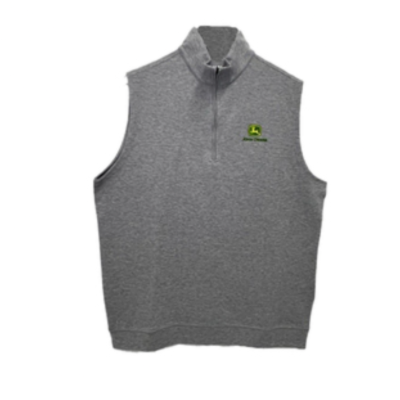 Every farmer needs some trusty layers to keep toasty during the early mornings, or when the weather gets nippy. Look no further than this quarter-zip vest. Lightweight but warm, with the John Deere logo on the front, you can easily pop this versatile vest off and on to suit the day, and the task, at hand.
10. Water-Resistant Driver Gloves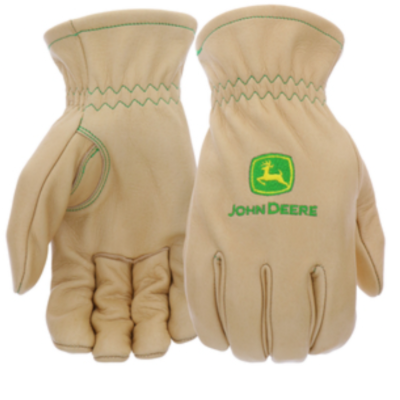 Last but not least, give your hands the protection they deserve with these water-resistant driver gloves. Made from premium grain cowhide, these are our most popular work gloves, versatile and tough enough to handle any task.
As farmers continue working hard throughout the year, we hope that they will remember everything we included in this collection of our favorite John Deere farming clothes.If you enjoyed this post or want to read others, feel free to connect with us on Facebook, Pinterest, Twitter, or Instagram!
You might also like: