Versatility is a part of John Deere Gators' DNA. 365 days-a-year, regardless of conditions, Gators have the ability to be customized to fit operator needs and conquer any challenges nature presents. Thanks to a number of available John Deere Gator parts and attachments, owners and operators are just a few additions away from taking on any project or going on the joyride of a lifetime.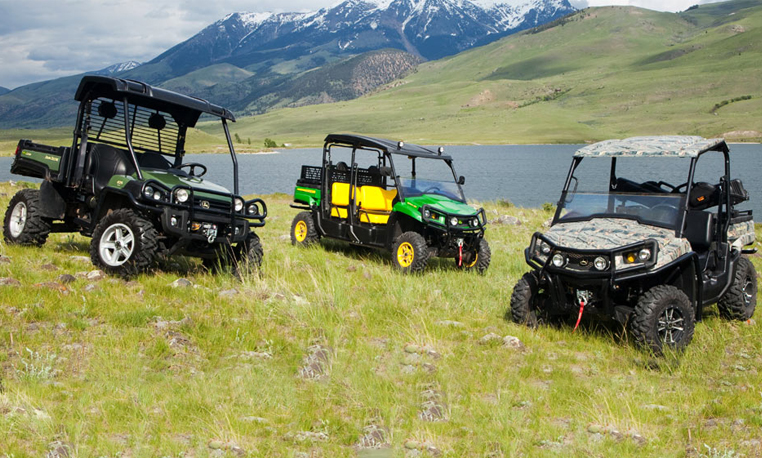 Below, we've featured four videos that prove Gators are the ultimate utility vehicles ready for year-round usage. Enjoy!
Make Your Gator a Valuable Field Tool
Farming operations can cover hundreds, or even thousands of acres, providing a stylish and efficient mode of transportation from point A to point B. However, Gators can do much more than just transport farmers to where they need to be. The John Deere AMS integration kit's StarFire  receiver and GreenStar display can be added to easily map boundaries, flag field obstacles, and sampling soils. To cruise around rough terrain in a smooth manner, Fox shocks can be added and adjusted to fit the terrain's demands. When packing up for a day on the field, it can be easy to bring along the entire shed of tools. John Deere's cargo box attachments make this a reality. Snap-in dividers can be added to fit the needed configuration and a tool-holder rack for long-handled tools like shovels and rakes will keep them secure throughout the transportation process.
Versatility is what defines John Deere Gators. While they can be a critical component of the farming process, they can also help farmers get away from it all by going on a little adventure. Whether it's fishing, hunting, or just exploring the outdoors, specific John Deere Gator parts and attachments can be added to make adventurous visions a reality.
A front winch with 4500 lbs. of pulling capacity can be controlled through the use of a water-resistant remote control, offering a great tool to conquer what may seem to be impassable trail conditions. For those that want to get out on the trails before the sun comes up or after it sets, additional lighting packages can illuminate dark trails.
These trips outdoors often call for for some extra baggage or tools; the hood-mounted rack can be added to add extra space and haul up to 100 additional pounds of materials. Lastly, for those that want a little extra protection against tough terrain, rugged guards can be attached to the undercarriage to protect the most critical components of the vehicle.
Turn Your Gator into a Workhorse
A lot of John Deere Gator operators use their vehicle for its hauling capabilities. Adding a power lift increases those capabilities by making it quick and easy to dump loose cargo. The lift has a 1,000 lb. capacity and is easy to operate thanks to a switch on the dash that lifts the box to a 49-degree angle that completely empties any material.
For extra hauling capacity, side cargo box extensions expand the volume of material the Gator can carry. These extensions also increase versatility by making it easier to handle items that require more vertical space like plants for landscaping or stacks of seed. Pivots on the extensions allow material to be dumped even with them in place.
For Gator owners that want to jazz up their Gator even more, a stereo-mount kit has a netted storage area to secure personal items, two pre-mounted speakers, and two interior lights than can be independently operated. A three-switch bank can operate various roof and cab-mounted accessories, plus the system  is satellite radio and iPod-ready.
For those that live in areas that get a lot of snow during the winter, it can often times be difficult to even leave the house at times. To make easy work of heavy snow, a 72-inch Powertach blade can be easily attached. However, winterizing your Gator doesn't stop there.
A cab complete with a windshield-wiper and heating system can keep operators protected from the elements and warm during long winter days. Heavy snow and dark winter days can also minimize visibility, making the snow-removal process a challenge. A beacon light can be added to make sure others see Gator operators at work and additional lighting to the front of the vehicle will make it easier to operate.
Removing snow often requires changing in direction. Side mirrors that are easily adjusted can be added to navigate effortlessly. When the day is over and it's time to bring the Gator back to the shop for storage, these mirrors can be tucked in to free-up valuable space.
Each of these John Deere Gator parts and attachments make it the ultimate year-round vehicle. Hopefully these videos demonstrated the Gator's all-around versatility and sparked some ideas of how to maximize its capabilities as needed. If you enjoyed this post or want to read others, feel free to connect with us on Facebook or Google+!
You might also like: