It's rare that businesses have such solid family dedication to daily operations, but farming is one of the few that does. This may be partly because of the way adult farmers encourage younger generations to get involved in the agricultural lifestyle. Engaging upcoming generations in agriculture has been a hot topic lately, as it is a critical element to the future development of our land.
Do you have a little one in your life that's eager to learn more about agriculture and the lifestyle of a farmer? John Deere Mega Bloks may be the perfect way to keep them entertained while learning what it takes to be a farmer.
With the holidays in mind, we've put together a short list of John Deere Mega Bloks for the future farmer in your life.
John Deere Mega Bloks Little Tractor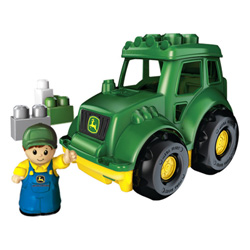 Make sure your little farmer's hat is strapped on tightly and securely when taking on every acre of the field with this John Deere tractor! This John Deere Mega Bloks tractor has a handy and removable pronged roof to let your farmer make space for the included tractor buddy or to build on top of the tractor. It's also a great space to keep building blocks or anything else your little one's imagination can fit in there.
John Deere Mega Bloks Seeding Crew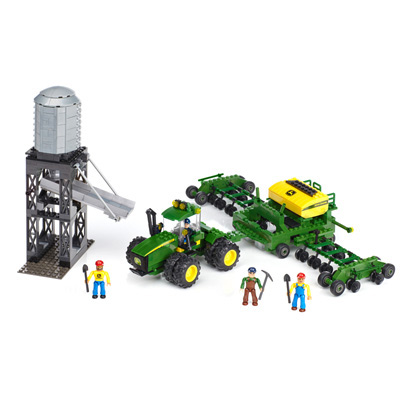 Till the fields and plant seed with the rest of the seeding crew! This set includes 828 pieces to build a heavy duty, double wheeled John Deere tractor and give the crew the muscle they'll need to power the John Deere Air Seeder. Before you know it, your little one will be on their way to seed your farm just like a real farmer.
John Deere Mega Bloks Bale Transport Unit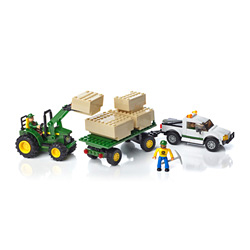 With the John Deere Mega Bloks Bale Transport Unit, kids can practice loading up hay bales onto the trailer. After building the tractor with the bale spike attachment, they'll need some help from their John Deere farm hands to lift the buildable hay bales onto the transport trailer. This 384 piece set is a fun way to help children with their hand eye coordination and will keep them entertained for hours!
John Deere Mega Bloks Farm Tractor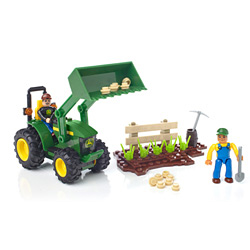 This is the perfect chance to show off your green thumb! The John Deere Mega Bloks Farm Tractor set lets kids build the farm tractor with front bucket, and tend to the garden base plate of special crops pieces with their other farming equipment and friends. With 117 pieces, they can till and move big piles of soil, while collecting the harvest and maintaining a fresh looking farm.
John Deere Mega Bloks Lil' Harvest Farm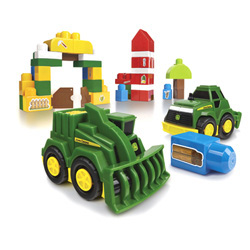 There's a lot of work to get done with the John Deere Mega Bloks Lil' Harvest Farm set! Plow through acres of the field harvesting crops and bailing hay with the buildable iconic green and yellow tractor and harvester. Your little farmer will have a blast getting familiar with the classic John Deere colors while building barns and silos. This set includes 53 pieces, with a buildable tractor and harvester, colorful farm pieces to build barns, silos and more.
John Deere Mega Bloks are just one of the many toys that offer young ones a fun and educational agriculture experience. Hopefully this post has given you a few gift ideas for the holidays! If you enjoyed this post or want to read others, feel free to connect with us on Facebook or Google+!
You might also like: