Combines are some of the largest, most fascinating pieces of agricultural equipment that can be found on the field or farm, easily causing kids' eyes to grow larger and jaws to drop at the sight of their wheels turning. While it's wise for children to stay away from these large pieces of equipment, it's still possible for them to get up close and personal with combines in their everyday lives thanks to a variety of John Deere combine toys.
We've highlighted some specific toys that the little ones can get their hands on daily to learn more about how combines work in a fun manner. Enjoy!
John Deere 1:16 Big Farm S670 Combine With Grain Head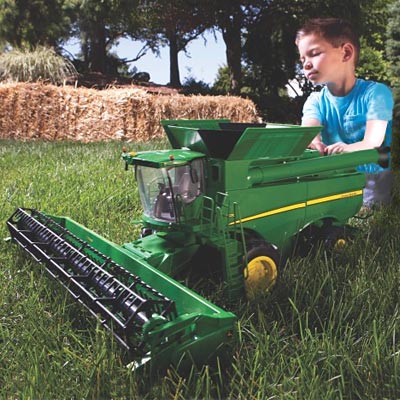 The John Deere Big Farm S670 Combine with 630R Grain Head includes lights and combine sounds, steerable rear wheels, and removable front outside dual wheels. The right-side rear body panel opens, mirrors move, and the grain head and feeder housing raises and lowers. The auger and grain head rotate when the combine is pushed forward or backwards. These features make this toy an accurate depiction of a real combine!
John Deere 1:64 Scale Harvesting Equipment Toy Set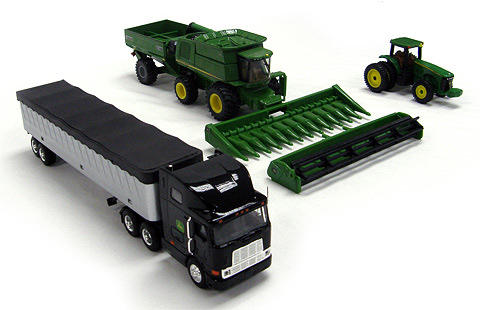 With this toy set, your little farmer can simulate the harvesting process by bringing in the crops from the field. The set includes an 8520 Tractor, grain cart, 9700STS Combine, corn & grain head, and a semi with a grain trailer.
John Deere Mega Bloks Lil' Harvest Farm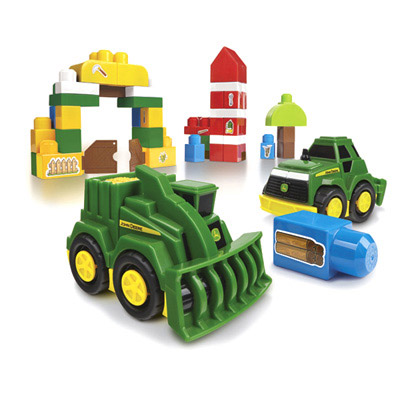 The bright green and yellow buildable tractor and harvester will allow kids to create fields of fun, building barns, silos, and more! The set includes 53 pieces of bright colored farm pieces, and combines with all Mega Bloks John Deere play-sets to create a big collection.
Corey Combine Soft Small Vehicle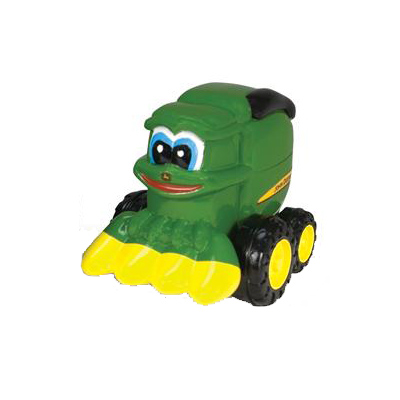 This soft toy, just 4" in size, is perfect for toddlers to be able to handle. The rolling wheels will keep Corey running as long as children desire!
John Deere 1/32 M4 9870 STS Combine with Corn and Grain Head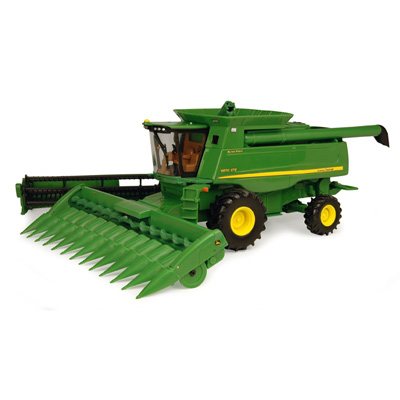 Recommended for ages 14+ this STS Combine replica is constructed with a d-cast metal body and rubber tires. The plastic movable auger and ladder make it a close representation of the real thing.
John Deere Johnny Tractor Set with Johnny and Corey Combine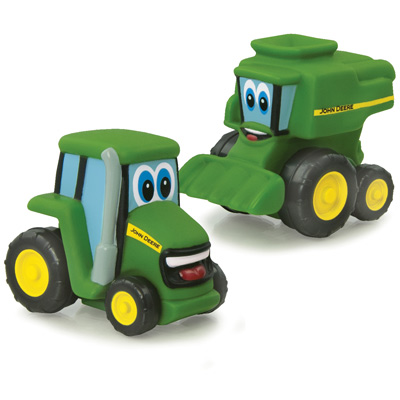 This John Deere Johnny Tractor set includes one 2.5″ Johnny and 2.5″ Corey Combine, which are made with soft plastic. Their small nature makes them great for travel, especially road trips!
John Deere Corey Combine Toybook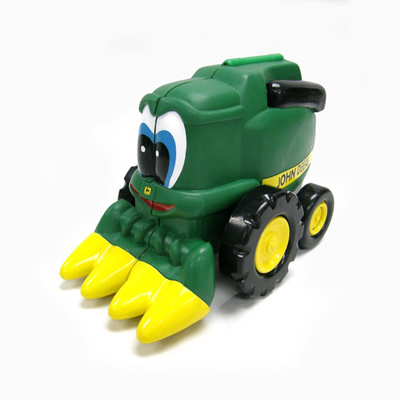 At first glance, this looks like an ordinary plastic combine toy. However, inside, kids will find a 10-page coloring book that tells a tale of life on the farm with Cory Combine and his pals.
Johnny Tractor Semi Set With Corey Combine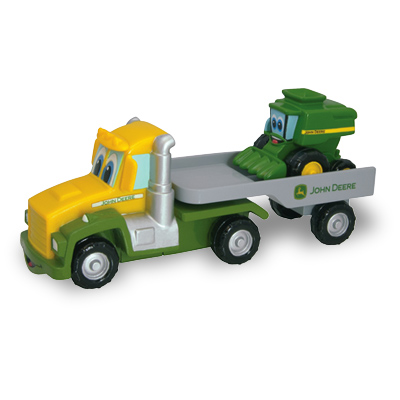 Corey Combine rides on the trailer of this toy semi (8″ L x 2.5″ W x 3″ H) and can be unloaded from the yellow and green Sammy Semi for individual play or sharing fun.
Hopefully this list of John Deere combine toys will entertain the kids for hours as they learn how combines work on their way to a future in farming! If you enjoyed this post or want to read others, feel free to connect with us on Facebook!
You might also like: