Ranching and farming jobs often require the size and power typically offered by a utility tractor. However, some ranch or small farm owners tend to lean towards value-oriented and price-conscious purchasing decisions, looking to get the most out of their hard-earned money. The John Deere 790 fits these desires perfectly, offering the right amount of muscle and versatility at a fair cost.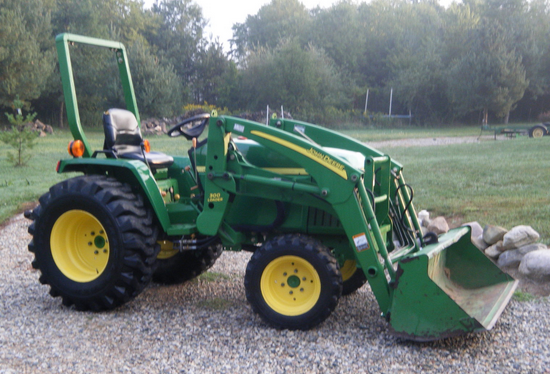 So, what makes the 790 a favorite among ranchers, farmers, estate owners, landscapers, contractors, and more? To answer this question, let's take a look at some of the most redeeming qualities of the John Deere 790.
Powerful Diesel Engine
The John Deere 790 is powered by a large displacement, liquid-cooled TNV Series Yanmar diesel engine (27 gross horsepower) that hosts a high level of reserve power to handle some of the toughest jobs around the farm or ranch. Additional engine features include direct fuel injection, economical cast-in block cylinder design, cast-aluminum pistons, high-capacity lubrication system, in-line plunger-type fuel injection pump and more.
Gear-Type Transmission
Ranchers and farmers very commonly equip their compact utility tractors with attachments such as loaders and backhoes. Deere's 790 is available exclusively with an 8×2 sliding gear transmission that is merged in a cast iron transmission case. In addition to providing the strength and durability needed to support loader and backhoes, this transmission uses one reservoir (with one check point) for the transmission, differential, and hydraulic system fluid levels to speed up daily maintenance.
User-Friendly Operating Station
Getting on and off the 790 is made easy thanks to a left-side step and handrails which are located on the fenders. The foot platform is rubber-mounted and includes a self-cleaning, non-skid surface for sure footing in even the harshest weather conditions. Every 790 comes with a high-backed seat that offers supreme comfort and support. After use, operators can flip the seat forward to protect it from the outdoor elements. A two-post Roll-Gard ROPS roll-over protective structure protects the operators in the event of an accidental tipping of the tractor.
iMatch Capabilities
Tractor implements can be difficult to handle and more importantly, difficult to attach to the tractor itself. Due to this common issue, the John Deere 790 provides operators with optional iMatch Quick-Hitch and iMatch AutoHitch capabilities. Quick-Hitch provides easy hookup and a guaranteed fit for all Category 1 implements and AutoHitch allows customers to hook up the PTO shaft of certain PTO driven implements. AutoHitch allows customers to change from a rotary cutter to a rotary tiller without leaving their seat.
The John Deere 790 remains a popular model for farmers and ranchers due to the features we have listed above. Next time you're in the market for a utility tractor, take a look at the 790 as an affordable yet very capable piece of equipment. If you enjoyed this post or want to read others, feel free to connect with us on Facebook or Google+!
You might also like: