When you need a mower that can take on a large amount of square footage in a small amount of time, the John Deere Z994R helps you get the job done. This zero-turn mower is specifically designed to take on large jobs with its 24.7 horsepower liquid-cooled diesel engine and 11.5 U.S. gallon fuel tank.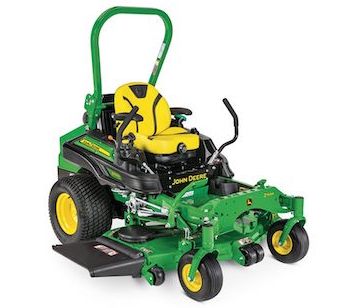 Let's take a look at some of the highlights of the John Deere Z994R and how it can help you with the task at hand.
Heavy-duty Chassis Components
The John Deere Z994R has a strong, welded steel frame that provides solid, reliable support. Its caster wheels are offset for optimum steering and mowing performance, and its steel rear bumper provides additional protection to the equipment.
Michelin® X® Tweel® Turf Airless Radial Tire Technology
Owners of the John Deere Z994R have the option to use Michelin X Tweel Turf Airless Radial Tires, which provide a smoother ride for the operator while ultimately improving mowing performance. Uptime is improved – there is no downtime associated with flat or damaged tires, and the cost of operation is ultimately reduced.
Diesel Engine
The John Deere Z994R has a 24.7-horsepower three-cylinder liquid-cooled diesel engine, with gross rated power at 3200 rpm. It is high torque, low-emission, and made for a strong performance in even the toughest conditions. It has low vibration and noise levels, as well as isolated rubber mounts that make for a smoother ride. Indirect fuel injection uses a pre-combustion chamber to give the engine a quiet operation.
Hydrostatic Drive
The hydrostatic drive is included with the John Deere Z994R and features two 13-cc unitized hydraulic pumps, combined with commercial grade, heavy duty 13-cc wheel motors into a single unit. With one pump and motor drive assembly for each wheel, there is exceptional cooling, and it is easy to check and refill the hydraulic oil.
Seating Options
There are three seating options for the John Deere Z994R, all of which include ComfortGlide fore/aft suspension for a seamless ride. Each option also comes with adjustable armrests, and the thick seat cushion is specifically designed for lasting comfort, even after a full day of work.
Mower Deck Options
The John Deere Z994R has three mower deck options: The 54-in. (137-cm) 7Iron™ PRO Side-Discharge Mower Deck, the 60-in. (152-cm) 7Iron PRO Side-Discharge Mower Deck, and the 60-in. (152-cm) 7Iron PRO Mulch On Demand™. Each mower deck provides numerous benefits when it comes to trimming, grooming, and mulching.
If you have any questions about the John Deere Z994R, you can contact your local John Deere dealer.
If you enjoyed this post or want to read others, feel free to connect with us on Facebook, Pinterest, or Twitter!
You might also like: