When you're on the hunt for a commercial mower to help you tackle a wide area in a short amount of time, Deere has you covered. The company has now added a 72-inch deck option to the Z994R ZTrak™ Zero-Turn Mower for customers who want to boost their productivity and overall efficiency on the job.
"We are committed to offering the commercial mowing industry a variety of equipment solutions that meet the needs of professional landscape contractors," said Natalie Haller, product manager, John Deere. "With the 72-inch deck offering on the Z994R, we are able to provide even more options for the diesel market. Many of our customers manage areas with fuel restrictions, such as cities or governmental properties, which often require a diesel machine. With the addition of the 72-inch deck on the Z994R, we are providing customers with a powerful, reliable, and productive diesel solution."
Let's take a closer look at some of the features of the Z994R ZTrak™ Zero-Turn Mower and how it can help you with the task at hand.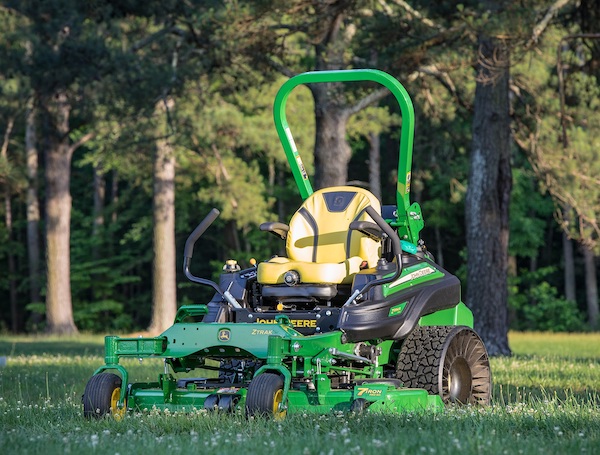 Heavy-Duty Chassis Components
The chassis components of the Z994R ZTrak™ Zero-Turn Mower are heavy-duty, meaning they are composed of welded steel for strength and reliability. The frame of the machine has wide-open access for maintenance and cleaning, as well.
Michelin® X® Tweel® Turf Airless Radial Tire Technology
Customers have the option of using Michelin X-Tweel Turf technology with this zero-turn mower. With this option, mowing performance and uptime are ultimately improved. The technology eliminates downtime associated with flat or damaged tires. Customers can also potentially save money that would have otherwise been spent on repairs and maintenance.
Diesel Engine
The diesel engine of the Z994R ZTrak™ Zero-Turn Mower has a cast-in block cylinder design that provides adequate cooling for longer life. It also has a gross horsepower of 24.7, and its high level of torque makes it ideal for operation in difficult conditions.
Mower Decks
There are four mower deck options for the Z994R ZTrak™ Zero-Turn Mower, ranging from 54 to 72 inches in size. These options allow for everything from trimming to grooming, and the 60-inch 7-Iron PRO Mulch On Demand™ Mower Deck can be converted from a side-discharge mode to a fully chambered mulching mode.
If you have any questions about the Z994R ZTrak™ Zero-Turn Mower, you can contact your local John Deere dealer.
If you enjoyed this post or want to read others, feel free to connect with us on Facebook, Pinterest, or Twitter!
You might also like: