Deciding on the perfect piece of equipment to add to your fleet can be a daunting task. The region where the work is being done, business type, and application are all critical factors in the buying process. To alleviate some of the stress this process can bring upon decision makers, John Deere introduced a Product Selector Tool that originally focused on residential and commercial mowing equipment, as well as small tractors.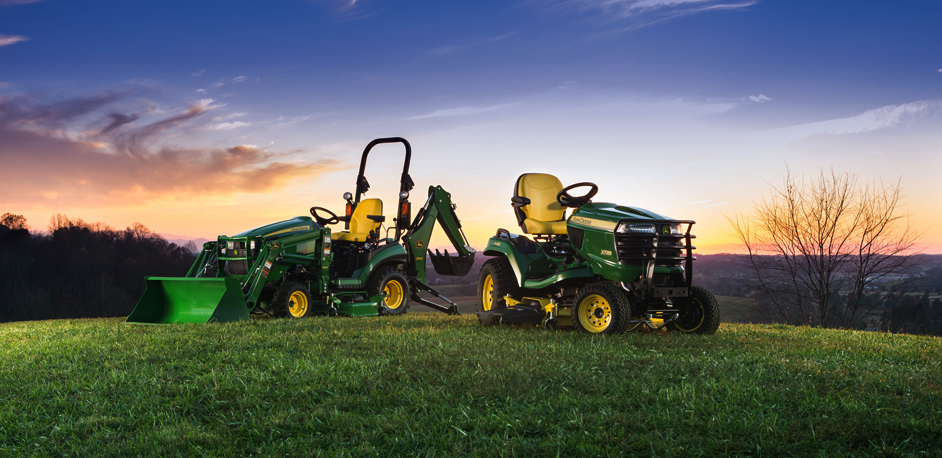 Since its introduction, the tool has become a helpful solution for those looking to make a purchase and Deere has added an additional product line to its functionality; nutrient application. To better illustrate how the John Deere Product Selector works, we've put together a step-by-step process as if we were going to purchase a nutrient applicator.
Step 1: Choose a Category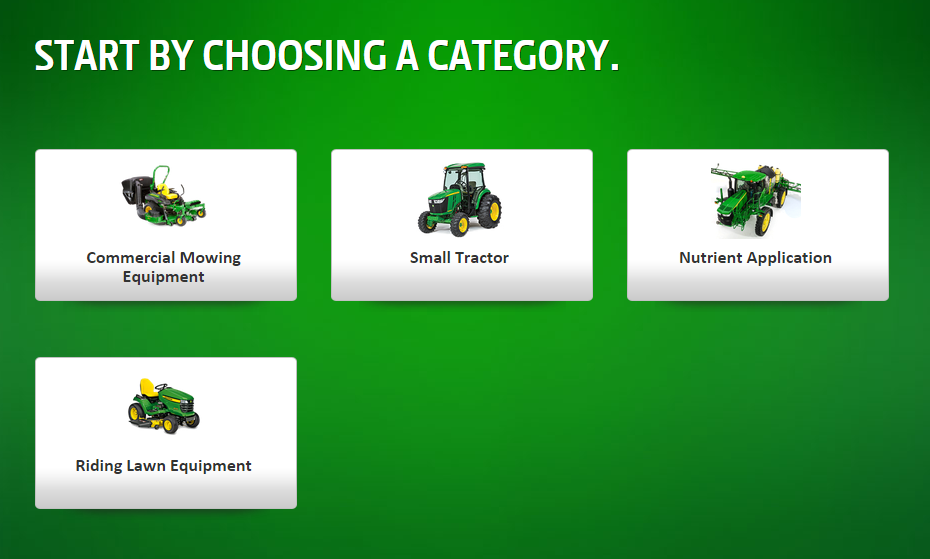 When you first land on the Product Selector page, you will be presented with this screen. This is where you select the category of equipment you're interested in purchasing. As can be seen in the image above, the Product Selector Tool caters to commercial mowing, small tractor, nutrient application, and riding lawn equipment buying prospects.
Step 2: Choose Selection Style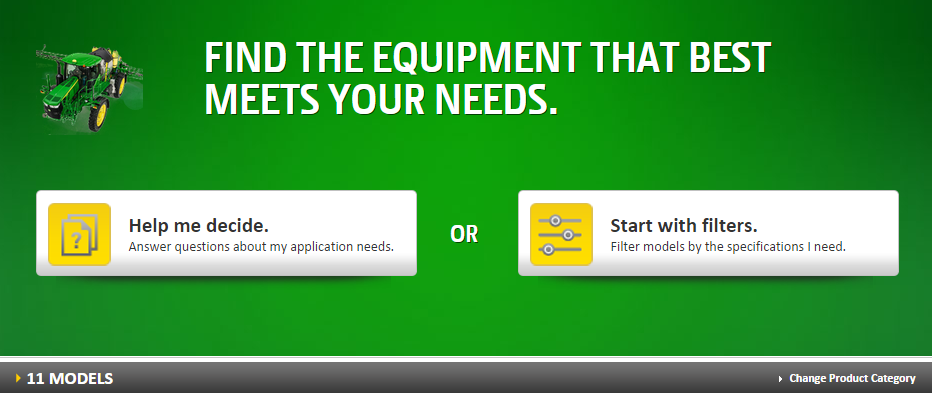 We selected the "Nutrient Application" option and have been presented with this screen. For those that need guidance, there is a "Help me decide" option or an option to "Start with filters," which presents the user with a variety of selections based on need. Additionally, at the bottom of the screen, there's a model listing drop-down menu. This is best for buyers that have a specific model in mind.
Step 3: Answer Process-Related Questions

We chose the "Help me decide" option, which brought us to a page with a variety of questions pertaining to our nutrient application needs. Questions that help narrow down the search include:
What fertilizer form do you wish to apply? (Dry, Liquid, Gas, Ag lime)
What is the desired time for application? (Pre-plant, In-season, Post-harvest)
What is your placement preference? (Surface broadcast, Surface band, Deep injection, Shallow injection)
Do you have a preferred equipment type? (Self-propelled unit, Tractor-drawn implement)
What amount of surface disturbance is acceptable in this task? (Moderate/high disturbance, No/low disturbance)
Step 4: View Equipment Matches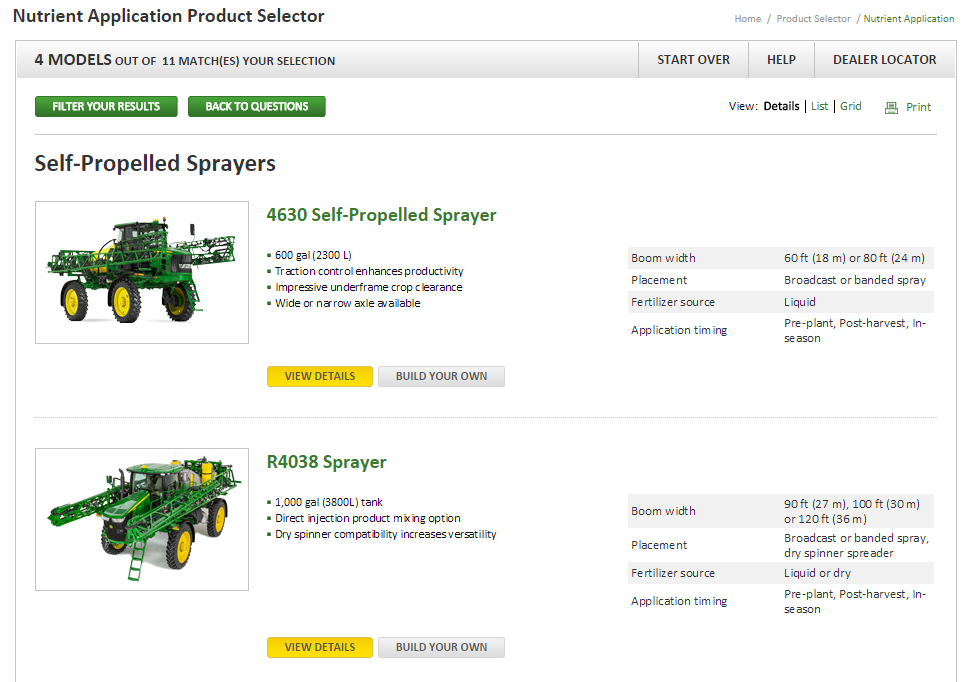 After we completed the five-question process, the tool presented us with two models that perfectly fit our needs. As can be seen above, these models include the 4630 Self Propelled Sprayer and the R4038 Sprayer. It's not up to us to select which model best fits our needs.
Step 5: View Results and Select a Match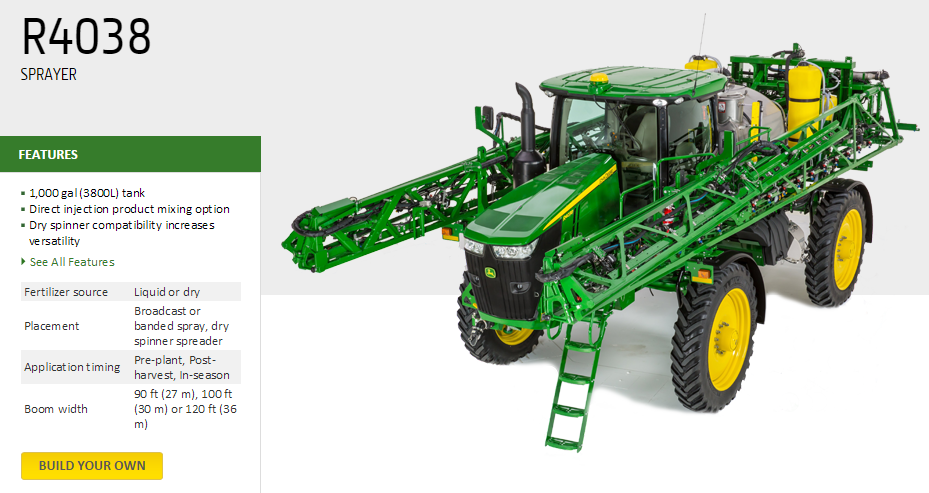 Next, we wanted to view some machine details. When clicking on the R4038 option, we were brought to a product page which provided all the key features and functionality.
Step 6: Locate and Contact a John Deere Dealer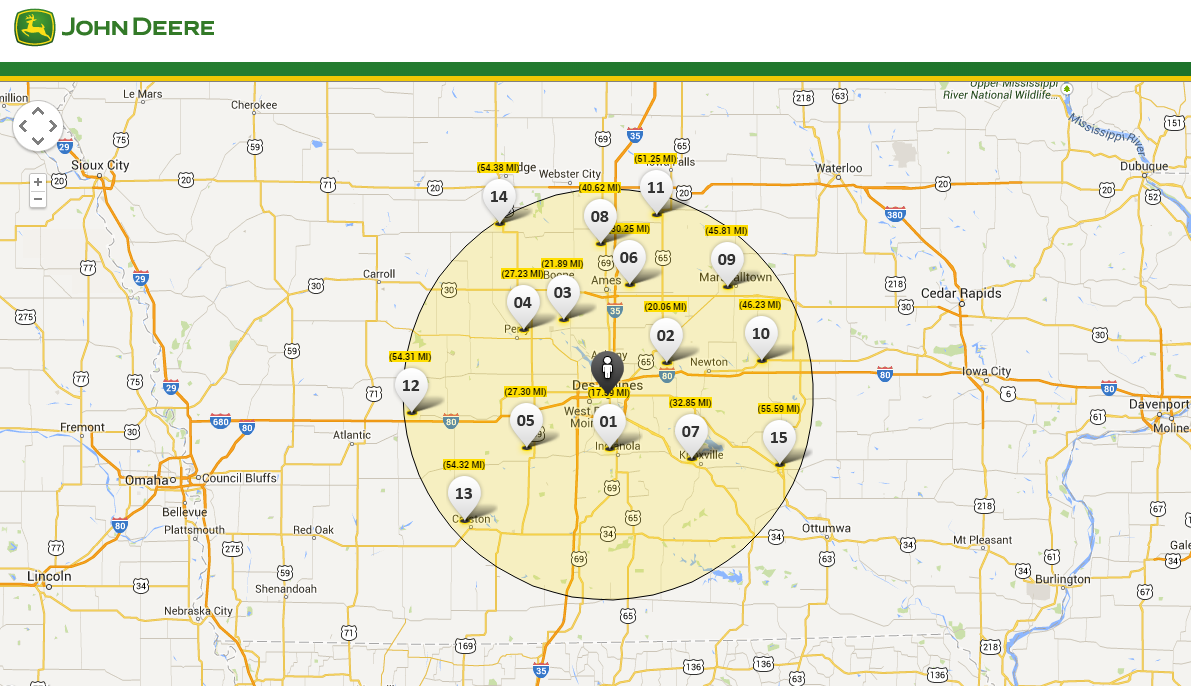 Once we decided this was the best model for our nutrient application needs, it was time to locate our closest John Deere dealer. Simply call or visit the dealer to learn about their available options and leave as a satisfied customer with a new addition to the fleet!
Hopefully, this tutorial showed the benefits of using the John Deere Product Selector Tool, which now includes nutrient application equipment. If you enjoyed this post or want to read others, feel free to connect with us on Facebook or Google+! 
You might also like: