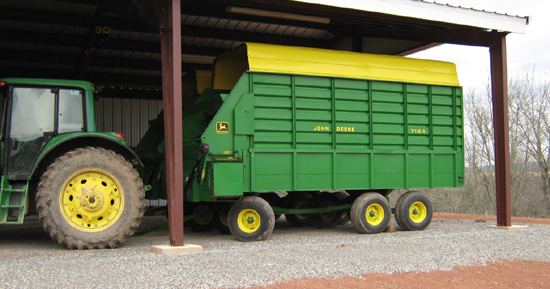 I got an interesting email last week. From Dustin, a farmer in West Virginia, who collects late model JD 714A and 716A forage wagons:
I COLLECT THE LATE MODEL 714A AND 716A WAGONS. I WORKED AT A JOHN DEERE DEALER FOR 4 YEARS AND KNOW THE LAST ONES WERE BUILT IN LATE 1989 OR EARLY 1990 AND THE POLY FLOORS STARTED AT SN #: 017701. I'M WONDERING  WHAT THE LAST SERIAL # PRODUCED IS. I HAVE (3) OF THE LAST 716A'S WITH SERIAL #'S W00716A018510, W00716A018514, AND W00716A018528. (2) ARE IN MINT CONDITION, STILL HAVE THE DEALER DELIVERY STICKERS ON THEM ALONG WITH THE PLASTIC TAG ON THE BEATERS. DO YOU HAVE ANY INFO ON THE LAST SERIAL #'s?
Can't say I've ever in my 20+ years tracking auction sale prices of too many folks collecting forage wagons, but that what makes farm equipment so cool…our emotional connections can be attached to any type of equipment, antique tractors, old combines, planters or plows. Or maybe even 20-year old forage wagons.
Intrigued, I asked Dustin to email me pics of his JD 714A and 716A forage wagons. Here they are: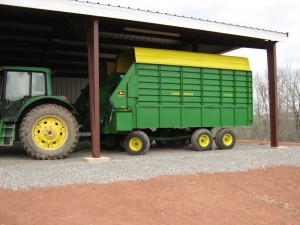 Here's pic no. 2: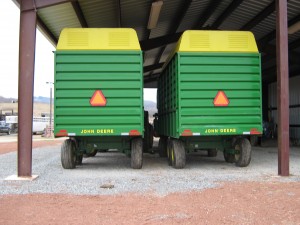 Here's a pic of Dustin and his 716A forage wagon at work chopping hay: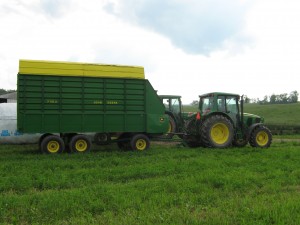 Anyone out there have any info on SN#'s on late model JD 714A and 716A forage wagons? If so, drop in a comment here or drop me an email at greg@machinerypete.com. Hopefully we can help Dustin from West Virginia find out if he does in fact, have the last 714A and 716A forage wagons made by Deere.
Pete
About Machinery Pete: Greg "Machinery Pete" Peterson has been working in the agricultural industry for 21 years and details agricultural equipment prices and trends at his website, Machinerypete.com. Greg also writes columns for Successful Farming magazine, Implement & Tractor magazine, Agriculture.com web site and also appears on the Machinery Show on RFD-TV.
You might also like: