Field work without limits. That's what every producer looks for in a tractor. With power, a number of performance features and transmission choices that are demanded for planting, tillage, transport and more, the John Deere 6210R Tractor was made for limitless efforts.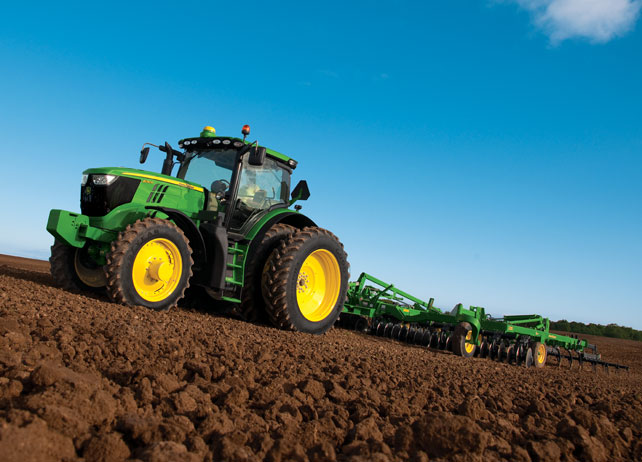 Let's take a look at eight features of the 6210R that make it one of the most popular in the 6 Series.
1) Infinitely Variable Transmission (IVT)
The 6210R is designed to haul a number of implements, which is why it includes stepless AutoPowr/IVT transmission. IVT allows operators to save both time and money by letting them set the optimal speed for the implement being put to work. The fully electronically controlled engine and regulated transmission work together to provide productivity and comfort for those behind the wheel.
2) Abundance of Lighting Options
Want to do some farming after hours? You got it, thanks to lighting options aboard the 6210R that provide visibility in every direction. Base lighting includes two hood road lights, two front corner hood lights, two beltline lights, four amber lights, four halogen front-roof-mounted adjustable work lights, two halogen rear-roof-mounted adjustable work lights, two turn lights and brake lights. In addition, Deere offers optional premium and deluxe lighting packages to provide even more shine to the field.
3) Triple-Link Suspension (TLS) Plus
The John Deere 6210R hosts a TLS Plus suspended front axle which elevates comfort and provides more power to the ground (up to 7 percent more power). TLS Plus has a self-leveling system with +/- 50-mm suspension travel under all axle load conditions as well as permanent engagement of axle suspension with auto adjustment of the suspension rate for the axle load.
4) CommandCenter
From inside the cab, the information available to operators of 6R Series Tractors is presented via the GreenStar 3 (GS3) CommandCenter, which is located on the right-hand console. With this technology, the equipment operator can program various settings and select which readings they want to view in relation to their operation. Some of the critical readings that can be found on the CommandCenter display include fuel use per hour, fuel use per area covered, distance traveled, area covered or traveled, oil temperature, and much more.
5) DirectDrive
This system essentially combines the efficiency benefits of a manual shift transmission with the simple usability of the IVT transmission. The result is 100 percent mechanical power transfer, double-clutch technology, less need of range shifts and reduced engine rpms.
6) ComfortView Cab
The inside of the 6210R resembles that of an automobile. What do we mean? The ComfortView cab features an instrument pod that has two large analog dials (engine and tractor speed) as well as two smaller dials (fuel level and coolant temperature). The steering column can be tilted toward the operator and a lever on the left-hand side lets the column telescope out to the desired level.
7) PowerTech PVX/PSX Stage III B Engine
The 6210R's engine provides excellent torque in even the most demanding conditions that may be faced. Some of the key features of this engine include:
Power range of 30 percent with power bulge of 10 percent.
HPCR fuel injection system and other engine parts work together to sense engine load and respond as needed.
Engine rpm fluctuations are reduced to lower the need for transmission downshifting.
Fewer shifts lead to less ground speed variations and higher levels of productivity.
8) Hydraulic Cab Suspension PLUS (HCS+)
Producers understand that during peak planting and harvesting seasons, early mornings can often times be capped off by late nights on the field. Producers also understand that the fields they're riding across all day might not be as smooth as glass.
For this reason, the 6210R Tractor hosts HCS+, which automatically self-levels and adjusts to load changes, braking forces, and more. The smoother ride is paired with blockage against noise and vibrations from the rest of the equipment.  The three modes of HCS+ include:
AUTO soft (always adjusts the cab suspension to highest comfort rating)
AUTO medium (allows operators to optimize cab suspension at their will)
MAX (prevents cab pitch through front loader work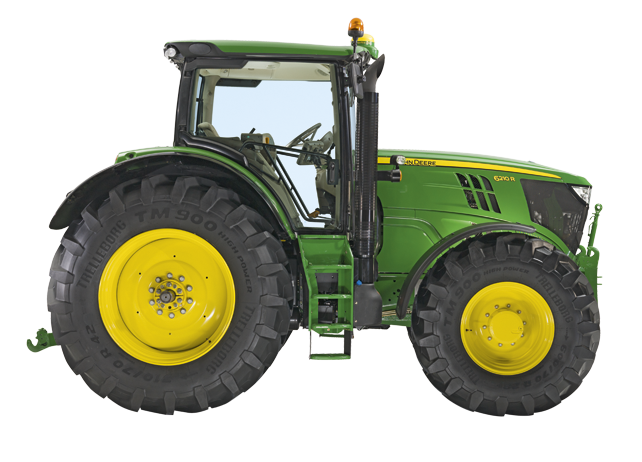 Each of these features are an important reason why the John Deere 6210R is such a popular piece of agricultural equipment. If you enjoyed this post or want to read others, feel free to connect with us on Facebook or Twitter!
You might also like: