When you're on the hunt for an all-around utility tractor that can tackle both small and large jobs, you know you can count on John Deere to deliver. The 6R 140 Utility Tractor from Deere has an ample amount of horsepower and a transmission that can handle any task at hand. With a lift capacity of over 7,900 pounds, you'll never have to second-guess whether your tractor can take on even the biggest challenges.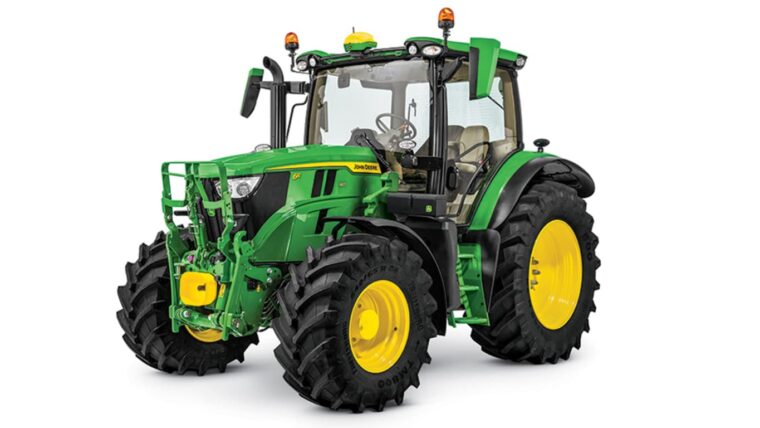 John Deere 6R 140: Features & Specs
Some of the key highlights of the Deere 6R 140 Utility Tractor include its PowerTech™ 4-cylinder engine, AutoQuad™ or IVT transmission, and Category 2/3N Hitch. This tractor makes for easy days out in the field, largely thanks to its ability to move material with ease. Let's take a look at some of the features you'll want to know about before purchasing a John Deere 6R 140.
Premium Tractor Cab
The cab of the Deere 6R 140 has been redesigned with ergonomic principles in mind. There are four different cab packages to choose from, which allow customers to fine-tune the way they work for a more enjoyable experience. The digital cornerpost display comes standard, and customers can select either a mechanical or electrical reconfigurable joystick with PowrReverser™ functionality. Triple-Link Suspension increases both transport and field productivity by offering more stability than ever before.
IVT Transmission for Reduced Fuel Consumption
The Infinitely Variable Transmission (IVT) system uses both mechanical and hydrostatic power, providing a variable range of speeds. The single-speed lever can be used for accurate control of ground speeds as slow as 0.03 miles per hour and as fast as 25 miles per hour. Fuel costs are also reduced, and operators will enjoy a quieter, more comfortable ride thanks to the IVT system.
AutoTrac Guidance
The AutoTrac™ guidance on the digital cornerpost display allows customers to make straight passes easily. They can focus on the quality of the job and reduce field fatigue by leveraging the system. AutoTrac eliminates implement overlap, giving customers the confidence they need to complete the tasks at hand.
Intelligent Power Management
Intelligent Power Management (IPM) comes standard on the John Deere 6R 140. It can provide a 20-horsepower boost for operations that utilize rear power take-off in high-power applications or in transport. This ultimately improves productivity, increases acceleration, and the ability to maintain transport speeds. The requirements for IPM to be active include a minimum ground speed where additional power begins to be utilized (assuming the engine is already fully loaded) or PTO activation.
Enhanced Implement Control
The John Deere 6R 140 can be upgraded to include electronically controlled selective control valves (SCVs). The electrical SCVs are fully adjustable, and operators can choose what SCVs are right for their specific operation. With a Compact CommandARM™ console, up to four SCVs can be used, along with an electrical joystick. With a right-hand console, up to three mechanical SCVs can be used, or up to four electrical SCVs. Loader packages with an electrical joystick are also available.
If you have any questions about the updates to the John Deere 6R 140 Utility Tractor, you can contact your local John Deere dealer.
If you enjoyed this post or want to read others, feel free to connect with us on Facebook, Pinterest, Twitter, or Instagram!
You might also like: