When you're on the hunt for a tractor with an ample amount of power, you know you can count on John Deere. Its line of tractors is renowned for reliability and efficiency, meaning you have less to worry about while you tackle your daily work. The John Deere 6R Utility Tractor lineup, for instance, has options you will want to consider as you hunt for a new machine, as all of their features are designed to impress.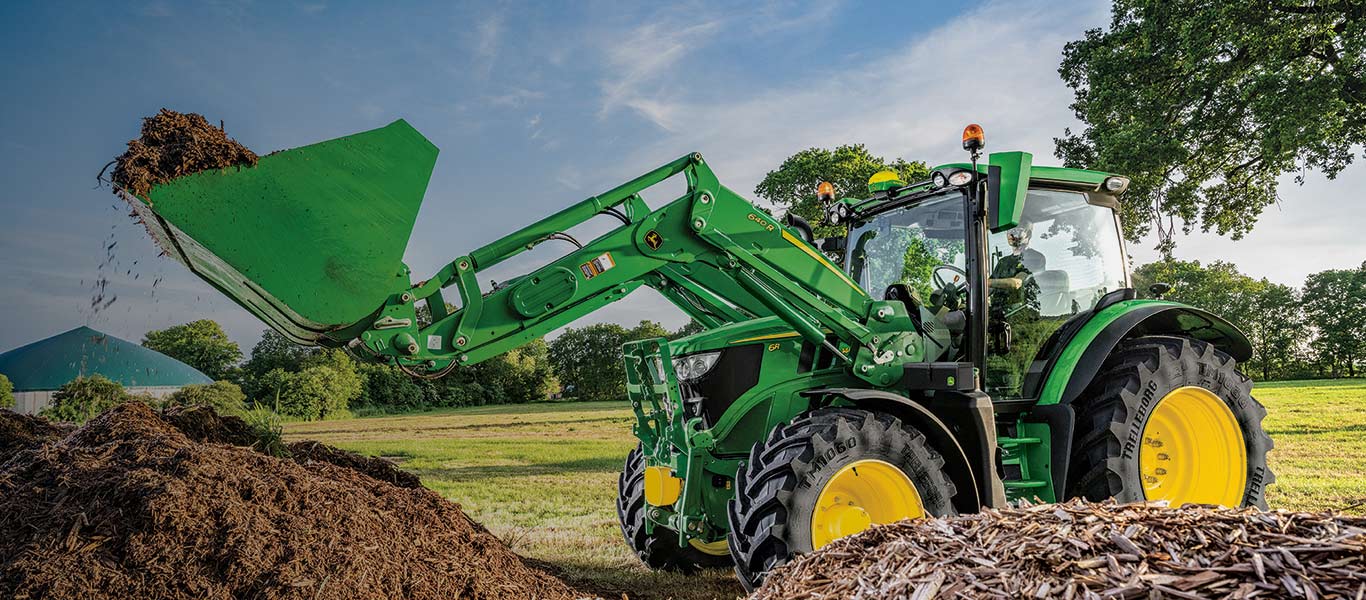 How Much HP Does a John Deere 6R Have?
Power is something you don't have to worry about when it comes to the John Deere 6R Utility Tractors. These models come with horsepower ranging from 110 HP to 250 HP, meaning you'll never be left wanting more. In addition, the tractors' power-to-weight ratios and power boost capabilities make them optimal for heavy-duty work.
John Deere 6R Tractor Models
In addition to power and reliability, the John Deere 6R lineup has several new and improved features. For example, the tractors have enhanced engine cooling performance as a result of a reversible fan. They also have the ability to receive real-time information with new loader technology. Mixing feed, loading supplies, and weighing bales are all much easier to do with the technologies of the John Deere 6R Tractors. The AutoTrac Guidance System reduces overlaps and ultimately improves efficiency. Further, JDLink allows operators to stream machine and field data directly to their John Deere Operations Center account.
With comfortable cabs, more visibility, and ergonomic controls, you'll always have a smooth ride. Customers can also opt for a loader camera to make it even easier to connect attachments and move material. The Triple Link Suspension provides the best possible ride and drive experience, and users can customize their CommandPro joystick to make their tractor even easier to control out in the field.
110-140 HP Tractors
The John Deere 6R 110, 6R 120, 6R 130, and 6R 140 all have horsepower that range from 110 to 140 HP for your daily tasks. They're equipped with FT PowerTech 4-cylinder engines and come with IVT transmissions in base or an optional AutoQuad transmission. Their hitches have a lift capacity of more than 7,900 pounds, and with intelligent hydro-pneumatic cab suspension, operators are always sure to have a comfortable ride.
145-165 HP Tractors
The John Deere 6R 145, 6R 155, and 6R 165 have horsepower that range from 145 to 165 HP. They also feature FT PowerTech 6-cylinder engines that are designed to help you accomplish all of your tasks throughout the workday. Customers have multiple transmission options with these tractors, as well as 1000E PTO. Their Intelligent Power Management systems provide more horsepower for hydraulically driven implements when needed.
175-215 HP Tractors
The John Deere 6R 175, 6R 195, and 6R 215 have horsepower that ranges from 175 to 215 HP. Like the previous line, they have FT PowerTech 6-cylinder engines as well. Customers can choose from AutoQuad, DirectDrive, or IVT transmission options to make for a customized, smooth ride. These tractors also have CommandPRO as an option, which allows operators to manage their machinery at their fingertips. And with automatic latch designs, the installation of loader and implements is significantly more efficient.
230- 250 HP Tractors
The John Deere 6R 230 and 6R 250 come with horsepower that ranges from 230 to 250 HP. They also provide the most power in the mid-sized offerings from Deere. The models come equipped with FT PowerTech 6-cylinder engines, as well as IVT transmissions for seamless power transfers. With the optional CommandPRO, customers can easily control their machine with their fingertips, and the tractors' comfortable cabs guarantee a smooth ride. Intelligent Total Equipment Control integrates AutoTrac automatic steering and implement management systems to make it easier to control implements, as well as tractor speed.
If you have any questions about John Deere tractors, including the 6R Utility Tractor lineup, you can contact your local John Deere dealer.
If you enjoyed this post or want to read others, feel free to connect with us on Facebook, Pinterest, Twitter, or Instagram!
You might also like: