While sprayer nozzles may be small, their role in the crop production process is huge. The proper nozzle will allow you to unleash the full potential of your sprayer for every application.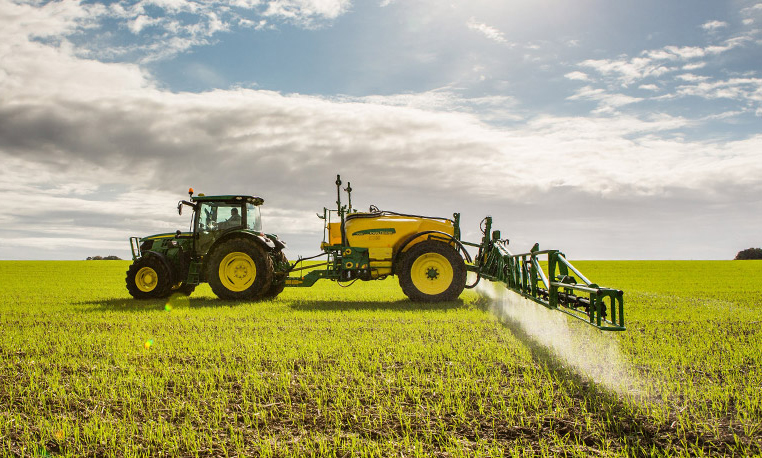 But, what nozzle is right for you? To answer this question, we've put together a list of John Deere sprayer nozzles, complete with images and definitions of each. We hope this helps!
Ultra Low-drift Air (ULA)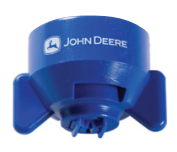 The ULA nozzle serves up large air-filled droplets with dual air-eduction technology, bringing target coverage and drift control to a higher level. The nozzle's 120-degree spray angle allows the boom height to be lowered in an effort to reduce drift. The ULA is extremely durable, with its compact size and polyacetal makeup. This nozzle is ideally used with pre-emergence and broad spectrum products.
Ultra Plus Low-drift Air (ULAC)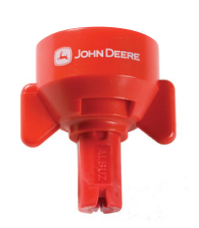 The ULAC's air-aspirated nozzle offers up large air-filled droplets that burst upon impact, maximizing drift-control and providing sufficient target coverage. The two-part construction includes a removable (ceramic) pre-orifice, which typically lasts up to three times longer than stainless steel nozzles.
Twin Air (TAQ)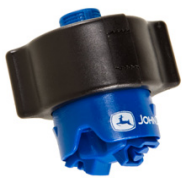 The TAQ nozzle is the perfect choice for low crops with complex canopies (vegetables), as it's designed to provide top-notch target spray delivery. The TAQ is constructed with forward and rear facing fans and integrated strainers that are matched to the nozzle size to reduce plugging.
Low-drift Air (LDA)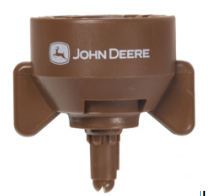 The LDA nozzle is optimized for the most common application rates. It delivers faster work rates while reducing drift, leading to more productive days of spraying. Each LDA nozzle is marked with an arrow that indicates the direction of travel.
Guardian TM (LDX)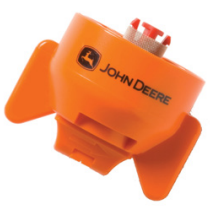 The Guardian LDX nozzle has been created to produce a more-consistent droplet size, reducing "driftable fines" across a wide range of pressure settings. Its unique 20-degree incline boosts application versatility to better manage diseases, pests, and weeds. The one-piece design comprises the nozzle, cap, gasket, and strainer for simplified handling.
Low-drift (LD)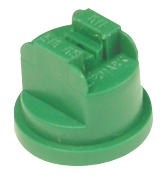 The LD nozzle produces less fine droplets than a standard flat fan nozzle. Due to its limited drift flat spray, it allows for operations in a wider weather window. The flow from the LD is a straight pass through the nozzle (unlike other drift-reducing designs), thus decreasing the chance of clogging. Its polyacetal composition provides superior wear resistance.
Low-drift Ceramic (LDC)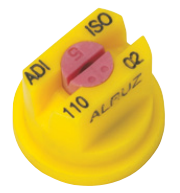 The LDC nozzle, made from ceramic material, produces fewer fine droplets than a typical flat fan, while also still offering (drift optimizing) large air-filled droplets. The flow from the LDC is a straight shot from the nozzle, decreasing the chance of clogging.
Extended Range (ER)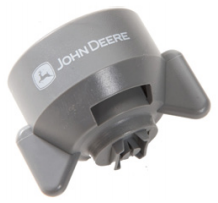 The ER tip (made from polyacetal material) offers a consistent pattern and coverage across ranging pressures, down to 15 psi, making it a great fit with automatic rate controllers. It provides a versatile spray pattern for herbicide, fungicide, insecticide, and growth regulation applications. The ER tip also comes available in stainless steel and ceramic models.
Flat Fan (FF)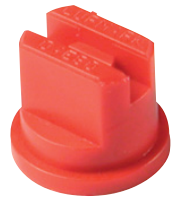 The FF nozzle's one-piece design creates a flat sheet of spray and offers consistent results across a range of pressures. Its mixed droplet spectrum makes it a good selection for applications of herbicides, fungicides, insecticides, and PGRs.
High Flow (HF)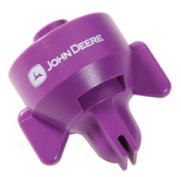 The HF nozzle hosts a flat spray design along with low CV ratings, providing superior distribution. Its 140-degree angled spray pattern offers excellent distribution in wide-spaced setups.
Flood (FL)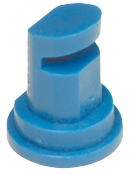 With a 105- to 145-degree spray angle pattern, the FL nozzle is ideally suited for pre- and post-emergent herbicides. The large orifice produces coarser droplets that are much less prone to drift and blockage.
Straight Stream Ceramic (STC)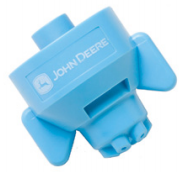 The STC nozzle is best suited for liquid fertilizer application. Its extremely coarse droplets improve fertilizer distribution and minimize the chance of leaf burn.
Straight Stream (ST)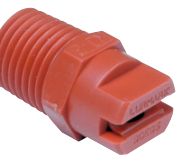 The 0-degree ST nozzle regulates flow, then offers a straight stream pattern that's ideal for injecting liquid fertilizer.
Hollow Cone Ceramic (HCC)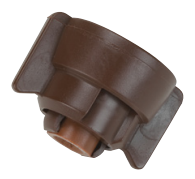 Fine droplets are sprayed from the HCC nozzle with an 80-degree pattern. The two=part construction includes a removable pre-orifice that makes it easy to clean.
Even Spray (ES)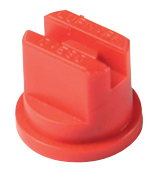 The ES nozzle is a superb selection for band applications of pre and post-emergent herbicides and fungicides, as it produces a flat and even spray. The width of the band can be changed by adjusting the nozzle height.
Chemical Resistant (CR)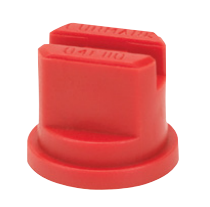 The CR nozzle hosts similar features to the FF nozzle, except it is produced from polyvinylydene fluoride for use in demanding chemical situations, such as acid-based defoliation products.
Off center — OC— brass nozzle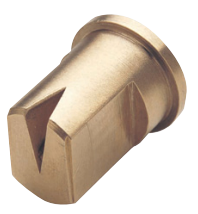 Deere's OC nozzle provides a flat spray on the end of boom ends to extend reach and improve coverage, all while protecting the equipment. Made from brass, this nozzle is intended for moderate use.
Fence Row/Boomless (XT)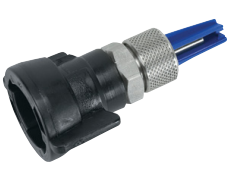 The XT's off-center spray pattern can be targeted into places that conventional nozzles can't get to, making it a suitable solution for work on orchards, vineyards, forests, pastures, turf and golf courses.
We hope this post helped you or will help you select the most suitable John Deere sprayer nozzle for your operation. If you enjoyed this post or want to read others, feel free to connect with us on Facebook, Twitter or Google+!
You might also like: