Whether you are in the midst of starting a construction business or looking for advice to grow an existing one, these construction success stories should help guide your journey. To help you on your way to success, we're revealing the secrets behind several successful construction sites!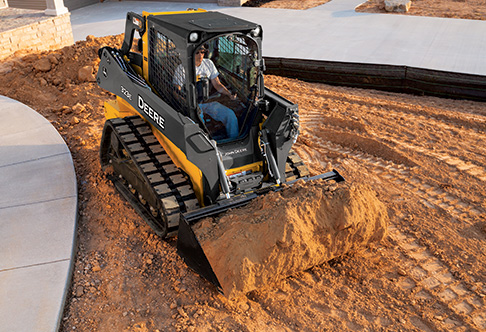 Watch and listen to these construction success stories to learn more about the cultures, people and John Deere equipment that has helped several construction companies reach success.
When James and Marilyn Heins decided to back their son Aaron's fledgling landscaping business, a successful family venture was born. And, behind this success story, is the John Deere 323E Loader. Aaron explains how this machine is basically their mule for everything. As a fundamental piece of machinery, they use it for moving dirt, smoothing off lawn, rolling out sod and much more. Watch this video to find out more about how Heins Lawn and Landscape was born.
https://www.youtube.com/watch?v=RmjsJi315oI&feature=youtu.be
Find out how Landscaping Etc. survived the economic downturn and has since tripled in size. Steve Christy, president of Landscaping, Etc. explains how his success story was born through good people and reliable John Deere equipment. His guys unanimously decided that they liked Deere better than competitors because of the site lines, the power, and the compact nature.
https://www.youtube.com/watch?v=KBTnQ7YlGtU&feature=youtu.be
Starting with one machine, one student and one instructor, Interior Heavy Equipment Operator School was founded in August 2005 and has grown to two sites, two provinces and owns and operates more than 68 pieces of heavy equipment. The school provides entry-level equipment training for students looking to start their careers in the construction field. As a stepping-stone to get into the construction industry, companies are actually calling the school looking for these green students. Watch this video to learn more about the success of the Interior Heavy Equipment Operator School.
Bob Miller, highway commissioner for the Algonquin Township Road District in Crystal Lake, Illinois, is a born leader. He was elected to the honorable position that was previously held by his father and grandfather before him. It seems that leadership runs in his blood, but experience is also a key factor of his success. Watch this video to find out how Bob Miller maintains his roads with the right skills and John Deere equipment.
https://www.youtube.com/watch?v=qDkD300xVPc&feature=youtu.be
Tony Perrotti, the General Manager at JR Hayes Corporation, explains how his solid team and strong equipment has helped secure the increasing number of high-rises being built in Seattle. The corporation specializes in site development and performs all aspects of construction, from residential to commercial, industrial, utility and more. Watch this video to learn more about their success story.
Environmental cleanup certainly isn't an easy job, especially since the environmental standards are becoming stricter. With the economy getting stronger and greener, the business is also growing. Using all types of John Deere construction equipment, companies like KG Services are cleaning up (both literally and figuratively!) Watch this video to find out how KG Services reached such a successful spot.
We hope you enjoyed these construction success stories and can see how to apply these secrets to your own business. If you enjoyed this post or want to read others, feel free to connect with us on Facebook, Twitter or Google+!
You might also like: