As this year's harvest rolls on and you are vetting various corn heads for your property, consider the John Deere 608C. This corn head is designed to give you the utmost stalk control, and it has gathering chains optimally designed for increased life.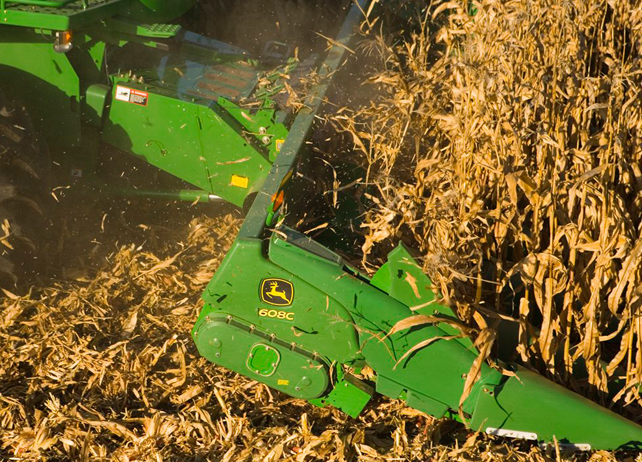 Here are some of the highlights of the John Deere 608C that you may want to consider as you narrow down your options.
Low Auger Bed Floor
If you're tired of free grain loss and back feeding, you'll appreciate the lower auger bed floor on the John Deere 608C. It has a slope that prevents back feeding, and it also reduces the chance of ear damage. With cleanout doors on each end of the corn head, maintenance is a breeze.
Optional Straight Fluted Stalk Rolls
Producers can have straight fluted stalk rolls installed on their machine, which provide more aggressive stripping. They are long for additional capacity and let go of stalk less frequently.
Large Gathering Chains
The gathering chains on the John Deere 608C are based on a CA620 design, and they only require a once-a-season adjustment. They have a longer life, meaning owners will also get the most bang for their buck. Because the chains are attached to conveying lugs, they have improved stalk-gathering performance as well.
Cross Auger
The John Deere 608C has a cross auger with an 18-inch diameter tip for easier crop handling. The cross auger flighting is also reversed in the center, which improves feeding in dry trash and reduces ear tossing.
Dual Auger Strippers
The dual auger strippers included on the John Deere 608C reduce the amount of auger wrapping in heavy grass or terrain. Because they are strategically positioned, they do not need to be adjusted over time. Once the auger has been set to crop condition, operators have the option of moving the lower stripper to ¼ inch or ½ inch to the auger flighting.
Knife Stalk Rolls
The John Deere 608C has knife stalk rolls in its base equipment, which can cut cornstalks more efficiently with the utmost control. Knife stalk rolls include eight full-length blades, which are longer for additional capacity. They are also coated with an iron material for an extended life.
AutoTrac RowSense
The John Deere 608C has AutoTrac RowSense, which is specifically designed to reduce operator fatigue while boosting efficiency. Feelers are designed to keep the combine on the row. This leads to less grain loss and operator stress in down corn situations.
Perma-Glide
Perma-Glide points on the John Deere 608C can be easily raised and lowered to access row units. They also include replaceable wear strips to ensure that the points can be reused over the course of the machine's life.
As you look for a corn head to tackle jobs around your land, make sure you weigh the advantages of the John Deere 608C.
If you enjoyed this post or want to read others, feel free to connect with us on Facebook, Twitter or Google+!
You might also like: