John Deere takes pride in creating equipment that helps producers across the country harvest their crops. Each year, new products and updates to existing products are introduced at an annual release. This year, Deere introduced several new products and features to its line of grain harvesting equipment that will get its customers excited.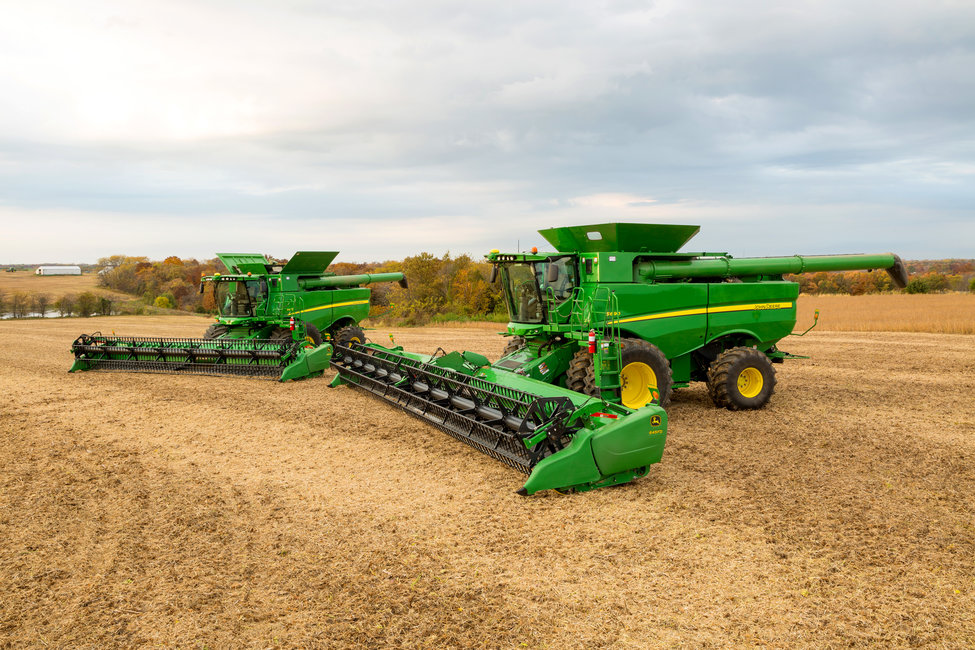 Jon Gilbeck, division marketing manager for John Deere Harvester Works, says, "We are constantly listening to our customers and looking for ways to boost their grain harvesting productivity by improving the performance, quality, and technology of the Deere equipment they are using. This includes enhancements to the combines as well as improvements to the different headers and platforms in the lineup."
Updates to S-Series Combines
Dyna-Flow™ Plus
Deere has elevated capacity capabilities with 12 percent more surface area, thanks to Dyna-Flow™ Plus. With Dyna-Flow™ Plus, the sieve has been lengthened while dropping some weight. With this new shoe, operators will see capacity raised by 10 percent in corn and 13 percent in wheat and canola, totaling about 1.5 acres of extra time available in the workday. Additionally, the new design and capabilities combine to reduce tailings volume by 28 percent.
Active Terrain Adjustment™
Available as a factory-installed option for all 2016 models of S-Series Combines, this feature automatically controls the fan speed and sieve/chaffer openings as the combine rolls along unpredictable terrain. This capability optimizes the harvesting performance of the combine and reduces grain loss.
Active Yield
It can be a challenge to accurately gather valuable yield data during the harvest. With this in mind, John Deere has introduced Active Yield with automated calibration. This feature is designed to reduce the time operators spend calibrating the yield monitor and is available as a field-installed attachment for 2016 S-Series Combines (also compatible with earlier S-Series models).
Onboard Air Compressor
All new 2016 combines will host an onboard air compressor. This feature makes routine combine cleaning and maintenance more convenient for operators, especially when they are out in the field or in other remote locations.
"These enhanced features make the S-Series Combines even more productive when harvesting all types of grain crops, provide more accurate yield information, and allow operators to spend more time harvesting and less time with calibration and maintenance," Gilbeck says.
Updates to Headers and Platforms
612FC Corn Head
Deere has expanded its 600C Corn Head lineup with the addition of this all-new folding 12-row corn head, which is designed to improve harvest readiness. This new product raises the number of acres harvested by an average of 30 a day when compared to the traditional 8-row head and is ready to fold up quickly and easily from the convenience of the cab. Along with these capabilities, it is ready to take on high-yielding corn, robust hybrids and tough green stalks.
Draper Platforms
Lastly, for soybean and other small grain producers, Deere has taken features from the new 645FD and built them into other HydraFlex Drapers, including the 630FD, 635FD and 640FD. New end dividers that reduce grain loss and crop knock down, a wider center-feed section that increases material feeding and stronger reel fingers are among the added features.
We're excited to see the results producers can achieve with these updates to Deere's grain harvesting equipment. If you enjoyed this post or want to read others, feel free to connect with us on Facebook, Twitter or Google+!
You might also like: