The John Deere Operations Center keeps data flowing to and from each machine in your fleet, offering many benefits. Imagine a grower just completed harvest in one field, and before they even begin in the next field, you have access to the harvest data to analyze with no extra effort required from the operator.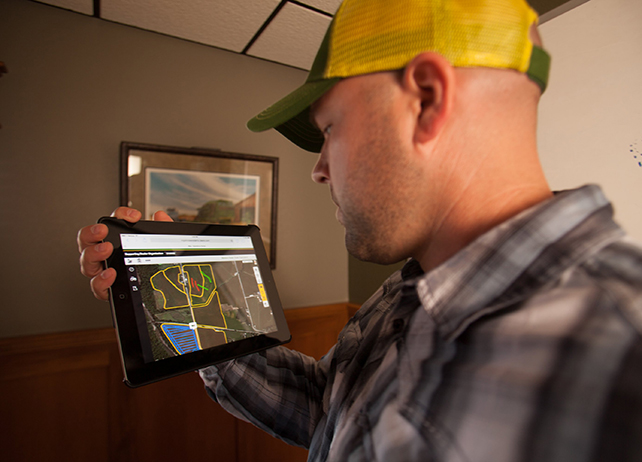 This harvesting data will allow you to create a more informed nutrient recommendation in just hours. You can wirelessly send the prescription file for that recommendation to be executed immediately by one of your applicators or the grower's machine. This unique partnership let's you communicate recommendations, prescriptions and other valuable insights more efficiently than ever before.
We've put together a two-part video gallery series to help Deere customers better understand how they can use John Deere Operations Center to improve production on the field. In part 1 of this series, we'll explain the many unique benefits that the John Deere Operations Center offers to ag service providers. Watch these videos to see Operations Center in action, get an overview of key features and learn about organizational settings. Enjoy!
https://www.youtube.com/watch?v=5NXsgibIlYs
Get an overview of the John Deere Operations Center in MyJohnDeere, including how to create an account, all the icons and general navigation. Operations Center is a centralized online ag data solution that helps to collect machine, logistic and agronomic data in a single location. It provides the tools that allow users and their advisors to make decisions before, during and after their crop seasons.
So much data, so little time. So, how do you distill it, manage it and make it work for your retail business? With John Deere Operations Center, it's never been easier to take charge of your information flow. It allows growers to set up their ag retailers as a partner, which enables data to flow seamlessly to you (their trusted advisor). Using one secure application, you can easily collect data, access it more readily and analyze it from your phone or computer for a more effective planting season.
https://www.youtube.com/watch?v=_qDTzuktySM
This video explains how to manage the settings for your organization in the John Deere Operations Center. Gain a general understanding of the organization setting available to you, including your profile settings, user preferences, organization preferences, what's new, feedback, terms and conditions, and help features.
With John Deere Operations Center, you can gain a variety of added efficiencies in fleet and data management. View the location history of all machines, know when each operation has been completed, support proper set up, documentation and application, and much more!
Interested in learning more? Stay tuned for Part 2 of our John Deere Operations Center Video Gallery Series. If you enjoyed this post or want to read others, feel free to connect with us on Facebook, Twitter or Google+!
You might also like: