How can you manage an expanding workload? The John Deere 310SL HL could be an option, as it can deliver up to 25% more backhoe lift capacity than comparable K-Series models under average conditions. With new features like Lift Mode, operators can experience an additional boost of productivity with just the push of a button.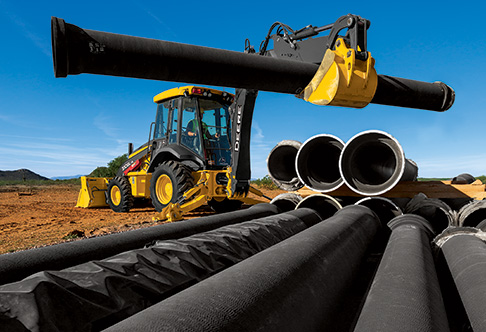 The John Deere 310SL HL gives operators a big lift while sustaining a small footprint. We put together this video gallery so that you can see for yourself. Enjoy!
Nic Romaine, Backhoe Instructor at the John Deere Training Center, will talk to you about the John Deere 310SL HL. Incorporating larger capacity fuel and DEF tanks, increased horsepower, PowerShift™ transmission and maintenance free batteries, these features add up to increased productivity and uptime. Learn more about the parts of this John Deere backhoe that can help you get the most out of your day.
What is it like to be an operator in the 310SL HL? Nic Romaine will give you a sneak peek at upgraded features, including more operator codes, a Bluetooth enabled radio and ability to activate Lift Mode with the touch of a button. This model also incorporates key operator controls like the sealed switch module, Economy Mode, premium radio options and much more. Watch this video to learn more!
By incorporating larger hydraulics cylinders and increased structure sizes, the machine has increased lift capacity by 25% compared to the 310SK. Also, John Deere has introduced lift mode on the 310SL HL and 410L. At the push of a button, operators can increase their lift capacity by 10 – 15%, for a total overall lift increase of 40% from K Series to L Series. Learn more about the key features that make up the powerful 310SL HL Backhoe.
Hopefully now you're ready for the John Deere 310SL HL to do the heavy lifting for you! If you enjoyed this post or want to read others, feel free to connect with us on Facebook, Twitter or Google+!
You might also like: