John Deere 500D Draper Platforms come in three separate models to cater to your needs, whether you want more production or efficiency while out in the field. With 25, 30, and 36-foot width options, operators can easily harvest small grains and hay in a wide variety of conditions.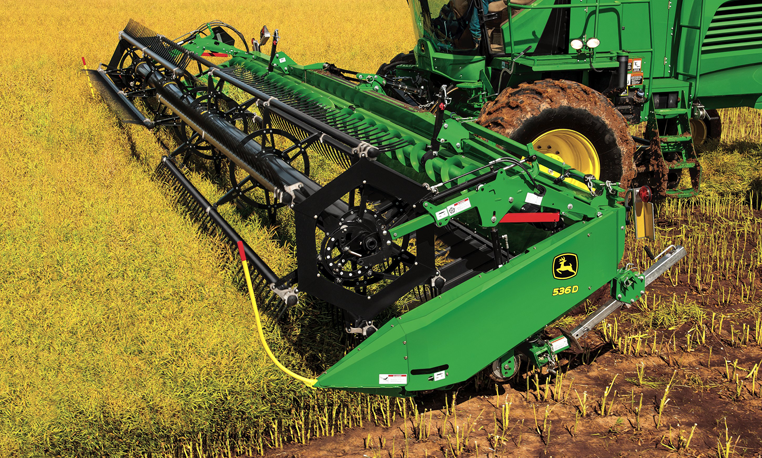 Let's take a closer look at some of the models and features.
John Deere 525D Draper: Within a time span of 30 minutes, operators can switch from a rotary head to a 500D Draper head. This allows for the harvesting of small grains and hay with one traction unit for the utmost efficiency. All John Deere 500D Draper Platforms feature center belt drives, which increase torque for more productivity and less belt slippage. Additionally, this machine has positive-feeding reel handles to take on all crop conditions.
John Deere 530D Draper: Similar to the 525D Draper, the rotary head on this machine can be switched out with a draper head in just 30 minutes. It also has quick-change reel teeth that can be easily removed and replaced to quickly get back to cutting. Each of the John Deere 500D Draper Platforms also has a hydraulic pump control to maintain knife, belt and reel speeds, regardless of engine rpm changes. This ensures a uniform cut every time and no interference from terrain or engine load.
John Deere 536D Draper: Like the 530D Draper, the 536D Draper has quick-change reel teeth that can be easily removed and replaced. It's also interchangeable with rotary platforms on the W235 or W260 traction units. All of the John Deere 500D Platforms come with an integrated transport system, which includes a hitch, jack and axle for maximum versatility.
A double swath package is available as an option for those who want to combine two windrows into one to match up to the material handling capacity of their machine. The double swath is controlled from the cab by the operator with hydraulics and two shifting decks.
Finally, the John Deere 500D Platforms all come with serviceable John Deere parts to provide uptime for the most efficient harvest possible. Sales, parts and service support is available through local John Deere dealers, and overnight parts delivery is an option for all John Deere 500D Platform owners.
For more information on the John Deere 500D Platforms and their features, visit www.Deere.com or speak to your local John Deere dealer for information.
If you enjoyed this post or want to read others, feel free to connect with us on Facebook, Twitter or Google+!
You might also like: