The introduction of the John Deere W170 Windrower offers customers an optimized harvest experience. With updated features such as a smoother ride, no matter how rough the conditions may be, and more horsepower, operators will enjoy increased productivity in addition to more comfort than previous models. This piece of equipment was designed to meet the demands of those customers who grow high yields of canola varieties, meaning every component was added with the operator in mind.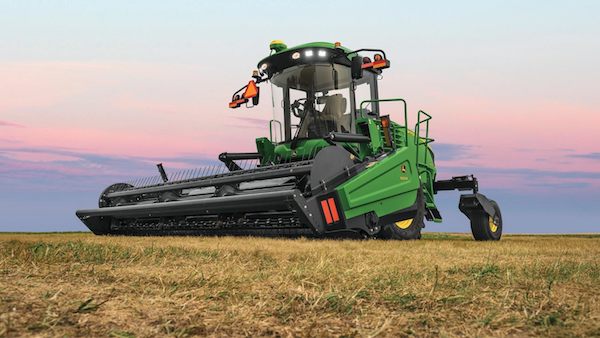 Let's take a look at some of the highlights of the John Deere W170 Windrower.
Optional, Plug-Clearing Reverser
This new model includes an optional reverser that is easily accessible from the operator's station. Easy to activate, this feature can clear plugs from the platform by reversing the knife drive and, if applicable, the hay conditioner.
Four-Point Independent Cab Suspension
Four coil-spring shock absorbers are placed at each corner of the W170's cab, working to ensure stability and a smooth ride when operating in any type of field. With these features working together in unison, customers can enjoy the most comfortable cab in the industry.
Narrow/Wide Draper Transport
When using the ballast box and 1400D Draper Platform with an integrated transport system, the John Deere W170 can easily transport wider draper platforms with stability. Narrow draper platforms can also be transported without issue when the 1400D Draper Platform with the integrated slow-speed transport system is being utilized.
Fully-Integrated AutoTrac Controller
This piece of equipment features an AutoTrac™ Controller that helps boost productivity through hydraulic steering which increases accuracy; a kit option can be selected when ordering the W170. This kit comprises of an AutoTrac Controller, a hydraulic steering kit, and a GPS mounting kit.
Quick-Attach Platforms
This machine allows for easy attachment or release of platforms in order to quickly change from hay to grain harvest. The John Deere W170 also includes a hose management system that is designed to store both hydraulic and electric connections. When purchasing, customers have the option to include a self-alignment kit that is easily attachable or detachable thanks to a hydraulic center link. In addition, when necessary, operators are able to change platforms without difficulty due to adjustable springs.
Full Visibility from Cab
Wide platforms will not stop operators from benefitting from full visibility in the W170 with large front windows and a cab that is forward and above the platform. When working at night, eight LED lights ensure that the job can get done just as easily as it could during the day. Operators can also choose to include an HID lighting package or warning beacon lights in order to further boost visibility.
To learn more about the capabilities of this piece of equipment, watch the video below.
If you have any questions about the John Deere W170 Windrower or its features, you can contact your local John Deere dealer.
If you enjoyed this post or want to read others, feel free to connect with us on Facebook, Pinterest, or Twitter!
You might also like: