Farmers know how critical it is to harvest their crop quickly and efficiently, which is why John Deere has rolled out its W200 Series Self-Propelled Windrowers to help. These machines are specifically designed to promote quick dry down for a better quality of hay.
The W200M and W235M Self-Propelled Windrowers offer a cost-effective option for farmers to consider with an all-new cab and a new lower horsepower option," said Chase Milem, John Deere hay and forage marketing manager. "Beef and dairy producers will benefit from the W235R and W260R, thanks to a new premium cab loaded with integrated technology and innovative features that let them easily make in-cab adjustments to improve windrow formation and dry down."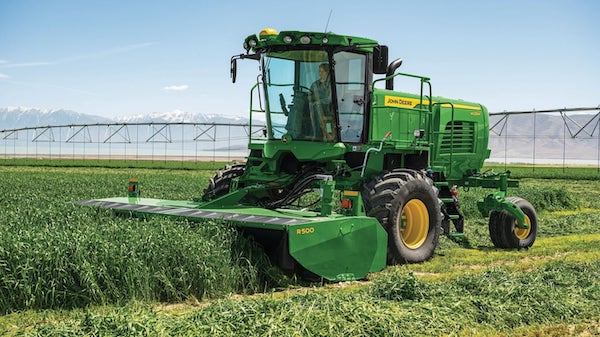 John Deere W200 Series Self-Propelled Windrower Lineup
Let's take a look at each of the W200 Series Self-Propelled Windrower models to get a better understanding of what they have to offer.
JD W260R
The W260R Windrower features 260 horsepower and an integrated AutoTrac™ steering system to maintain crop quality, even at fast cutting speeds. IntelliAxle™ steer assist brings added control to the windrower and independent rear suspension makes for a smooth ride. Further, the corner post display in the cab also allows operators to quickly see the information they need while operating the machine.
JD W235R
The W235R has 235 horsepower and also features the AutoTrac steering system. With TouchSet™ technology, operators can quickly adjust the rotary header settings directly from the cab. This model also has constant header speed thanks to its hydraulic pump control system that monitors platform speed and controls the pump to maintain a certain speed.
JD W235M
Similar to the W235R, the W235M Windrower has 235 horsepower and AutoTrac for steering guidance. Additionally, the heavy-duty drive motors offer an increased torque rating for dependable operation in tough field conditions. The diesel fuel and diesel fuel exhaust fluid fill locations also allow operators to fill the machine from ground level.
JD W200M
The W200M Windrower has up to 200 horsepower and an optional 24 miles per hour transport speed. It also comes with AutoTrac to maintain crop quality at fast cutting speeds, and the CommandARM™ console gives operators the ultimate control over the windrower, with controls that are designed and positioned to enhance ergonomics.
If you have any questions about the new John Deere W200 Series M and R Windrowers, you can contact your local John Deere dealer.
If you enjoyed this post or want to read others, feel free to connect with us on Facebook, Pinterest, Twitter, or Instagram!
You might also like: