We believe that productivity is the underlying key to success in the farming industry. When making hay, windrowers act as an essential tool toward ensuring you not only grow an excellent product, but that it's done efficiently and with optimal productivity.
Haymaking is tough, tiresome, and time consuming, but it's a necessary task for farmers with animals to feed. When the time comes to cut and bale hay, make sure you have the right windrower equipment in place to lessen the burden of the task and improve overall productivity.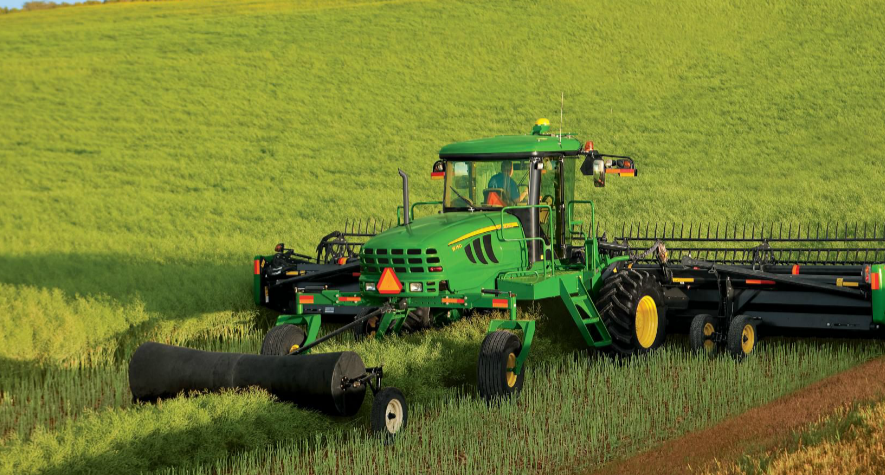 Consider these techniques, attachments, and tips the next time you take your Deere windrower out into the hay field.
1. Perimeter First: Before you begin cutting your hay crop, be sure to do a scan of the field perimeter to check for branches, sticks, and other debris that could harm your windrower. If a foreign object gets caught in your windrower, its teeth can break and prevent you from getting the job done well or at all.

2. Xenon Halogen lights: If you spent your day occupied by another commitment, you may have missed the window of daylight for cutting hay. By attaching halogen lights to the cab of your windrower, you have the option to work after dark.
3. Reel Spider Reinforcement Kit: Even the strongest parts suffer wear from tough conditions and long days of work. By investing in the Deere Reel Spider Reinforcement Kit, you can ensure the lasting life of your reel spider with this reinforcement strap to minimize potential damage that could prevent you from completing your haymaking tasks.
4. Schedule Part Replacement: The blades of your windrower will dull over time and their ability to cleanly cut hay will decrease. Hay that is cut with a dull blade can tear and dry out more quickly; it also leaves the remaining hay stubble vulnerable to disease. Durable knives can be ordered from Deere to make sure your windrower is always giving the sharp cut you need.
5. Operation Monitoring: It's essential that you keep a close eye on gauges, dials, and other machine indicators. Ignoring alerts from these monitors can lead to preventable damage to your windrower; the same is true with any piece of farm equipment.
6. Trouble Shooting: If you notice a problem with your windrower equipment, it's important to perform a full diagnosis of the machine to figure out where the root of the issue is. Once you find the source, you can repair the problem or have an expert take a look.
7. Steady Speed: Although driving fast might seem like an obvious way to ramp up productivity it can be detrimental to the state of hay stubble. Maintain an even speed across the field, especially if the conditions aren't ideal, to ensure a smooth cut to every blade of hay. It's better to do it right the first time then have to do it again or suffer the consequences of a poorly done job.
We believe a productive farmer is a successful farmer. But without reliable equipment and techniques productivity suffers and, subsequently, so does business. Do you have any other pieces of advice for improving productivity when using a self-propelled hay windrower? We would love to hear your input!
If you enjoyed this post read more like it on our Facebook page!
All photos courtesy of Deere.com
You might also like: