With four traction unit choices ranging from 110 to 240 horsepower, John Deere offers windrowing equipment designed to be matched for any small grain, hay or forage operation. Combining power and versatility, the range in capabilities aboard these units allows crop producers to make a selection that's right for their job.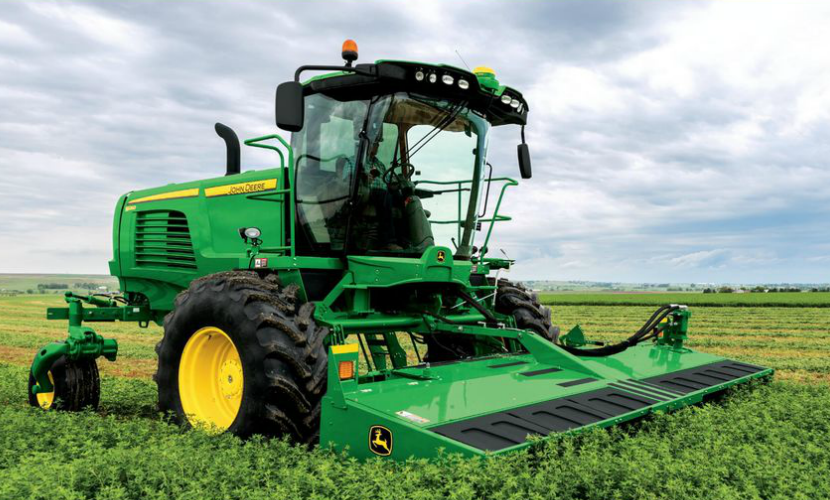 To understand exactly what John Deere has to offer, let's take a closer look at their wide selection of windrowing equipment and capabilities.
W100 Series Windrowers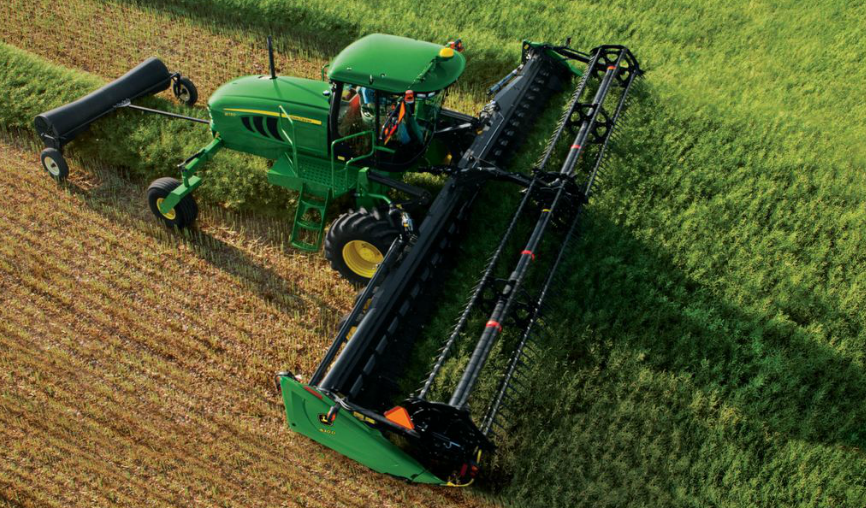 The W100 Series of windrowers offer versatility and efficiently when cutting. The W110, powered by a 110-hp engine and the W150, driven by a 148-hp engine, have the ability to be matched with six draper heads and three different auger heads, matching the needs of the task at hand. Attaching and detaching platforms is simple, giving those that grow diverse crops more hours on the machine and as a result, better return on investment.
The interchangeable draper heads range from 15 to 40 feet and auger heads from 14 to 18 feet. The header index allows operators to match the speed of the reels and belts to the ground speed. Lastly, tall crops will not pose an issue, thanks to more than 45 inches of underframe ground clearance.
W200 Series Windrowers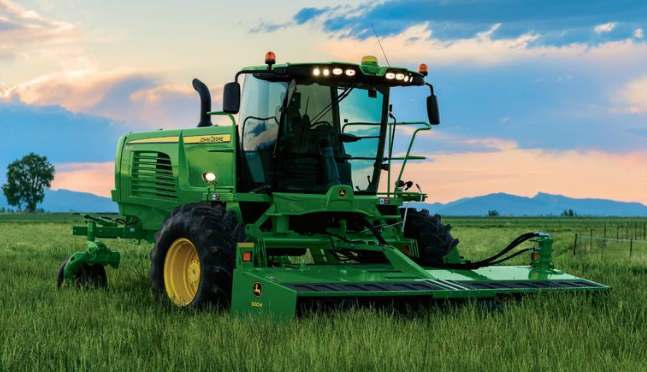 Sometimes the task at hand requires a bit more power. That's where the W200 Series comes in, with models designed to meet higher-horsepower requirements. The 235-hp W235 and the 260-hp W260 have the power to get through even the toughest crops.
Both models are equipped with integrated AutoTrac, a top speed of 21 mph, IntelliAxle rear steering-assist system and a newly designed cab. The cab offers user-friendly displays, greater visibility to the platform, and controls similar to other John Deere harvesting equipment, making it a simple transition from one machine to the next for operators.
A new independent float system improves cutting ability over irrigation beams, pivots wheel tracks and uneven cutting surfaces by enabling the machine user to change the left and right side platform flotation pressure individually. This feature reduces wear on the cutter bar, leading to increased uptime and productivity.
Engines and Serviceability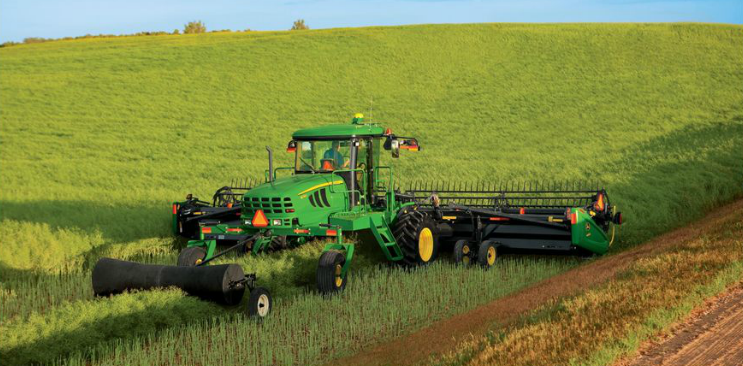 W100 Series windrowing equipment is propelled by a Tier 3-compliant Cummins 4.5 L four-cylinder turbocharged engine. The torque, bulge, and power levels are well-matched to the needs of the 4000 draper and 100A auger platforms. The W200 Series' engines are final Tier-4 compliant 6.8 L John Deere PowerTech turbocharged.
Servicing both the W200 and W100 Series is simple. The W200 Series' gull wing side panels lift open for easy access to the engine and other critical service points. The W100 Series has a high-opening tilt hood and sliding platforms, allowing for accessibility to service points on the engine, as well as hydraulics and electronics.
From small grains to forage, John Deere's windrowers are designed to provide versatile options that can be used to maximize the return on investment. If you enjoyed this post or want to read others, feel free to connect with us on Facebook or Google+!
You might also like: