Winter Storm Jonas will not soon be forgotten by those that were affected. According to The Weather Channel, Jonas stands alongside some of the most prolific winter storms that the East Coast has ever encountered. Thanks to the storm, some parts of West Virginia were buried under more than 40 inches(!) of snow, while other states and major cities were left with digging out to do as well.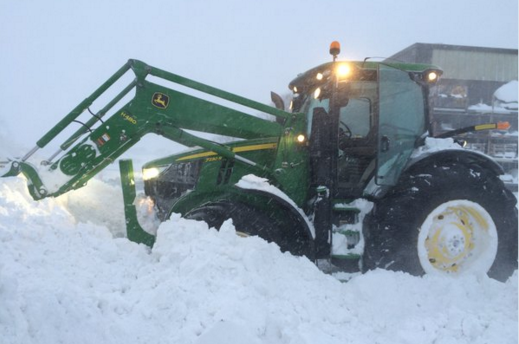 In fact, Jonas was the biggest snowstorm ever witnessed in several popular locations, including:
Allentown, Pennsylvania: 31.9 inches
Baltimore-Washington International Airport: 29.2 inches
Harrisburg, Pennsylvania: 30.2 inches
New York – LaGuardia Airport: 27.9 inches
New York – JFK Airport: 30.5 inches
Newark, New Jersey: 27.9 inches
However, the Northeast and Mid-Atlantic weren't the only areas left covered by ice and snow. Winter Storm Jonas reached into the South and Ohio Valley as well, covering parts of Mississippi, Nebraska, Kansas, Illinois, Indiana (and more).
As we monitored the storm on Twitter, we noticed no matter how much snow John Deere equipment owners were left with, it didn't stand a chance. Here's a look at some photos we gathered during and after the storm of John Deere fans cleaning up:
Cleared over 3 ft of snow with nothing other than this @JohnDeere #greenandyellow pic.twitter.com/JjuZq5cSPj

— Allie Ramsburg (@allieramsburg) January 24, 2016
Sleeping Giants #Farmlife #JohnDeere #StAnne #countryliving #midwest #Deere #winter #countrylife #morning #farm pic.twitter.com/kttSJKVaBo

— Eric Bertram (@EricBertram) January 22, 2016
Always great to see GREEN pull into the yard when there is a fresh dump of snow. #bestneighbours #johndeere pic.twitter.com/d6kvDzLSsX

— Mike Hansen (@MikeKHansen) January 24, 2016
My farmers helping clear the snow off the road. #TNmAGicMoments #tractor #helpfulfarmers #TNsnow pic.twitter.com/LSUAhz0PWm

— Leigh Fuson (@leigh_fuson) January 23, 2016
This @JohnDeere 7230R getting it done! Drifts were higher than the marker light on the rear fender! #snowmageddon pic.twitter.com/clQrZyXZ9P

— Finch Turf (@FinchTurf) January 24, 2016
One dedicated doc came to work in this tractor #dedicated #snowmaggedon2016 #awesome pic.twitter.com/aGvOMYlYav

— TacoVato (@tacolovingspic) January 23, 2016
#jonasblizzard 's 30" of snow in Harrisburg + 300 yard driveway = no match for my @JohnDeere LX188! pic.twitter.com/UG0Ws1xCs4

— Jim Rodgers (@JimRodgers13) January 24, 2016
@machinefinder here you go!! pic.twitter.com/1en8Ep4OQo

— Allie Ramsburg (@allieramsburg) January 26, 2016
We hope everyone survived the storm in good health and good spirits. The photos above show our fans' commitment to Deere and the equipment's ability to be a useful asset 365 days a year, regardless of what Mother Nature might toss our way.
If you enjoyed this post or want to read others, feel free to connect with us on Facebook, Twitter or Google+!
You might also like: