Cool weather doesn't mean that you have to stop using your John Deere Gator for the winter! With several add-ons designed to winterize your gator, you can actually maximize the amount of time you get out of it on a daily basis.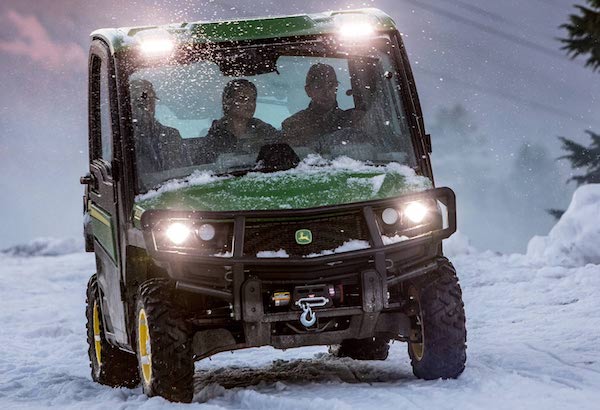 Let's take a look at some of the additions you can use with your John Deere Gator and how they can help prepare your machine for winter conditions.
Straight Blades
There are several straight blades you can use with your John Deere Gator, ranging from 66 inches to 72 inches. The Standard V-Shape Blade (72"), for instance, is perfect for dirt and snow removal, as well as grading. The Hydraulic Straight Blade (72") is an option you might want to consider if you're interested in using a hydraulic lift and angling system to make it easy to remove snow. You're sure to find an option that works for your specific needs.
Cab Doors
When you add cab doors to your Gator, you can ultimately boost the temperature inside of your cab. Additionally, heat-absorbing tinted glass absorbs solar radiation through the windows. These panels come in three different colors: green, olive and camo.
Cab Rear Panel
The cab rear panel has the same heat-absorbing tinted glass that absorbs solar radiation. However, it also helps keep dust and snow out of the operator station when it's installed with a full windshield.
Canvas Cab Doors
If you don't want full-on doors, you can opt for the heavy-duty, water-resistant polyester canvas doors for your John Deere Gator. There is also a poly roof, canvas roof/rear panel, poly rear window, and full-flip-out windshield you can use with your Gator to keep yourself protected from the elements.
Glass Windshield
This windshield is composed of tempered glass and offers clear, distortion-free vision for the driver. It is also tinted to absorb heat, and it can keep out the rain and snow that comes with winter.
Windshield Wiper Kit
This kit ensures that operators can always see clearly in the snow, and the backlit switch installs right onto the dashboard.
If you have any questions about the John Deere Gator or the accessories you can use to winterize it, you can contact your local John Deere dealer.
If you enjoyed this post or want to read others, feel free to connect with us on Facebook, Pinterest, or Twitter!
You might also like: