If you live in an area with heavy snowstorm or snowfall, you likely spend a lot of time and energy removing snow. Your John Deere gator can help you clear spaces swiftly and efficiently, but you'll need to be prepared before diving in. This means understanding your gator's capabilities, choosing the right attachments, and using the best snow removal techniques. Armed with the right knowledge and tools, you can spend less time on snow removal and more time enjoying the winter.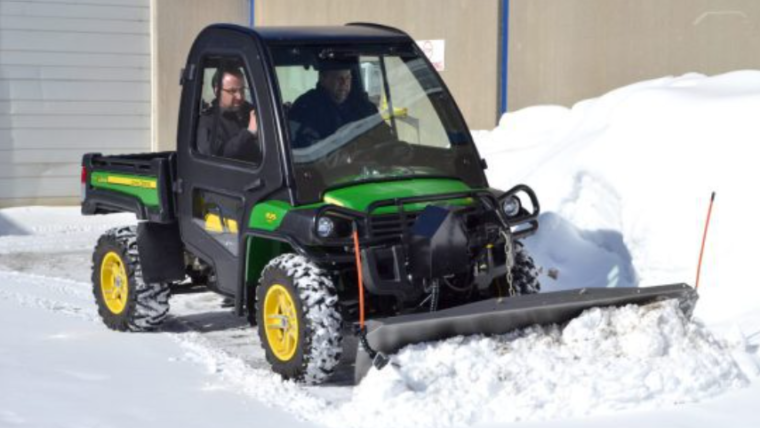 Snow Removal Capabilities of John Deere Gator
John Deere gator utility vehicles (UTVs) are powerful, fast, and durable. With seven different lines of gator UTVs, you can find the right machine for any application, from construction to people transportation. They can handle a wide range of heavy-duty tasks, even in extreme conditions like snowstorms and blizzards.
While base models are ready to trudge through snow, mud, and ice, John Deere offers nearly a dozen gator attachments and accessories that can assist with snow removal. hey include V-blades, straight blades, plow markers, skid shoes, tire chains, hoppers, poly-hoppers, and drop spreaders. Additional attachments like the OPS Poly Roof or Glass Door Kit can help winterize your gator, making it a comfortable experience all winter long.
How to Prepare Your John Deere Gator for Snow Removal
Before you start clearing snow, it's crucial to get your gator ready for the task. Here are some key steps to prepare your John Deere gator for snow removal:
1. Check Tire Pressure and Tread
Proper tire pressure and good tread are essential for maintaining traction on snow and ice. Check your gator's owner's manual for the recommended tire pressure and adjust as necessary. Make sure the tire tread is in good condition to prevent slippage, and consider using snow chains or tire chains for added grip.
2. Test the Battery and Electrical System
Cold weather can drain batteries quickly. Before using your gator, ensure its battery is fully charged and in good working condition. In addition to checking the battery, it is also important to check the electrical system. This includes testing the lights, heaters, and other electrical components to make sure they're they're functioning correctly.
3. Ensure Proper Fluid Levels
In the winter, fluids can thicken, making them more likely to freeze. Before using your gator, check all fluid levels, including engine oil, coolant, and hydraulic fluid, and replace as needed. Consider draining any old fluid and using winter-grade fluids to ensure optimal performance and protect your gator's engine and hydraulic system.
4. Install Necessary John Deere Gator Attachments
While John Deere gators are capable of navigating snowy terrain, if you want to use your vehicle to remove snow, you'll need to outfit it with the right gator accessories. John Deere offers a variety of snow removal attachments, such as straight blades or plow markers, that can make your gator much more effective.
7 Essential Tips for John Deere Gator Snow Removal
Now that your gator is ready for winter, here are seven snow removal tips to help you clear snow more effectively and with minimal damage to your vehicle:
1. Clear the Area Before Starting
Before you start clearing snow, survey the landscape and remove any large obstacles, like rocks, logs, or debris. Hitting an obstacle with your plow blade can damage the blade or the vehicle itself. For smaller obstacles, such as sticks and children's toys, you can use your gator's plow blade to push them aside.
2. Plow in Straight Lines
When plowing, try to maintain straight lines as much as possible. Choose a starting point and move linearly until you reach the end of the area you want to clear, then repeat the process until the entire surface is free of snow. This approach creates a neater appearance and ensures that you've cleared the area without missing spots.
3. Use Proper Plowing Technique
The angle of your plow or blade will affect how the snow is moved; for example, if you angle the blade to the right, the snow will be pushed to the right. Experiment with different angles to find the most efficient way to move snow based on current weather conditions, your vehicle, and the specific attachment. Additionally, be sure you're not applying too much pressure while plowing; otherwise, your gator's wheels could lift off the ground.
4. Watch for Obstacles and Hazards
Even if you've cleared the area, there may still be hidden obstacles under the snow. These can include curbs, drains, uneven surfaces, or even submerged rocks or logs. Be vigilant for potential hazards and slow down when approaching them. You may need to maneuver around the hazard or stop plowing until the area has been cleared.
5. Consider Weight Distribution
Keep in mind that lifting snow will add weight to your vehicle. If the weight of the operator, cargo, and snow is not evenly distributed, your gator may become unstable and tip over. To stay balanced, place extra loads in the cargo bed when dealing with packed snow or heavy ice. This will help to distribute the weight evenly.
6. Perform Regular Maintenance Checks
Throughout the winter season, perform regular maintenance checks on your gator. In addition to following the advice listed above, be sure to promptly address any mechanical issues that come up. This will help ensure your gator is ready to go when you need it most.
7. Stay Safe
Safety should always be a top priority when operating your gator. This is especially true when operating in hazardous conditions like snow or ice. Ensure that you and anyone operating the equipment are well-trained, familiar with the owner's manual, and able to follow safety guidelines. Wear appropriate clothing, including protective gear, and stay warm in cold weather.
H2: Commonly Asked Questions about Gator Snow Removal
Can You Put a Snow Blower on a Gator?
Snow blowers are not an available attachment for gators. However, you can explore John Deere's other snow removal attachments specifically designed for gators, including snow blades and spreaders. John Deere currently offers the Frontier SB series of snowblowers, which come in a variety of attachment types, features, engine options, and clearing widths.
Can You Put a Snow Blade on a John Deere Gator?
Yes, John Deere offers several snow blade attachment options to suit different models of gators. A snowblade is a great option to effectively clear snow from your property.
What Size Snow Plow Should I Get for My John Deere Gator?
The size of the snow plow or blade you should get depends on your specific needs and your gator. Consult your John Deere dealer for recommendations based on your vehicle model and the size of the area you need to clear.
How Do I Attach a Snow Plow to a John Deere Gator?
Attaching a snow plow to your John Deere gator involves using the manufacturer's recommended attachment points and hardware. Follow the detailed instructions provided in the attachment's manual, or consult your John Deere dealer for guidance.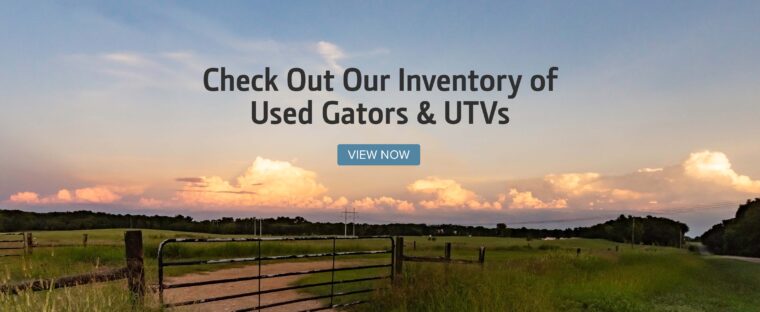 Handle Any Snow Removal Activities Efficiently with a John Deere Gator
Winter doesn't need to be a headache when you own a John Deere gator. With the right preparation, accessories, and techniques, you can efficiently remove snow and ice, whether you're clearing your driveway or an entire construction site.

To prepare your gator for the winter, visit your local John Deere dealer, who can help you find and install the right snow removal attachments for your operations. To find your nearest dealer, check out the John Deere locator.
If you enjoyed this post or want to read others, feel free to connect with us on Facebook, Pinterest, Twitter, or Instagram!
You might also like: