When winter strikes, Gator UTVs can be extremely helpful when you need to get through the snow, rain, and sleet. These vehicles are made for any condition, task, or challenge throughout all four seasons of the year, including winter, when terrain can be extremely treacherous. All Gator models come ready to deal with mud, snow, and other severe weather conditions. 
The cold weather doesn't mean you need to stop using your Gator UTV. Get prepared for winter, and be preventative before the season begins. Let's find out more about how to winterize your machine in order to get the most out of it this season.
What is a John Deere Gator?
John Deere Gators are UTVs (utility vehicles) that are designed to help property owners carry material and travel across any kind of terrain, whether it's smooth or very rough. The current models offered by Deere all feature cargo boxes in the rear, so you have additional storage space. Deere Gators can have between 4 and 6 wheels and depending on the vehicle, they can hold up to four individuals. 
Different Kinds of Gators through the Seasons
John Deere currently offers a few different styles of Gator UTVs. For winter, all vehicles can be beneficial. The traditional utility vehicles are made to carry heavy loads, even while driving over snow and sleet with ease. Let's take a look at these different UTV series and how they can benefit you.
Crossover Utility Vehicles:

These models are typically used for hunting, working, camping, fishing, and more – this series contains full and mid-size vehicles. The full-sized models have the ability to carry very heavy loads because of the high-powered engine. On the other hand, the slightly smaller models can travel are high speeds, handling a variety of projects. 

High-Performance UTVs:

These UTVs are similar to the crossover models, with higher speeds and performance ability. That said, they also maintain the quality, safety, and durability standards associated with Deere products.

Traditional Utility Vehicles:

For those spending the day on worksites, Deere's traditional models can carry up to 1,000 pounds and have the ability to drive over rocks, mud, snow, sleet, and more. What makes these models very special is that they have a low center of gravity, providing additional stability when driving on rough terrain.
How Can a John Deere Gator Be Helpful in the Winter?
As winter flurries begin across the country, there are certain qualities you will want in a utility vehicle. These features can help to improve your productivity, while also making sure you stay safe. Let's take a look at some of the ways a John Deere Gator can help you this winter.
https://www.youtube.com/watch?v=zrSstdp4GCU
Durability of Materials
The design of the John Deere Gator provides strength and longevity, allowing it to thrive during tough winters. Because many of the series have steel frames, they are made to last a long time, no matter the weather.  
On a similar note, these vehicles have deluxe cargo boxes which are also made from extremely durable materials. This helps to protect against dents and rust, as well as eliminates noise during machine operation.
Load and Unload Materials with Ease
The tailgate on the back of the machine can be lowered or removed based on preference and need. This can help improve the efficiency of unloading material, so you don't have to stay out in the cold for too long. It can also make cleaning out the box much easier, especially when a lot of dirt and snow gets involved. 
Decreases Time to Get from Point A to Point B
These utility vehicles are powered by a 48-V electrical system, giving the unit the necessary power to accelerate quickly, climb steep terrains, and haul large cargo loads consistently. The slippery, wet winters are no match for these powerful drive systems! 
Comfortability
John Deere Gators include many comfort features – this can be very helpful in the winter when comfortability reigns supreme. Some examples of this may include those times when you don't know where to place your gloves while you're driving, or when the terrain gets rough or slippery due to snow on the ground. You will be able to place those gloves in the glove box, and the hip restraints, on the other hand, are what will keep you safe when the terrain gets rough. Here are some additional comfort features:
Seating

: The vehicle's seating comfortably fits an operator and a passenger. Some models can hold up to four individuals.

Seat Cushions:

There are also adjustable high-back seat cushions that provide added comfort when driving.

Additional Storage:

The driver and passenger seats both tilt forward, providing additional dry storage underneath the seats. 

Ease of Use:

The controls are very similar to those of an automobile.
Winterizing Your Gator UTV
While Gators perform exceptionally no matter what season, there are a few items you can implement to allow your vehicle to truly thrive in the winter. Let's take a look at how you can winterize your Gator.
Windshield Wiper Kit
Seeing clearly in the snow can be quite a struggle at times, however, utilizing a windshield wiper kit allows operators to see much more clearly. The backlit switch on this kit can be placed directly onto the dash, making it very easy to install, even in the freezing cold. 
Straight Blades
There are many different kinds of straight blades you can use with your John Deere Gator to help remove unwanted dirt and snow; these range from 66" to 72". John Deere's 72″ V-Shape Blade (the largest of the straight blades) is great for winter because it can be helpful for grading. 
On the other hand, the John Deere 72″ Hydraulic Straight Blade is another option you may want to consider for snow removal specifically. It has a hydraulic lift and angling system, making the removal process simple. 
Canvas Cab Doors
If you're not interested in the full-on door option, you can opt for heavy-duty, water-resistant canvas doors. These can help in the winter so that snow and ice do not splash up at you when driving on rough terrain.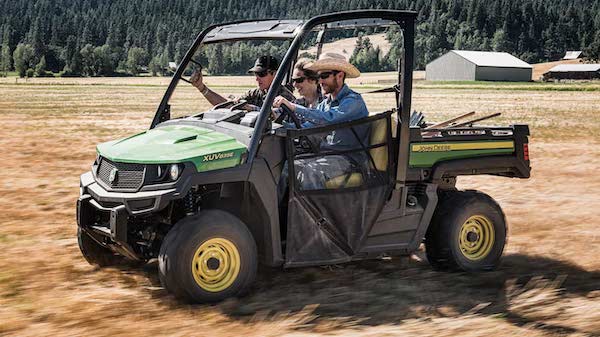 Cab Doors
When the cold, frigid winter weather comes around, you want to stay warm in any way possible. Adding cab doors helps to boost the temperature inside your UTV, by keeping the warmth inside. Similarly, there is heat-absorbing tinted glass on these cab doors that helps to absorb solar energy via the windows.
Glass Windshield
The windshields on John Deere Gators have two main benefits – they are made of tempered glass which just so happens to be tinted. The tempered glass helps to create a clear vision for the driver, which is extremely helpful in the winter when snow can cause problems with clarity. Similarly, the windshield tint helps to absorb heat, like those on the cab doors. Both of these benefits help to keep the rain and snow on the outside of the vehicle, making your ride easier than ever.
Cab Rear Panel
Again, the rear panel on a John Deere Gator has heat-absorbing tinted glass. This feature also helps to keep snow out of the operator station when there's a full windshield piece installed.
Gator Attachments for the Winter
While you can winterize your UTV with some of the kits, features, and attachments mentioned above, there are some additional attachments that can help in the wintertime. Let's take a look at them and how they can help combat the cold.
Glass Door Kit – Deluxe Cab
Gators can be equipped with glass door kits to help you take protection from all and any elements. This kit contains a complete automotive seal for the cab frame – keeping all bad weather outside, including snow flurries. 
Floor Mats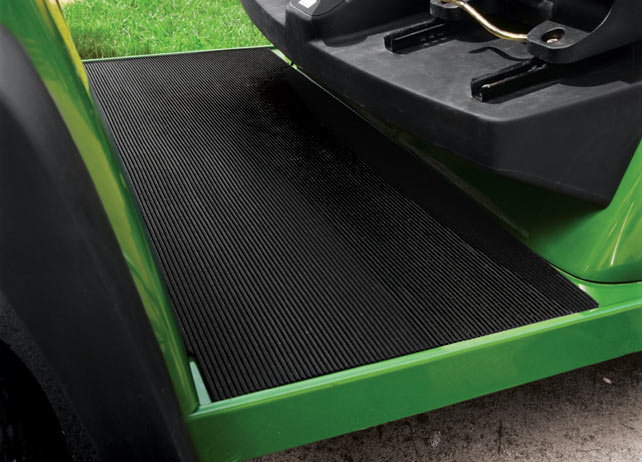 When the snow begins melting, thick muds will begin being tracked into vehicles. John Deere floor mats are washable, helping to protect your floor and thereby minimizing debris and mess at the operator station. 
Cab Heater
While many of the glass components on a Gator are tinted to absorb heat, freezing conditions can still leave the cab a bit chilly. A cab heater kit can help to increase the temperature of the cab, so you're feeling comfortable year-round. This two-speed, high-output heater can also do wonders when frost takes over your windshield.
Seat Cover
When winter comes around, there are often days where the temperature is above 32 degrees, resulting in melted snow. This water can potentially pool and cause problems. Seat covers, like those offered by manufacturers like Black Mountain All-Terrain, can help you avoid this since they have a central water drain hole, meaning you'll stay warm and dry.
HD Skid Plate Extension Panel
In the wintertime, impaired vision can be a problem due to the flurrying snow. Similarly, debris can typically be found all-over. A deflector plate helps to fill the gaps between the front and rear skid plates – protecting power components from said debris, such as rocks and sticks.
Markers
When heavy snow hits, blades can, unfortunately, be swallowed up. In order to counteract this, POWERtach markers provide operators with a visual aid, so that blade edges can be viewed during the snow plowing process.
Vehicle Cover
When work is finished on a winter day, it is then time to shut down the engine on your vehicle. This vehicle cover is a heavy weighted fabric cover, protecting your whole vehicle from tough conditions, no matter what the weather.
John Deere Gator UTV Maintenance for a Successful Winter
What can you do to make sure your John Deere Gator UTV continues working its best throughout the winter? Here is a checklist to make sure you have no problems resulting from the cold weather.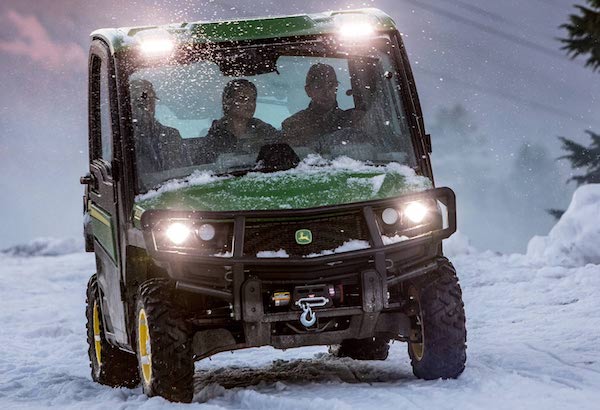 Train Before You Drive Through the Tough Winter Terrain
Before using any new piece of John Deere equipment, it's important to know all about the operating process. Referencing a user manual is a great way to learn all of the ins and outs of the vehicle if you are unfamiliar with your new Gator. 
Take Care of Your Tires so They Are Not Damaged
Tire care is important because Gators are constantly climbing over very rough terrains. While these tires are very durable, it is still important to take proper care to maintain quality. Here are some of the things to check when it comes to your tires: 
Ensure tire pressure isn't too drastically high or low

Check for bubbles and cracks in the material

Make sure there is no rim damage
Brake Checks for Stopping Safely in the Snow
Safety is an extremely high priority when it comes to your vehicle. Brakes are an important piece of this because they are designed to stop safely and quickly in any kind of terrain. 
Regularly testing response time helps to keep these brakes reliable over time. If you notice that they aren't responding as quickly as normal, it's essential to check the brake pads and brake fluid. Making sure the brakes are cleaned regularly and protected against weather can help keep you safe. 
Change Fluids to Keep Your Vehicle Running
It is essential to change oil, fuel, and coolants, but it's just as important to also identify what these fluids do for your vehicle. When it comes to oil and filters, these should be replaced after 20 hours of total use.
When changing this oil, its crucial to be careful in cleaning up any spills, because this material is very flammable. Similarly, old and/or dirty oil will prevent your engine from being properly lubricated and cooled. This can cause your vehicle to seize up.
Avoid Rust and Damage with Proper Storage
When harsh weather hits, you will want to make sure your vehicle is properly stored and protected from environmental conditions. Weather such as snow, sleet, and heavy rain can cause damage to a UTV. On the other hand, you will also want your Gator to be kept in a garage so it's also protected from rust, dents, and potential theft.
Final Thoughts
As winter begins, it is important to not only inspect your equipment consistently but to also look for ways you can improve the efficiency of your vehicle during winter. This could include looking into new attachments to make sure you stay warm or finding storage for your UTV properly so it does not get damaged.
If you have any questions about John Deere Gators, you can contact your local John Deere dealer.
If you enjoyed this post or want to read others, feel free to connect with us on Facebook, Pinterest, or Twitter!
You might also like: