If mowing quickly and efficiently is important to you, the John Deere X330 Tractor with its 42-inch deck could be the machine for you. This riding lawn tractor is designed to help you get the job done faster thanks to it 20 horsepower engine, and you can rest assured knowing that its durability is on par with other John Deere models.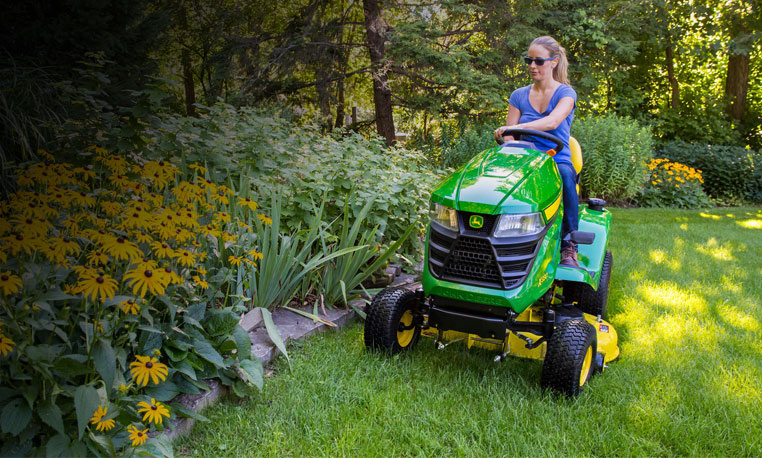 Let's take a closer look at some of the features and benefits of the John Deere X330.
Low-Effort Steering
Steering the John Deere X330 requires little effort, and it has a 14-inch diameter steering wheel for improved leverage. Its 16-inch turning radius allows you to easily maneuver the machine around the yard.
Durable Frame
The frame of the John Deere X330 is composed of welded steel which is reinforced in critical areas for additional strength. It is formed from 12-gauge thick material for a long, lasting life. Additionally, its standard front bumper and hitch plate are formed from 9-inch gauge steel.
Easy Deck Adjustments
Deck adjustments can be made right from the operator platform, where Exact Adjust leveling ports are located. A removable on-board deck-leveling gauge and hex-key tool also make it easy to execute necessary adjustments.
Smooth-Running Engine
The power behind the John Deere X330 is a 20 horsepower V-twin engine with low vibration, improved sound quality and greater torque. It also has an electronic ignition for a fast start, as well as cast-iron sleeves for a longer engine life.
Air Management System
The cyclonic air management system removes large particles of dirt before they reach the air filter, reducing the need for filter maintenance and providing a longer engine life. A large, dry-type paper element air filter also thoroughly cleans the engine intake air.
Simple Serviceability
The engine oil check and fill tube is conveniently located for easy access, and the oil drain hose ensures that draining the oil is a clean, simple job. Replaceable oil and fuel filters are also easy to access and change, which minimizes service time and cost.
Cut Quality
Operators can be sure that they are getting optimal cut quality with the John Deere X330. Its 42-inch Accel Deep™ mower deck has a stamped-steel, deep, flat-top design. This ensures that users always get a clean cut. Additionally, the mower deck is suspended from the John Deere X330, which means that operators get a leveled, smooth cut every time.
Modern Design
John Deere lovers who appreciate a modern design will find satisfaction in the John Deere X330. This machine has smooth, rounded contours for a contemporary, styled appearance. Its hood styling also allows for cooler engine operation and less noise during operation.
There are many John Deere lawn tractor models to choose from. The X330 is just another quality addition to consider when selecting a model that best suits your needs.
If you enjoyed this post or want to read others, feel free to connect with us on Facebook, Twitter or Pinterest!
You might also like: