The John Deere 9520R is the perfect machine for those who need a tractor that can efficiently tackle duties on the farm with an ample amount of horsepower. This tractor includes FT4 engine technology, meaning it's ready to tackle on any job in the outdoors.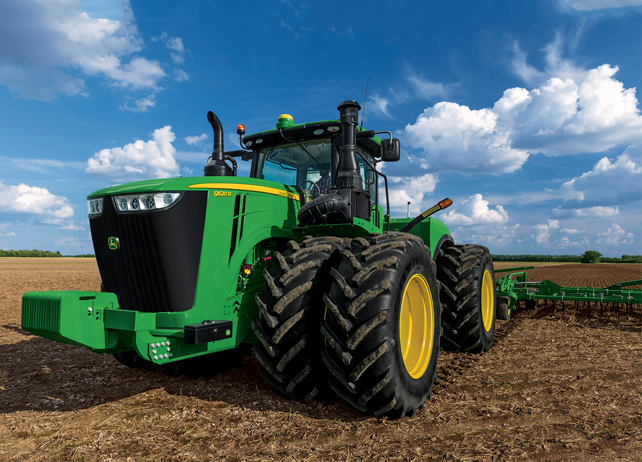 Let's take a look at some of the features of the John Deere 9520R and how it can help you with your daily tasks.
JDLink™ and Diagnostic Systems
JDLink and diagnostic systems can be integrated into the John Deere 9520R, which is essential for those who want to stay on top of their machinery. JDLink allows users to keep an eye on the operation and efficiency of their equipment, while the diagnostics system spots problems before they become large maintenance issues.
e18™ PowerShift Transmission
The e18 PowerShift transmission of the John Deere 9520R allows for smooth shifting. It has 18 speeds, and it's designed to handle sudden, high-torque power loads.
High-Flow Hydraulics
The dual hydraulic pump system allows the John Deere 9520R to run cooler and prevents the hydraulic pumps from operating under high pressure.
CommandView™ III Cab
The CommandView III cab of the John Deere 9520R is designed to provide maximum comfort and visibility for the operator. The seat with air suspension provides ample back support, and the cab itself has a passive noise reduction system.
3-Point Hitch and CommandCenter™
The 3-point hitch and CommandCenter ensure that the John Deere 9520R can be used with multiple attachments, and the hitch has a remote control switch for convenience.
Exhaust Gas Recirculation
The PowerTech™ PSS cooled exhaust gas recirculation (EGR) system continuously regenerates the exhaust filter using a natural cleaning process known as passive regeneration. It reduces high temperatures where nitrogen oxide compounds are formed in the engine cylinders.
FieldCruise™
The John Deere 9520R features FieldCruise, a feature that can be set in the CommandCenter to allow for an upper limit to engine speed. When it's engaged, the engine responds to small variations in load.
Engine Brake
An engine brake is available for the John Deere 9520R, which provides more machine control during operation on slopes when carrying a heavy load.
Increased Flexion and Very High Flexion Tires
IF and VF tires allow operators to increase their load carrying capacity at reduced air pressures. This is compared to a traditional tire.
ActiveCommand Steering
Active Command Steering (ACS™) is available on the John Deere 9520R. It's designed to prevent over-steering when a sudden obstacle causes the operator to generate a quick steering motion.
If you enjoyed this post or want to read others, feel free to connect with us on Facebook, Twitter or Google+!
You might also like: