John Deere is always on step ahead, meaning its customers never have to worry about whether they have the latest in construction technology to take on the task at hand. To cater to those who are looking to maximize uptime and boost productivity, the company has rolled out its Precision Construction portfolio.
"Since the beginning, delivering innovative solutions to our customers has been a core focus for John Deere, and the Precision Construction portfolio is taking that commitment to the next level," said Andrew Kahler, manager, technology solutions, John Deere. "In recent years, we've unveiled an array of technology solutions that directly address our customers' concerns on the job site. Now, we're building on that foundation, pushing down on the gas pedal, and moving the industry toward the next generation of smart machine solutions."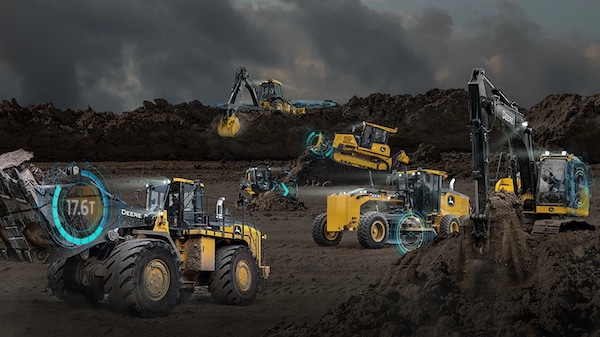 With Connected Support™, Grade Management, Payload Weighing, and JDLink™ Telematics, Deere customers can now incorporate solutions based on their specific needs. Let's take a look at how these components can each make a difference on the job.
Connected Support™
John Deere Connected Support is enabled through the JDLink telematics connection. It leverages a wide array of dealer and factory tools that are meant to improve uptime and lower overall daily operating costs. With the Machine Health Monitoring Center, machine data is analyzed to spot problem areas before they negatively impact the task at hand. Remote diagnostics and programming also allow dealers to access and reset diagnostic trouble codes from afar.
Grade Management
Operators can ensure that their dozer or motor grader is pre-plumbed, wired, and ready for easy installation of the grade-control system they choose. A 3D grade control system is also fully integrated into SmartGrade crawler dozers and motor graders to eliminate the need for external cables and masts. On select G-Series Excavators, operators can also opt for factory-installed grade guidance.
Payload Weighing
Customers can opt for onboard payload weighing for Deere ADTs, providing overload protection. Wheel loaders can also be equipped with a payload weighing system to make for more efficient loading.
JDLink™ Telematics
With JDLink, operators can track their machines, regardless of where they are located. This allows them to ensure that their equipment is always working efficiently at the correct site. Maintenance and remote diagnostics can also be easily tracked via JDLink, giving operators the ultimate control over their fleet.
To learn more about the John Deere Precision Construction portfolio, watch the video below!
If you have any questions about John Deere Precision Construction, you can contact your local John Deere dealer.
If you enjoyed this post or want to read others, feel free to connect with us on Facebook, Pinterest, Twitter, or Instagram!
You might also like: