The John Deere F4365 High-Capacity Nutrient Applicator is now available to producers who want to apply lime and fertilizer more effectively during the workday. With its improved dry spinner spreader, it's designed to take on several cubic feet with more accuracy than ever before.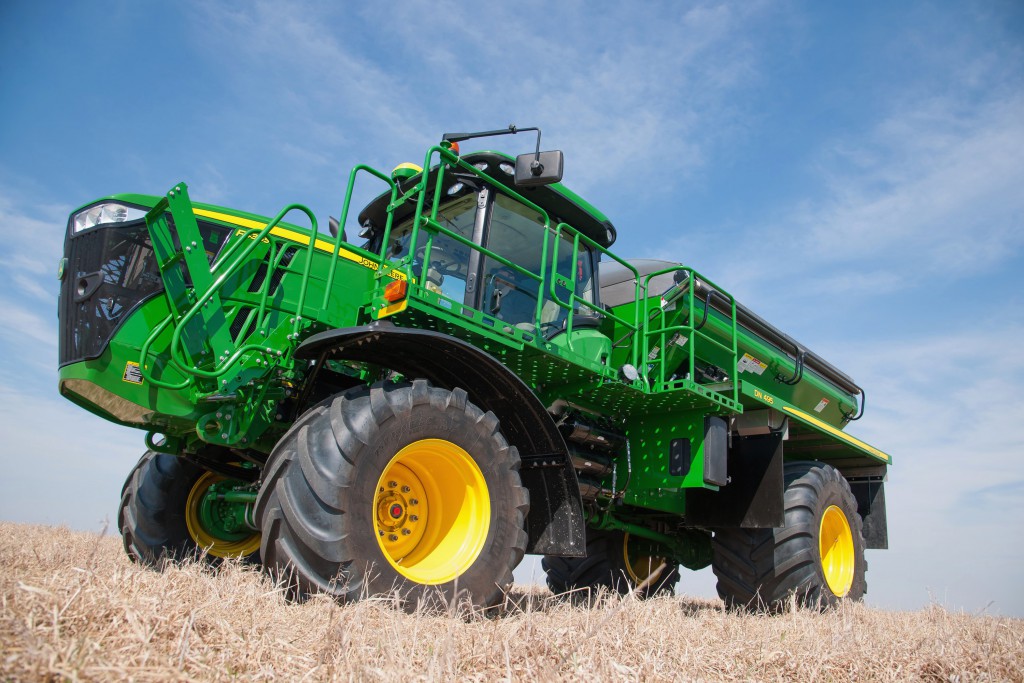 Let's take a look at some of the key features of the John Deere F4365.
9.0L PowerTech™ Engine
The John Deere F4365 comes with a PowerTech engine which is combined with Infinitely Variable Transmission to provide up to 365 horsepower. When necessary, it can give operators a maximum of 400 peak horsepower to take on any job.
Speed and Fuel Capacity
When empty, the John Deere F4365 can be driven up to 46 mph on highways, and it can operate at 30 mph while applying product. Its fuel tank holds 150 gallons, and a maximum of 7.8 gallons of diesel exhaust fluid can be distributed into the machine. Both tanks can be filled easily at ground level.
High Ride Quality
The John Deere F4365 is designed to provide maximum ride quality with its dual c-channel frame, which provides flexibility while absorbing shock. The AxleTech™ axles of the John Deere F4365 are also used on the front and rear of the machine. This allows it to haul full loads of heavier-density materials.
Leader Dry Spinner Spreader
The New Leader Dry Spinner Spreader of the John Deere F4365 can hold 330 cubic feet of product, and it is available in multiple configurations to suit operators' needs. All of the options – the MultiBin insert, MultApplier insert, and single bin – are composed of durable stainless steel.
Lighting Options
Lights can be easily controlled with a rotary light switch on the steering column of the John Deere F4365. Operators can also add an LED package, which includes hood work lights and cab roof front lights.
JDLink™ Compatibility
The John Deere F4365 is compatible with JDLink, John Deere's telematics system designed to maximize the productivity and efficiency of their machines. JDLink Connect provides users with information on their machines' performance from afar, allowing them to manage multiple pieces of equipment in one centralized location.
Automatic Filter Cleaning
The John Deere F4365 uses Interim Tier 4/Stage IIIB and Final Tier 4/Stage IV automatic filter cleaning processes. This ensures that the machine adheres to emissions standards set by the U.S. Environmental Protection Agency, created to reduce nitrogen oxide and diesel particulate matter.
Tire Options
Owners of the John Deere F4365 have the option of using Alliance 750/50R26 front tires and 1050/50R32 rear tires or Michelin® 750/50R26 front tires and 1050/50R32 rear tires on their machine.
If you enjoyed this post or want to read others, feel free to connect with us on Facebook, Twitter or Google+!
You might also like: