To help growers improve crop production and planting accuracy, John Deere recently brought three new products to the market: the MaxEmerge™ 5e row units, AutoTrac™ products, and the F4365 High Capacity Nutrient Applicator.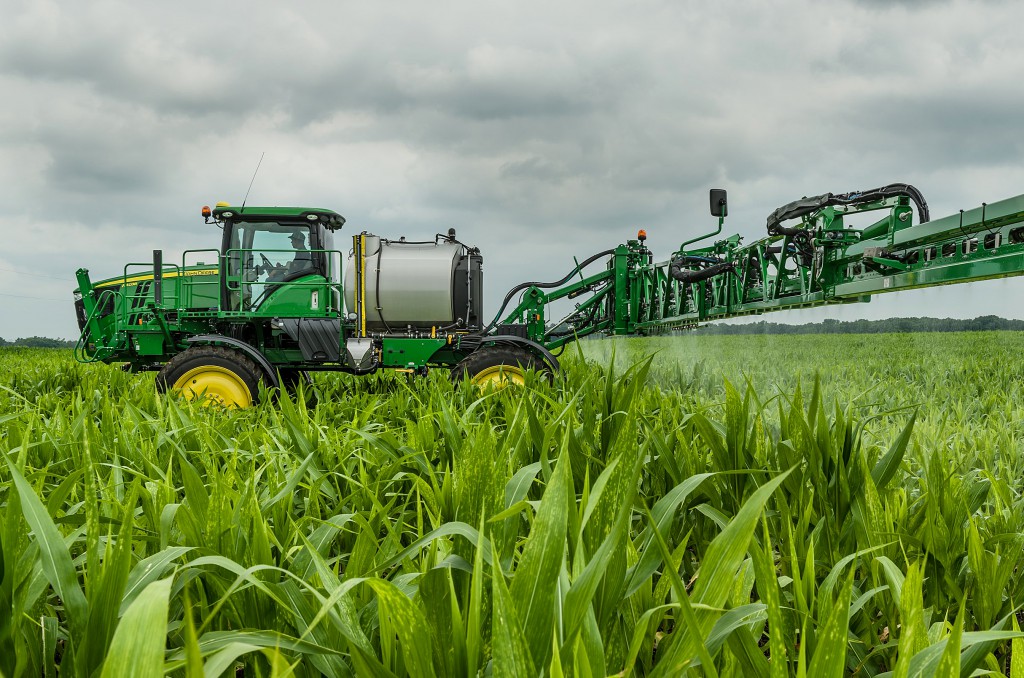 If you want to learn more about each update, check out the videos below. In the meantime, here is a quick overview:
John Deere MaxEmerge 5e: Improve planting accuracy, reliability and uptime. The row unit can be used on a variety of John Deere planters like the popular mini-hopper and DB planters.
John Deere AutoTrac Vision and RowSense: More accurately navigate row-crop fields when making postemergence sprayer applications.
John Deere F4365 High Capacity Nutrient Applicator: Apply fertilizer and lime to more acres each day during shorter and busier application windows.
Have you heard the great news? It's big, and it's spreading fast. Meet the all-new F4365 High Capacity Nutrient Applicator from John Deere.
When we say big, we mean a 330 cu-ft (9.3 cu m) dry spinner spreader with 60- to 90-ft (18.3 m to 27.4 m) spread widths. That's perfect for high speed spreading of nitrogen, phosphorus, potassium and lime.
So, why is this machine so important for crop production improvements? As seed hybrids of higher yield pull more nutrients out of the soil, experts are recommending a higher volume application of nutrients to maintain soil health.
The F4365 is also exciting for another reason. Although application windows in early spring and late fall keep getting tighter, this machine helps you cover more acres in less time. The ride quality also sets it apart from other machines, as it offers more than 30% better ride quality than the leading competitive 4-wheel machine.
Tune into this video to learn more about the F4365 High Capacity Nutrient Applicator and how it can help support your crop production improvement.
Without any debate, the best crop production improvements come from population accuracy, seed placement accuracy, depth and timely planting.
ExactEmerge showed the agriculture industry that you can find it all in one unit – now it's time to show that you can find it all in two units. That's why we're introducing the John Deere MaxEmerge 5e row unit.
Watch the video to learn more about the new planter solutions John Deere has brought to market and how we address the four key agronomic principles that save yield potential.
It starts off pretty mild – a little distraction here, a little crop damage there. Then the hours add up, the fields seem longer, the frustration and fatigue build up. Even the best operators experience "row rage" after steering for hours on the field.
Just how costly is row rage? Consider this: running over the row for even one second at 15 mph will take out more than 90 corn plans. Imagine how that can add up over a day. But, with the introduction of two new John Deere AutoTrac sprayer guidance systems this won't happen anymore.
Watch this video to learn about AutoTrac Vision for early-season corn, soybeans and cotton, and AutoTrac RowSense for late-season corn. Both help your sprayer stay on course without taking out crops or wearing out operators.
Hopefully these videos provided useful information about the John Deere equipment updates that can help improve your crop production.
You might also like: