John Deere announced updates to the John Deere XUV560 and XUV560 S4 Gators™ in June 2016, and these rides are now more versatile and durable than ever before. The John Deere XUV560 comes with a new quiet V-twin engine, independent four-wheel suspension and four-wheel drive.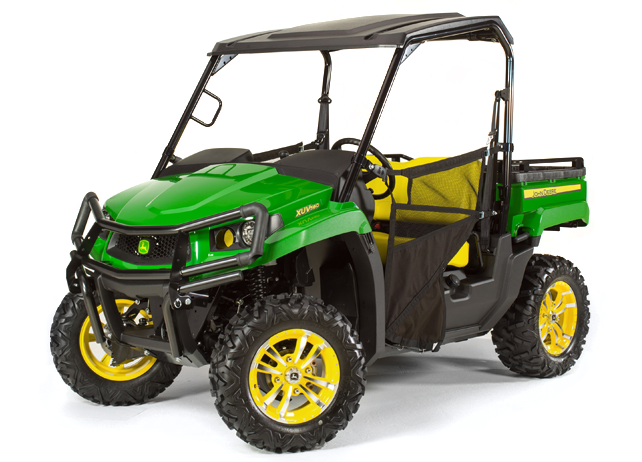 Let's take a look at how this John Deere Gator can make transportation more enjoyable while you're on the job.
Quick Acceleration
The John Deere XUV560 is powered with a V-twin gasoline engine that allows operators to reach up to 28 miles per hour with 16 horsepower. The Gator can reach 15 miles per hour within 3.5 seconds, and it's optimized for easy cold weather startup. The engine has a full-pressure lubrication system, and the machine also has a high air-flow air filter. Its fuel tank can take up to 4.9 U.S. gallons at a time.
Spacious Cargo Box
The cargo box is one of the highlights of the John Deere XUV560. It is created from a high-density polyethylene copolymer composite material that resists rust and dents. Its one-piece design also has rounded inside corners that make it easy to remove material when tilted.
Premium Braking
The John Deere XUV560 has a premium braking system, composed of hydraulic disc brakes with front left/rear right and front right/rear left circuits. This ensures that the vehicle can come to a stop, even in the event of a damaged line. Twin-piston front calipers and single-piston rear calipers provide maximum stopping capability.
Modern Styling
The John Deere XUV560 has a modern, sleek design with a wide front bumper, sweeping hood lines and high fender lines. It also includes sweeping headlights with mounting locations for an optional turn signal kit.
Multiple Tire Options
There are multiple tire options for the John Deere XUV560. Customers can choose from the Terra Hawk AT® tread tires, Ancla M-T® tread tires, and Maxxis BigHorn alloy wheels, depending on their needs and the terrain.
Four-Wheel Independent Suspension
The four-wheel independent suspension of the John Deere XUV560 ensures that operators feel less of the bumps on the road while driving over rough terrain. Its adjustable coil over shocks also absorb the feeling of movement, making for a more comfortable ride.
Vehicle Conveniences
With the John Deere XUV560, you'll never have to worry about comfort. The Gator has in-dash cup holders, a sealed glove box, optional under-seat storage, and additional legroom. Its hinged hood rotates open without tools for access to storage on the go. There is also a standard 12-volt direct current outlet located in the instrument panel.
If you enjoyed this post or want to read others, feel free to connect with us on Facebook, Twitter or Google+!
You might also like: