Farmers who are seeking a backhoe that is capable of handling jobs with both power and efficiency may want to consider the John Deere 270B. This backhoe has a reach of about 10 feet, and it can dig seven feet deep. Its load height is more than five feet, and on top of it all, it's easy to maneuver on the go.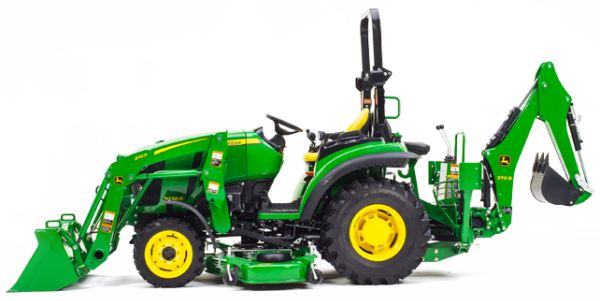 Let's take a look at some of the other highlights.
Bucket Options
The John Deere 270B has multiple bucket options — 20.3-cm (8-in.), 30.5-cm (12-in.), and 40.6-cm (16-in.). The bucket teeth are also replaceable, meaning owners don't have to worry about wear and tear on their machine over time.
Optimal Performance
The John Deere 270B has valve spools with machined-metering grooves for smooth operation and more control. The durable sub-frame of the backhoe ensures that it can handle everything from digging to transporting without a problem.
Convenient Operation
Convenience is the name of the game when it comes to the John Deere 270B. Its seat pivots upward when it's not in use and it can be held in position with a gas assist shock. This prevents damage during transport and prevents debris from collecting on the seat over time. A low-profile console provides operators with an unobstructed view during work, and a two-level system is used to control everything from boom lift to swing. A cushioned boom cylinder offers smooth operation throughout the workday, and it also prevents contact with the backhoe frame while the boom is being raised.
Extra Comfort
For additional comfort, the John Deere 270B also has a high-back seat, and boom and swing locks are accessible from the operator's seat – no need to move around. Non-slip grips are also included in the operator platform.
Hitch Systems
The John Deere 270B has a 3-point hitch system in the rear and front of the machine. This makes it easier for operators to attach all accessories to the machine, improving its versatility.
Optional Street Pads
There are optional rubber stabilizer pads that can be used with the John Deere 270B. These attachments are perfect for operators who intend on using the machine on hard surfaces. The pads minimize scratching and damage on-the-go.
Backhoe Mainframe
The mainframe of the backhoe fits snug into rear-mounting brackets that are installed on the tractor. This eliminates side-to-side movement and provides more stability for operators. After the mounting frame is installed, attaching and detaching is quick and simple, thanks to the 3-point hitch systems of the John Deere 270B.
If you enjoyed this post or want to read others, feel free to connect with us on Facebook, Twitter or Google+!
You might also like: