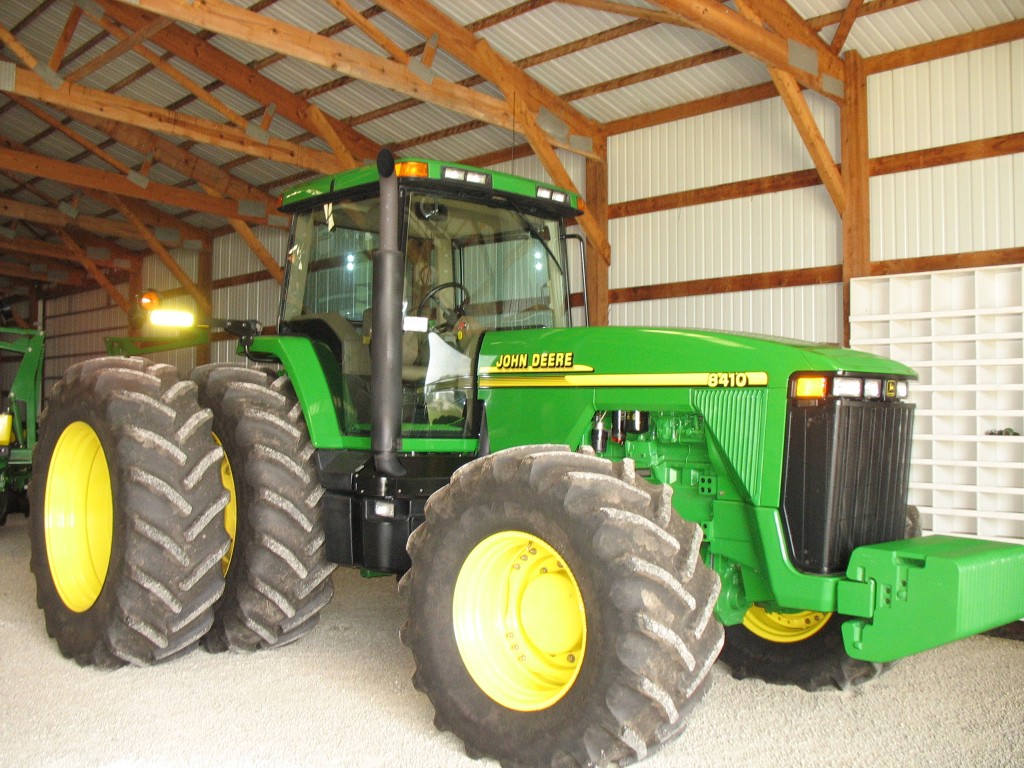 2000 JD 8410 MFWD tractor with 584 hours sold for $136,000 on 9/11/10 farm auction in northwest Illinois
I've been compiling auction sale price data for a long time. 21 years to be exact.
I'm always hesitant to say what single item has been the "most amazing" sale price I've ever seen. But I'm certain we've got a new contender, a 2000 model John Deere 8410 MFWD tractor sold on a farm auction in northwest Illinois on September 11, 2010. This 8410 was a real beauty with only 584 hours on it.
It sold for $136,000.
How high is that? Well, in the last 10 years the previous high auction sale price I had run across was $113,000 (2001 8410 w/1,130 hours, sold 3/6/10 on south-central Illinois auction). Heck, I just checked the 8410's listed for sale here in Machinefinder.com by Deere dealers around the country and the highest advertised price listed was $118,000. I also compile dealer advertised price data at our Machinerypete.com web site and in the past 10 years the highest advertised price I've seen for a JD 8410 tractor was $118,600…and that was way back in 2003 when 8410's were almost new.
So $136,000 for a 10-year old 8410 on the September 11th auction in northwest Illinois…pretty darn amazing I'd say.
You know what else is amazing? That 8410 only took two minutes to sell on the auction. I talked with auctioneer Steve Relander (Aledo, IL) , even saw a video clip from the sale. Normally super high interest, big dollar items like this take at least four to five minutes to sell on an auction.
Guess when folks see a beautiful 10-year Deere tractor, like this 8410, they're ready to do business!
About Machinery Pete: Greg "Machinery Pete" Peterson has been working in the agricultural industry for 21 years and details agricultural equipment prices and trends at his website, Machinerypete.com. Greg also writes columns for Successful Farming magazine, Implement & Tractor magazine, Agriculture.com web site and also appears on the Machinery Show on RFD-TV.
You might also like: