Over the past year, Machinery Pete has reported on some of the most outstanding selling prices for used farm tractors, as well as the agricultural community's opinion about these massive machines. Machinery Pete reports the results of tractor auctions across the country where used John Deere farm tractors are sold to anxious bidders. He is connected with 750+ auctioneers across the U.S. and Canada and has 40 contacts who gather auction results that are then listed on the Machinery Pete site.
The following is a month-by-month overview of some of the best-selling and record-breaking used farm tractors that Machinery Pete has reported on for the Machine Finder blog in 2012:
January: A 2001 John Deere 7510 tractor, with 830 hours of use, was sold for the record price of $82,000 at a Missouri auction.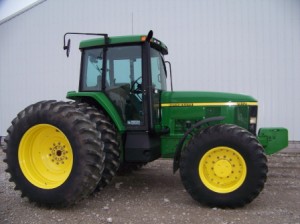 February: A 1983 John Deere 4050 2WD tractor with 3,975 hours sold for a new record auction sale price of $44,000 at an Iowa auction.
March: A 1999 John Deere 8200 tractor with 3,918 hours sold for a new record high price of $88,000 at a Missouri auction.
April: A 1972 John Deere 4020 open station tractor with 3,660 hours sold for $28,000 at an Ohio auction.
May: A retiring farmer, who had a heart transplant in 1997, put his 1999 John Deere 7210 tractor up for sale; the tractor only had 127 hours of use.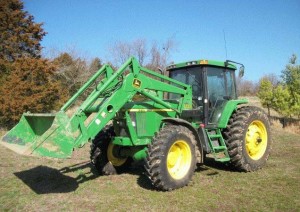 June: A 2007 John Deere 7520 tractor with 451 hours sold for $90,000 at a farm retirement auction in southwest Ohio; the owner, Barney Yeager, paid $86,000 for this brand new tractor 5 years ago.
July: 82-year-old Albert Groeneweg sold his 1966 John Deere 2510 diesel, power shift tractor for $14,500 at an Iowa auction, which constituted the 3rd highest auction sale price Machinery Pete has seen in the last 16+ years on a JD 2510.
August: A 2007 John Deere 8330 tractor with 850 hours sold for a new record high auction sale price of $167,000 at a Minnesota auction.
September: Two John Deere tractors set auction price records in southwest Iowa; a 1997 John Deere 8200 with 1,319 hours sold for $82,500 and a 2002 John Deere 8320 MFWD with 1,052 hours sold for $149,000.
October: A 1963 John Deere 4010 tractor with 8,000 hours sold for $9,250, a 27.3 percent jump in value from its original price of $2,525 50 years ago.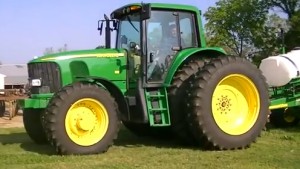 November: Two low-hour John Deere 2520 diesel tractors sold for $20,000+ at a Minnesota auction; bidders assumed the tractors wouldn't go for more than $15,000.
The results of any December auctions are still to be determined, but we're hopeful this trend of high-valued used farm tractors continues next month and into 2013. The record-breaking selling prices for used John Deere tractors just goes to show how reliable the equipment is and how confidence farmers feel about it. Tractor maintenance also has a hand in how well a machine is re-sold; if you're meticulous with your farm tractors, they can maintain or grow their value in years to come.
You might also like: