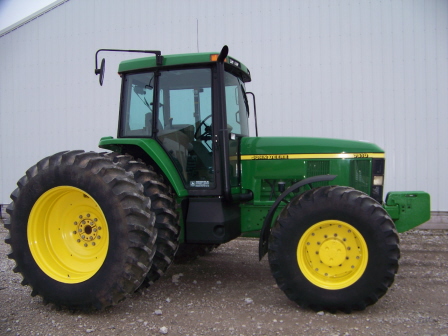 I've seen record auction sale prices fall throughout 2011 on used tractors from 130 horsepower, 180 HP, 200 HP on up the big monster 4WD model tractors. But it isn't just the big boys going up in value.
A 2001 John Deere 7510 mechanical front-wheel drive tractor (115 HP) with 830 hours sold for a new record high auction price of $82,000 on a nice farm auction December 28, 2011 in Memphis, MO (northeast Missouri).
The previous high auction sale price I've seen on a John Deere 7510 tractor came exactly five years prior, on a December 28, 2006 farm auction in southwest Iowa, where a 2000 model 7510 in excellent condition with 1,550 hours sold for $75,000.
2011 will go down as the year of RISING values on good used tractors.
About Machinery Pete: Greg "Machinery Pete" Peterson has been working in the agricultural industry for 21 years and details agricultural equipment prices and trends at his website, Machinerypete.com. Greg also writes columns for Successful Farming magazine, Implement & Tractor magazine, Agriculture.com web site and also appears on the Machinery Show on RFD-TV.
You might also like: