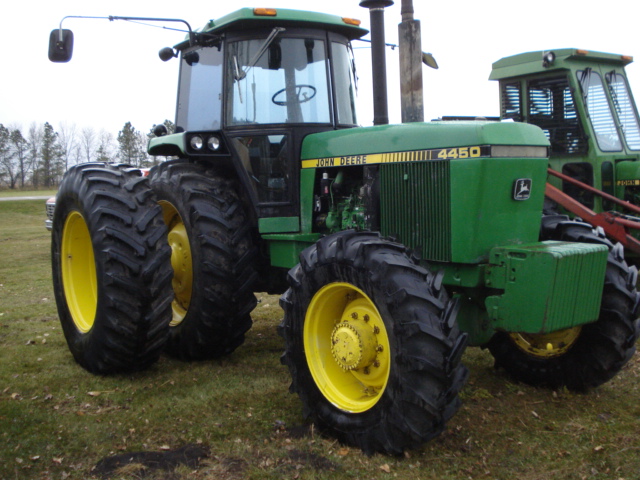 Used John Deere 4450 at Auction
This used John Deere 4450 tractor with 8,570 hours in very good condition sold for $41,000 on an October 27, 2011 farm auction in northwestern North Dakota.
People have been asking me the same question for a while now. "Is the used tractor market really that red hot right now Pete?"
Yep. Maybe even hotter than I wrote about last month. It certainly shows up in the numerous record high auction sale prices I've seen all across the U.S. and Canada on very low hour used tractors. But now this trend is even showing up on nice used tractors with much, much higher hours.
Like the 1988 JD 4450 mechanical front-wheel drive tractor with 8,570 hours sold last Thursday (Oct. 27, 2011) for $41,000 on a farm auction in northwest North Dakota. So pushing 10,000 hours and it sold for over $40K. Wow.
10 years ago in the year 2001, JD 4450 tractors sold at auction for an average of $27,554 according to the data we compile at www.Machinerypete.com. Today? Average auction sale price so far in 2011 on John Deere 4450's (made by Deere from 1983-88, 140 HP) = $27,868. So a decade older, but worth a bit more money, in great part because now even higher hour used tractor models in good condition are bringing more money at auction.
About Machinery Pete: Greg "Machinery Pete" Peterson has been working in the agricultural industry for 21 years and details agricultural equipment prices and trends at his website, Machinerypete.com. Greg also writes columns for Successful Farming magazine, Implement & Tractor magazine, Agriculture.com web site and also appears on the Machinery Show on RFD-TV.
You might also like: