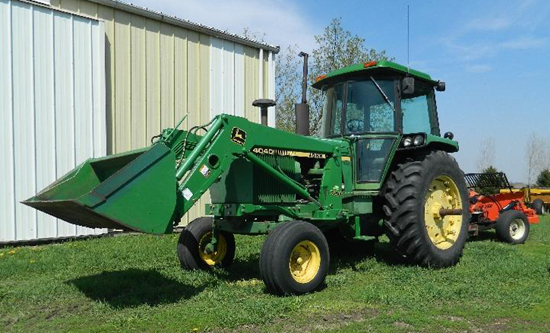 They always catch my eye.
What? Really low hour used tractors on upcoming auctions, like this 1981 JD 4040 with only 2,892 hours, on a July 13, 2011 farm auction near Starbuck, MN (west-central MN). Seeing tractors like this always makes me head toward our "auction results" database at Machinerypete.com to look for other low hour tractors…how high did they sell?
Last year on a March 6, 2010 auction in north-central Oklahoma, a 1980 JD 4040 with 2,156 hours in good condition sold for $32,500. That's not the highest auction sale price I've seen on a 4040, not quite. That honor goes to the 1980 JD 4040 with just 1,458 hours sold for $37,000 on a February 18, 2009 farm auction in south-central Minnesota. That was quite a sale. Also sold on that south-central Minnesota auction just over two years ago were these (2) other JD tractors:
1988 JD 4450 MFWD tractor with 4,500 hours: $48,000
1988 JD 8650 4WD tractor with 3,924 hours: $47,000
$48,000 was the highest auction sale price I had seen on a JD 4450 tractor since 1998. $47,000 for the JD 8650, also was the highest auction price I'd seen on that model since 1998. Auctions like this February 2009 sale in south-central Minnesota are the kind of sales that folks talk about for years to come, and not just local folks, but machinery lovers from all over the U.S. and Canada. Just seems that folks love to run across tractors with a bit of age on them in exceedingly good condition.
How high will they sell? Always fun to find out. I'll sure be interested to see how that JD 4040 with only 2,892 hours sells on the July 13, 2011 farm auction in Starbuck, MN. I'll travel to cover that sale myself and shoot some video for our Youtube channel.
How high do you think it will sell?
Here's a link to the July 13th auction
Here's a pic of that JD 4450 with 4,500 hours sold for $48,000 on the February 2009 farm sale in south-central Minnesota.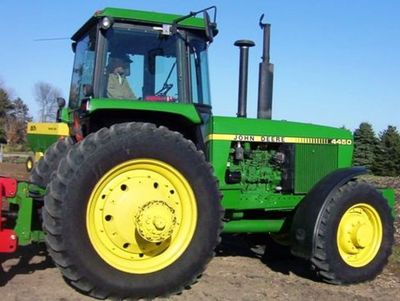 About Machinery Pete: Greg "Machinery Pete" Peterson has been working in the agricultural industry for 21 years and details agricultural equipment prices and trends at his website, Machinerypete.com. Greg also writes columns for Successful Farming magazine, Implement & Tractor magazine, Agriculture.com web site and also appears on the Machinery Show on RFD-TV.
You might also like: