It will happen sometime here in the next week or two.
What will happen? The 1,000th auction sale price on a JD 4440 tractor will be entered in our web site (www.Machinerypete.com). As of today we have 995 sale prices on JD 4440's, going all the way back to the calendar year 1996. 4440's, made by Deere from 1978-82, have been staples on the farm scene now for 30+ years. Connections, emotional and otherwise, to this venerable tractor model run deep.
I know, I see it firsthand every time a nice 4440 shows up for sale at auction.
The days leading up to the auction I'll get calls and emails. It matters not where the auction is, Texas, Minnesota, Ohio, or Oregon. Interest always runs high. "Pete, did you see that 4440 with 3,500 hours up for sale Saturday?" Yep, I sure did. Like everyone else, I'm always curious to see how it sells. The answer is usually the same.
High.
Since the start of 2009 I've seen (10) JD 4440 tractors sell for $30,000 or more at auction. Not bad for a 30 year-old tractor! In fact, that's in the ballpark what 4440's sold for brand new back in the day. More on that in a bit. The last 4440 to crack the $30K barrier at auction came on a small farm auction April 10, 2010 in southeast Minnesota. I was on hand to shoot video of it selling. Here's the clip:
Here's a list of those (10) 4440's I've seen since last year sold for $30K or more:
* $31,000: 1981 model with 3,981 hours, sold 4/10/10 in southeast MN
* $32,500: 1978 model with 2,205 hours, sold 2/26/10 in northeast MO
* $33,000: 1980 model with 4,047 hours, sold 2/4/10 in northeast MO
* $33,500: year?, 4,634 hours, sold 4/3/10 in east-central MN
* $30,600: 1981 model with 3,891 hours, sold 8/15/09 in northeast IL
* $35,500: 1980 model with 3,878 hours, sold 6/6/09 in south-central MI
* $37,000: 1982 model with 2,443 hours, sold 6/6/09 in south-central MI
* $43,000: 1982 model with 1,843 hours, sold 3/6/09 in west-central IL
* $51,000: 1982 model with 692 hours, sold 3/6/09 in west-central IL
* $58,000: 1982 model with 47 hours, sold 3/6/09 in west-central IL
Those last (3) 4440's listed sold 1, 2, 3, right in a row on the famous farm estate auction for Wayne Crooks, a retired farmer who struck oil on his land back in the early 1980's. As part of his lease rights agreement with the oil company out of Texas, Mr. Crooks got the oil company to purchase a brand new line of farm equipment for him, including these (3) JD 4440 tractors. Auctioneers Dan & Jim Sullivan showed me the original paperwork on the equipment. Those (3) 4440's? Each retailed brand new back in 1982 for $33,600 if my memory serves right. 27 years later they sold for $43,000, $51,000 and $58,000. Here's a picture of the 1982 4440 with only 47 hours a couple days before the auction: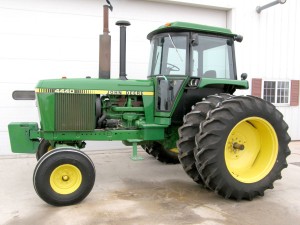 A big part of what I've been doing the past 20+ years involves studying trends in the used farm equipment market. One trend I don't see changing any time soon? Continued HIGH interest from buyers any time a nice low hour JD 4440 tractor comes up for sale.
Pete
Related Information
About Machinery Pete: Greg "Machinery Pete" Peterson has been working in the agricultural industry for 21 years and details agricultural equipment prices and trends at his website, Machinerypete.com. Greg also writes columns for Successful Farming magazine, Implement & Tractor magazine, Agriculture.com web site and also appears on the Machinery Show on RFD-TV.
You might also like: