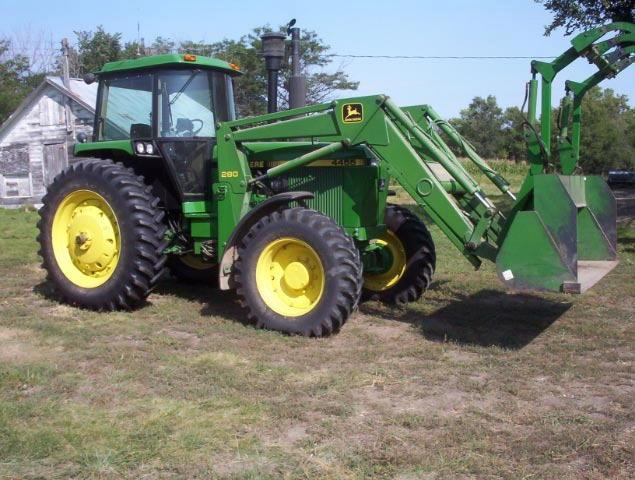 The John Deere 4455: A Very Popular Compact Tractor Model
The hottest used tractor on the market has been the John Deere 4455. Auction sale prices on 4455s have been zooming higher since 2004 and show no signs of slowing down.
Deere made the popular 4455 model from 1989-92. At 141 horsepower, the John Deere 4455 fit a wide variety of farm work, such as planting, debris removal, and more. Analyzing the auction sale price data I've been compiling for 21 years, it's easy to see that 4455s have always been equally popular across any section of the U.S. or Canada. North, south, east, or west, if a nice 4455 comes available for sale there will be interested buyers chomping at the bit.
Back in the summer of 2009, there was a record high auction sale price, $69,000 paid for a 1991 model 4455 MFWD tractor with 5,456 hours, sold on a farm auction 3/3/09 in east-central North Dakota.
Additional Record Sales of the John Deere 4455
On a farm auction on October 3, 2009, in south-central South Dakota another 1991 model 4455 MFWD tractor, this one with only 1,423 one-owner hours, sold with a JD 280 loader for a whopping $94,500. Yep, $94,500. Even if we allow $10,000 for the loader, you're still looking at $84,500 paid for an 18-year old tractor.
An Impressive Sale
The description on a 1991 JD 4455 MFWD tractor sold for $94,500 said: "always shedded, immaculate". See the image of the John Deere 4455 above.
Any time a nice 4455 comes up for sale at auction, you can feel an extra ounce of excitement in the air. A sale on March 20th, 2010, occurred at Richard Realty & Auction. This 1991 model 4455, even with 6,450 hours, attracted big-time interest and fetched a very strong sale price.
Back in the calendar year 1999, JD 4455s sold for an average of $35,774 at auction. In 2010? The average auction sale price had jumped 23.7% to $44,259. And remember, that's just an "average" auction sale price. The nicest 4455's are going for much more. They have continued to improve in their value up until this day.
Related Information
Final Thoughts
If you have any questions on John Deere 4455 Used Tractors or any of its features, contact your local John Deere dealer.
If you enjoyed this post or want to read others, feel free to connect with us on Facebook, Pinterest, Twitter, or Instagram!
You might also like: